If you've recently been in an Albany car accident, you probably have your hands full. You're dealing with the insurance companies and trying to get your car fixed. If you suffered serious injuries in the crash, you'll need to get the necessary medical care. The last thing you need to do is deal with a car accident lawsuit. You're much better off hiring an experienced Albany injury lawyer to handle your car accident claim.
You may wonder why you need an attorney. You may have heard horror stories about how your friends lost a third of their money to a local car accident lawyer. The truth is that, if you don't hire one of the best auto accident lawyers in Albany, you could end up with nothing. Having 2/3 of something is much better than having 100% of nothing.
All you have to do to get started is call our office. Set up a free consultation with one of our skilled Albany car accident lawyers. They'll review your case and give you an idea of what it's worth. They'll also take over the insurance side of things. This way, you can focus on what's really important -getting better.
You Should Reach Out to an Experienced Albany Injury Lawyer Immediately
There's no rule saying you have to hire a car accident attorney to handle your claim. However, if you decide to go in this direction, you don't want to wait too long. The longer you wait to hire a lawyer, the harder it will be for them to prove your case.
The major advantage of having one of the best auto accident lawyers in Albany is that they know how to deal with the big insurance companies. They've negotiated with insurance adjusters for years on cases just like yours. Some of the benefits of having an attorney run interference for you include:
The insurance company will take your claim more seriously. Once they learn you're represented by counsel, they won't ignore your calls and emails. They'll also make your case a priority rather than putting it on the back burner.
With an Albany injury lawyer, you don't have to worry about being pressured to accept a low settlement offer. If you don't have a lawyer, the insurance company will try to convince you to settle low and sign a release. This release prevents you from pursuing any further damages against the company. Your attorney won't let them get away with this.
Your attorney knows how to gather the evidence necessary to prove the other driver caused the crash. It can be really hard for you to collect this evidence on your own.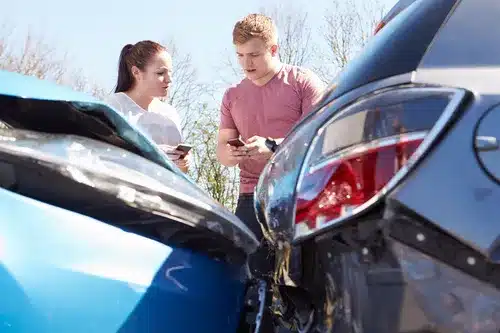 What Kind of Evidence Will Your Albany Car Accident Lawyer Need to Prove Your Case?
In order to collect damages, your Albany car accident lawyer will need to prove the defendant was negligent. In Albany, Georgia, this requires four things:
You need to prove the other driver owed you a duty of care. This isn't hard to prove. All drivers owe a duty of care to other motorists. At a minimum, they're required to follow all traffic rules.
You must show the defendant breached this duty of care. All you have to do to demonstrate this is show that they didn't act reasonably. For example, if the defendant was driving drunk, your Albany injury lawyer will submit a copy of their ticket and subsequent arrest.
You must prove that you were injured. This is why it's key to hire one of the best auto accident lawyers in Albany right away. They'll make sure you are seen by a doctor, so you have medical records to back your story up.
Finally, you'll need to show that your injuries were caused by the defendant's breach. As long as you're treated right away, this won't be difficult to do. However, if you wait days or weeks to see a doctor, the defendant's lawyer will argue that something other than the crash caused your injuries.
While you may think you can do this on your own, it can be quite difficult. For example, imagine there was an eyewitness to the crash who can verify your story. They'll be more willing to talk to one of the best auto accident lawyers in Albany, Georgia a lot faster than they'll want to talk to you. Most people don't like to get involved in this. However, when it's an attorney asking for help, they're more willing to go the extra mile.
If You Need to File a Lawsuit, It's a Good Idea to Hire One of the Best Albany Car Accident Lawyers
Not everybody chooses to hire one of the best Albany car accident lawyers after their car accident. They choose to handle their case by themselves. It usually isn't until they realize that they need to file a lawsuit that they question their decision.
Even the most highly intelligent people get frustrated and confused when it comes to filing legal papers. The courts in Albany, Georgia have very strict rules when it comes to filing a civil suit. If you miss a deadline or use the wrong form, your case can be dismissed.
One of the biggest risks you take by going pro se is missing the Georgia statute of limitations. You only have 2 years to file your lawsuit. If you miss this by a day – or an hour – your case will be dismissed, and you won't be allowed to file it again.
Contact an Experienced Albany Injury Lawyer Immediately After Your Crash
The best way to guarantee your case is handled properly is to hire an experienced Albany injury lawyer. It costs you nothing to do this. All you need to do is schedule your free, initial consultation. Sit down with a skilled attorney who knows what you're going through.
Our attorneys are some of the best auto accident lawyers in Albany, Georgia. They'll take your case seriously and do whatever they can to get you the money you deserve. Call us today and set up a date and time that works for you.