Albany's #1 Car Motorcycle Accident Lawyer
We've recovered millions for similar Motorcycle accident victims like you
24/7 Availability | Free Consultations | No Fee If We Don't Win
If you live in or around Albany, GA, you know that motorcycle accidents are some of the most dangerous types of accidents there are. Motorcycle accident lawyers are well aware of this. Riders are at such a disadvantage riding motorcycles because there is nothing to protect them from the impact.
If they collide with a car or a truck, they are bound to sustain some pretty serious injuries. If you or a loved one were involved in a motorcycle accident, call an Albany motorcycle accident lawyer with Joe Durham, PC today.
Many motorcycle accidents are due to driver negligence and if you have been injured by one you deserve proper compensation. You need an experienced Albany auto accident lawyer to fight for you!
How Can a Georgia Motorcycle Attorney Help?
If you've been in a motorcycle accident you want to rely on an experienced motorcycle accident lawyer to help. They can get you compensation for your injuries. They can also deal with the driver's insurance company. Oftentimes, insurance companies deny motorcycle accident claims.
If you're hurt, all you want is to know that your medical bills will get paid. If someone else is responsible for those injuries, they should be held accountable.
Call Your Trusted Motorcycle Accident Lawyers at Joe Durham Today
If you need a motorcycle accident lawyer, contact us today at 229-351-5320!
Always make sure you seek immediate medical treatment following a motorcycle accident. Your injuries can be quite severe even if you don't realize it at the time. If you have internal injuries that aren't treated, this can lead to complications and even death.
Why You Need a Motorcycle Accident Lawyer
If you've been involved in a motorcycle accident, hiring a dedicated motorcycle accident attorney can be a pivotal decision for several reasons.
Navigating the Legal Landscape
Firstly, navigating the intricate legal landscape post-accident can be overwhelming for the uninitiated. Insurance companies, with their vast resources and teams of skilled lawyers, are adept at minimizing their payouts.
They have years of experience in downplaying the gravity of injuries, shifting blame, and exploiting legal loopholes. Without an experienced attorney by your side, it can be challenging, if not impossible, to level the playing field and ensure that you receive the full compensation to which you're entitled.
Unique Medical Needs
Beyond just the legal complexities, motorcycle accidents often lead to unique injuries that are distinct from those seen in regular vehicle collisions. Motorcycle accident attorneys specialize in understanding these specific types of injuries, the associated medical costs, and the long-term implications for the victim. They can expertly advocate for you, ensuring that all medical expenses, lost wages, pain, suffering, and other damages are accurately represented and compensated for.
Gaining a Fair Settlement
In essence, hiring a motorcycle accident attorney not only increases your chances of obtaining a fair settlement but also alleviates the stress of navigating the claims process, allowing you to focus solely on your recovery.
What Are Some of the Most Common Injuries Caused by Motorcycle Accidents?
Motorcycle accidents cause many injuries, but the most common of them include the following.
Traumatic Brain Injuries
When you experience a severe blow to the head, you can suffer a traumatic brain injury (TBI). This sort of injury can lead to many problems including:
Memory loss
Headaches
Vision loss
Hearing damage
Vertigo
Fatigue
Insomnia
Permanent disability
TBI can require surgery and long-term physical therapy. You can expect to be out of commission for quite some time. This is why it's important that you have a lawyer working for you. You are going to sustain significant losses and you have a right to be compensated.
If you need help with a compensation claim, call now 229-210-6226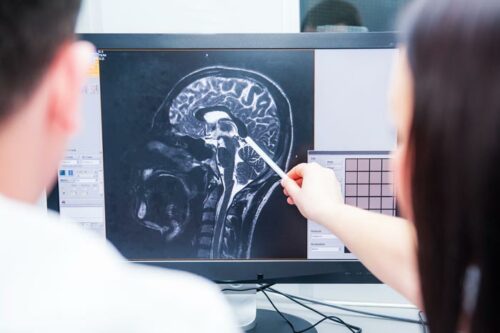 Back Injuries
The back injuries associated with a motorcycle accident can be very serious. You may suffer a spinal cord injury or severe disc damage. Either of these will require surgery and may leave you confined to a wheelchair for quite some time.
Neck Injuries
Neck injuries are scary. When you are in a motorcycle accident, you may end up with a broken neck. Even if you survive the accident, you may never walk again. There is nothing to protect you from the road aside from a helmet. Your neck is, therefore, more susceptible to injury.
Burns
Unlike a garden-variety car accident, there are more burn injuries suffered in motorcycle accidents. Even if you're wearing protective bodywear, you may still suffer serious burns. Your body is likely to make contact with the road. If you're thrown from your bike, you will likely suffer road burn.
You are going to need to focus on your physical recovery for weeks or even months. You need to know that you have an experienced motorcycle attorney fighting for you. They can handle the legal side of things while you work on getting better.
Your motorcycle accident lawyer will make sure you get the compensation you deserve.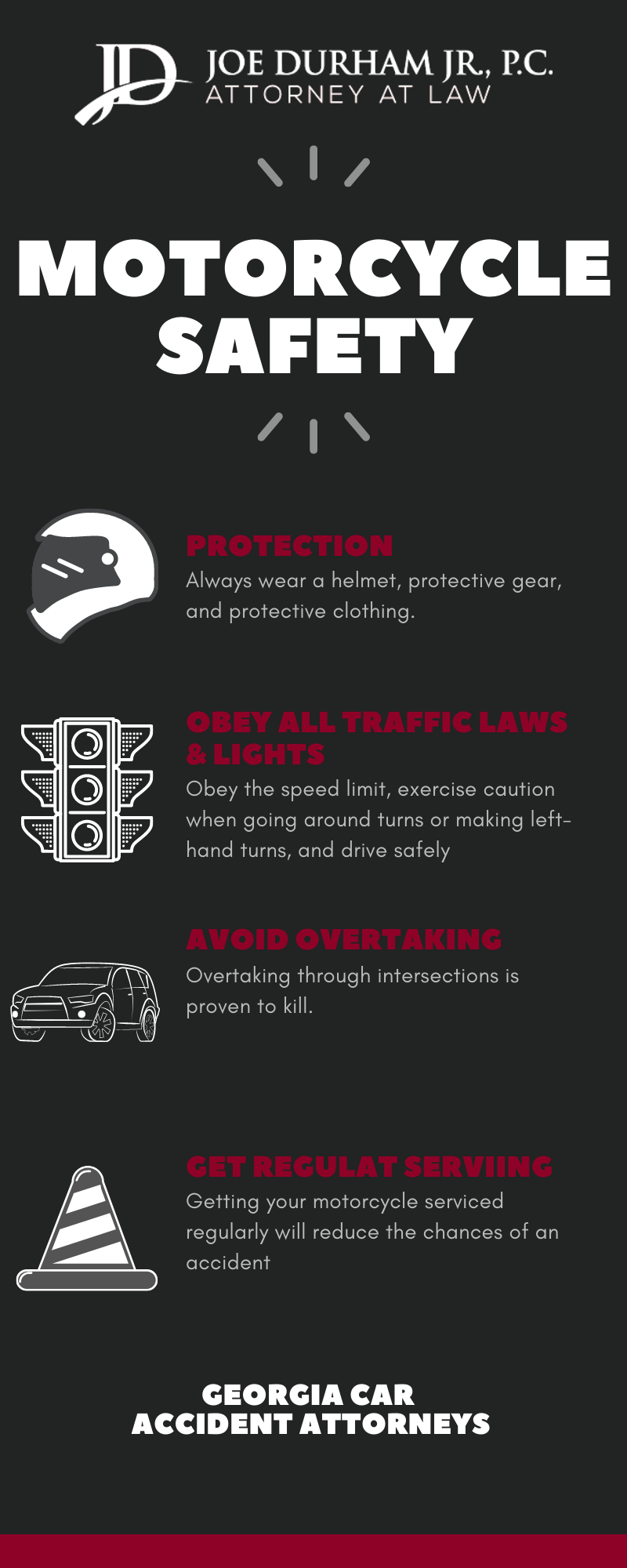 Motorcycle accident Attorneys Will Get You the Compensation You Deserve
It's scary to get into any type of accident. However, motorcycle accidents can be scarier than most. By their nature, motorcycles can be dangerous. When you combine that with driver negligence, they can be deadly. In order to prove that the other driver is at fault for your motorcycle accident, your attorney needs to show:
The other driver owed you a certain duty of care.
They breached this duty.
The breach caused an accident.
You were injured in this accident.
Proving negligence in a motorcycle accident is no different than in a wrongful death claim or any other type of case. You have to demonstrate all four elements to prevail. It is a given that other drivers owe you a duty of care. Proving that they breached this duty is a bit harder.
Your motorcycle accident lawyer can hire experts to recreate the scene and show that the other driver was at fault. He can rely on eyewitnesses to get an objective description of what happened. Even then, you have to show that this breach caused your accident.
To do this, our motorcycle accident attorneys can:
Get a statement from eyewitnesses
Get a sworn affidavit from you
Subpoena all recordings from dashcams and third-party cameras
Submit the other driver's accident and driving records
Engage crash experts to recreate the accident using pictures and the accident report
Although this sounds simple, it takes an experienced personal injury attorney to know how to do this. Once you prove liability, it's not a stretch to show that your injuries were caused by the accident.
As long as you seek medical treatment after your accident, there will be records documenting your injuries. It will be difficult for the defendant to claim that you were injured in some other way. This is especially true if you were taken from the scene via ambulance.
What Kind of Damages Will a Motorcycle Accident Lawyer Demand?
If you need a lawyer who will help you through your motorcycle accident claim, contact Joe Durham PC today!
If you're injured in a motorcycle accident, you will probably have significant losses. You will likely spend a good amount of time in the hospital. You will probably also miss time from work. Some of the damages your Albany motorcycle accident lawyer will demand include:
Lost wages
Medical bills
Property damage
Lost future earnings
There are also damages that are not so easy to measure. These include:
Pain and suffering
Loss of consortium
Your motorcycle accident lawyer in Albany, Georgia, will have to prove each type of damages. He will rely on medical records, pay stubs, and receipts to prove most of them. He may have to rely on medical experts to prove pain and suffering.
Contact a Motorcycle Accident Lawyer to Get Paid
If you're in a motorcycle accident, your motorcycle accident lawyer in Albany is going to demand that you get compensation. As explained above, the most common types of damages include the following.
Lost Wages
Even if you suffer only minor injuries, you are likely going to miss time from work. Whether you have vacation time or sick time available isn't important. If you were not paid for time missed or you used accrued personal time, you should be compensated.
You should produce pay stubs and documentation from your employer showing how much time you missed.
Medical Bills
You are going to have medical bills for more than just one hospital visit. You are going to have to go immediately following the accident. You'll be treated for any life-threatening and immediate injuries. You will get tests done such as X-rays, MRIs, and CT scans. These are the tests that will determine what types of internal injuries you have.
You are also going to have ongoing medical bills. These will be for things like physical therapy, follow-up doctor's visits, and chiropractor appointments. You may also have to pay for prescriptions and medical equipment. Your motorcycle attorney in Albany is going to demand that you be compensated for these things.
Finally, you may have a claim for future medical bills. Depending on the severity of your injuries and your medical prognosis, you may need care for quite some time. You may even need medical care for the rest of your life. Your Albany motorcycle accident lawyer is going to seek compensation for all of this.
Pain and Suffering
The most significant type of non-economic damages in Georgia is pain and suffering. Pain and suffering is exactly what it sounds like. It is compensation for the physical and mental anguish you experienced due to an accident. Your Albany motorcycle accident lawyer is going to demand that you be compensated for your troubles.
Contact an Experienced Motorcycle Accident Lawyer Today
You can contact our team at Joe Durham, PC anytime to schedule a free initial consultation. Joe can review your file, get an idea of how best to approach your personal injury case, and help put your mind at ease.
Your motorcycle attorney can even come to you if you are in the hospital for a long time. You can trust that the defendant is going to have a lawyer working for him. You need to do the same, so contact an experienced motorcycle accident lawyer at 229-210-6226 today!
With Joe Durham, recovering medical costs from motorcycle accidents is a breeze.