One of the first questions our clients ask when we meet with them for the first time is how much their car accident case is worth. There's nothing wrong with asking that question. Your car accident lawyer in Albany understands why you hired them. As much as people say they want justice, what they're really after is compensation for their injuries. If somebody causes a car crash, they should be held accountable. There's no reason why you should be left footing the bill.
The problem with this question is that there's no easy way to answer it. No car accident lawyer in Albany would ever promise to get their clients a certain amount of money. Until your lawyer has a chance to thoroughly review your case, they have no idea what it's worth. Many times, your attorney has no idea of what your case will settle for until they start negotiating with the other driver's lawyer.
As much as you may believe the other driver was at fault, they're going to argue that you caused the crash. Until your attorney has a chance to review everything and hear what the defendant has to say, they shouldn't give you a precise value for your car accident case.
Here, we'll discuss the different types of damages available to you in your car accident lawsuit. If you still have questions when you're done here, just give us a call. We can schedule your initial consultation right over the phone.
What Is the Difference Between Economic and Non-Economic Damages?
There are two main types of damages in a car accident case: economic and non-economic. Economic damages are those losses you can prove by showing a receipt. For example, you should have copies of your mechanic's bills. You should also have copies of any medical bills that have been paid or covered by your primary health insurance.
Non-economic damages, on the other hand, cannot be proven with receipts. For example, if your car accident lawyer in Albany demanded pain in suffering in your lawsuit, they would be considered non-economic damages. There is no exact figure of how much you should receive. Your attorney simply demands a certain amount, knowing they'll have to negotiate a lower amount.
The Defendant Should Be Liable for Your Medical Bills
One of the most common types of damages in a car accident case are medical bills. Even if your car crash was minor, you'll still have medical bills. You may have been taken to the emergency room at the accident scene. Just the ambulance ride alone can be more than a thousand dollars.
When your personal injury attorney in Albany files your claim, they'll demand that you be compensated for both current medical bills and future medical bills. Your doctor may tell you that you'll need surgery in the future. Or you may need physical therapy and chiropractic care for months or even years. There's no reason you should have to pay for this. That's why your lawyer will make sure you're compensated today for the medical care you need in the future.
You'll Also Be Entitled to Compensation for Damages to Your Vehicle
In any personal injury case, the plaintiff is allowed to demand compensation for any property damage they suffer. In a car accident case, this would include the money it takes to repair or replace your vehicle.
If your car is repairable, then you'll be able to submit copies of the mechanics' bill. If, however, your car was declared totaled, you'll be entitled to the fair market value of your vehicle. Keep in mind – this won't be the amount you need to buy a new car. You can only demand compensation for the car's value at the time of the crash.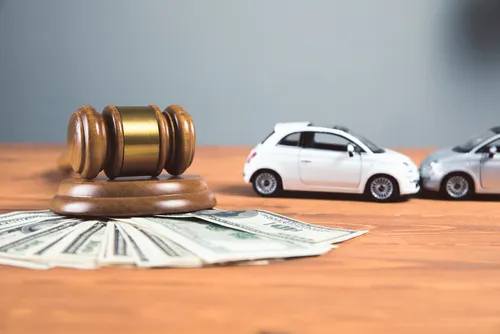 Your Car Accident Lawyer in Albany Can Demand Lost Wages and Lost Income
Some of our clients don't understand what we mean when we say they can demand lost wages and lost income. They assume they're the same thing. However, these are separate types of damages in a car accident case.
Lost wages represent any time you missed from work as a result of your car wreck. If you miss a week or more, you can demand compensation for lost wages. Your personal injury attorney in Albany will submit copies of payroll records to demonstrate how much time you missed.
Lost income, on the other hand, represents any money you'll lose in the future because of your crash. For example, imagine you are no longer able to do the same kind of work after the accident. Your attorney will demand the difference between the money you would've earned compared to the amount you'll actually earn.
Most Car Accident Victims Are Entitled to Damages for Pain and Suffering
If your car accident case is relatively minor, you may not be able to demand compensation for pain and suffering. However, if you underwent surgery or had very painful injuries, your attorney would demand pain and suffering.
Pain and suffering damages are meant to compensate you for any mental and physical anguish you suffered from the crash. This can include actual physical pain as well as emotional and mental pain.
Some of the things your car accident lawyer in Albany will submit to prove your pain and suffering damages include:
Proof that you can no longer enjoy a sport you have played for years
Evidence that you can no longer enjoy a rich social life
Documentation from your doctor or chiropractor showing that you're still enduring a lot of physical pain
Proof that you can no longer enjoy time with your family
Evidence that you are depressed or anxious as a result of the accident
All of these things will help prove that you have suffered from the accident.
Speak With an Experienced Personal Injury Attorney in Albany Today
If you've been involved in a Georgia car accident and need help, give our office a call. You can speak with one of our seasoned personal injury attorneys in Albany. Schedule your free, initial consultation. This gives you the chance to sit down with a lawyer who's handled cases like yours in the past.
When you first meet with your attorney, make sure you're upfront about the crash. Give them whatever documentation you have related to the accident. If they ask you how much pain you've been in since the crash, tell the truth. You don't want to exaggerate your injuries. But you don't want to downplay them either.
Call today and find a date and time that works for you. The consultation is free so you have nothing to lose.