Many nursing home abuse cases go under-reported or unnoticed because many people will not care much to follow up. We have to acknowledge that as older people become frailer, they cannot stand up for themselves. Hence, it is possible for those with more power to exploit them. The elderly tend to shy away when they get bullied because they are afraid of what the other party will do to them.
In case you have an elderly person in any nursing home facility, and you suspect that they are being abused, quickly contact our Georgia medical malpractice attorneys at Joe Durham Jr., P.C. We investigate and represent our clients to ensure full compensation. Call (229) 351-5320 today for a free consultation with one of our Columbus nursing home abuse lawyers.

What Are Some Of The Signs Of Nursing Home Abuse?
It is crucial for you to know the signs to look at, to determine whether an elderly individual is being abused at the nursing home or not. Since some elderly individuals may choose to keep quiet after being abused it's crucial to be proactive and observant.
You can better protect an elderly loved one and might even save their life if you pay attention to their habits and behavior. If you notice that there are changes in the behavior and personality of an elderly individual, there is a high chance that they are not okay. Tension between the caregiver and the older person can also indicate that they are being abused.
Below are some signs of nursing home abuse.
Physical Abuse
If you notice that your loved one has unexplained physical injuries, it is advisable to follow up. Are they sick, or are they being abused at the center? The presence of physical injuries may be due to the nursing home staff scratching, pushing, and pinching your loved one.
The older person may have broken bones from a fall that resulted from an argument between the staff and them. Signs of physical abuse include:
Use of restraints to prevent residents from moving around
Bruises on the body
Broken glasses
Broken bones
Emotional Abuse
It's important to keep an eye on the behavior of your loved one. Don't just limit your observation to their physical wellbeing. How is your loved one behaving? Are they exhibiting unusual behavior such as sucking of the thumb? Do they mumble?
Some caregivers also refuse to let the family and friends of the elderly person access them because the family will realize that their loved one is not okay. Be wary if the caregiver limits access to your loved one. It's even more concerning if you realize the caregiver is uncaring, controlling, and verbally aggressive when dealing with your loved one.
Sexual Abuse
As much as we may not want to believe that some nursing staff takes advantage of the elderly, we need to accept that sexual abuse is a real issue in society. Of all the types of abuse, sexual abuse might be the most traumatizing, and few victims will report their abuse. If you spot any bloody undergarments, unexplained STDs, or bruises on the genitalia and inner thighs, please report. Your loved one may be undergoing sexual abuse while at the center.
Financial Abuse
Elderly people are prone to financial exploitation because some nursing facilities find them vulnerable. Some of the signs to look for include unexplained withdrawals from the elderly individual's bank accounts, adding names to their credit cards' signature cards, and ordering of unusual goods and services. In case you notice any of this, there is a chance that your loved one is being exploited financially.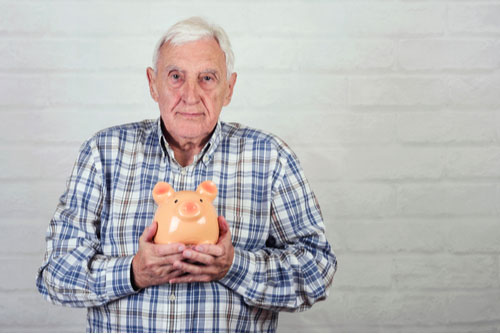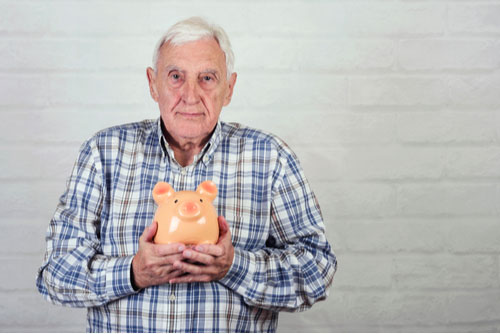 Neglect
Neglect is also a form of nursing home abuse. Negligence comes when the caregiver is not giving the resident the needed attention and care despite them paying for the services. Some of the warning signs include poor sanitation and hygiene, exacerbated preexisting health conditions, and dehydration. A neglected older person may also live in a dirty environment with a lot of dirt and fleas, and they may stay in soiled clothing for a long time.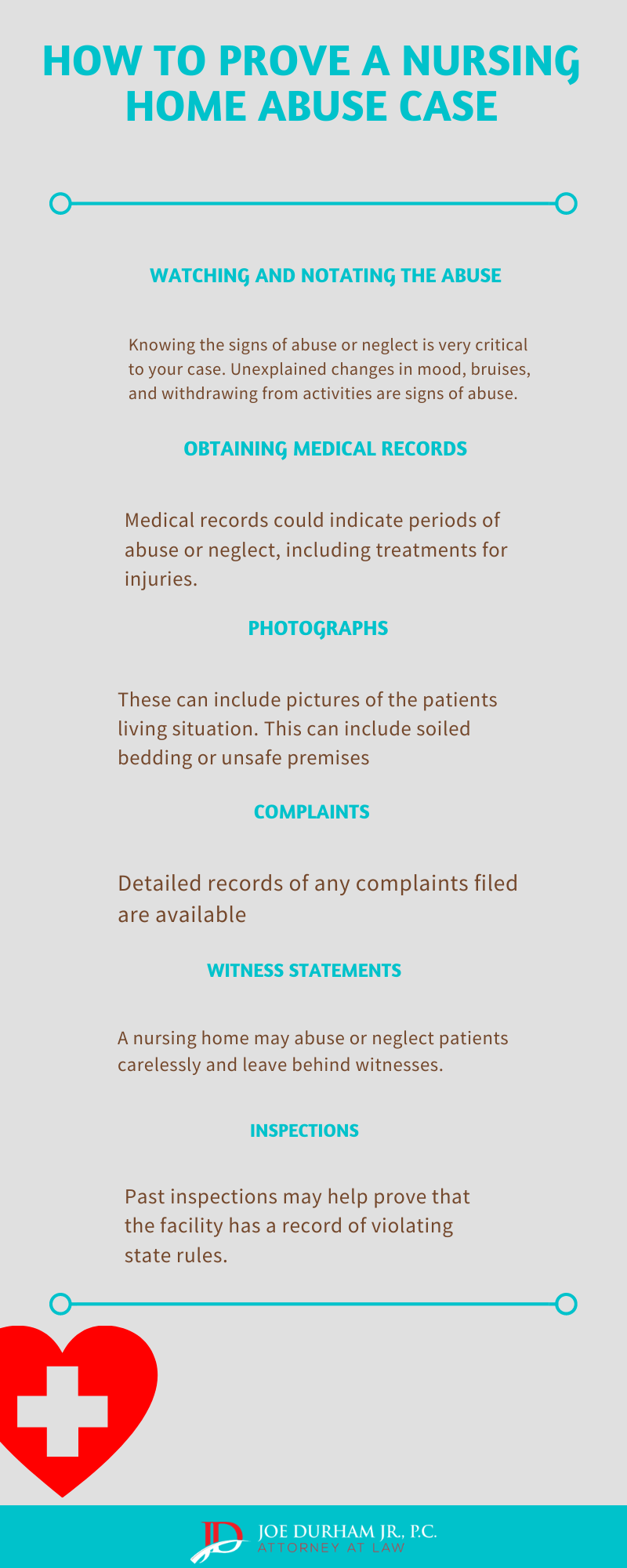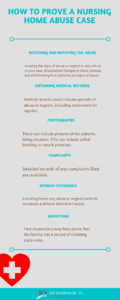 When Can A Nursing Home Be Held Liable For Elder Abuse And Neglect?
Various parties can be found legally liable for an elderly person's abuse. They may include the caregivers, third parties such as maintenance crew, medical professionals, and the administration team. Below are instances when the nursing home will be held liable for the abuse of the elderly person.
Negligent Hiring
The nursing home may be held liable if they failed to hire qualified personnel to act as caregivers. If there is negligent hiring, then the caregiver may abuse and neglect the patients at the center. This is why nursing centers are asked to ensure that they use the right recruitment techniques to hire suitable candidates for the job.
Failure to supervise and train the employees could also result in them abusing the patients by neglecting their needs. The facility should strive to develop the staff by offering them more development training.
Understaffing
The nursing home may also be held liable for abuse if they fail to provide quality services due to a low number of caregivers. Usually, when there is adequate staff to take care of the elderly, the elderly receive a lot of attention and care. This improves their well-being because they are being taken care of.
When few caregivers are attending to many elderly patients, there will be divided attention, resulting in neglect. If the facility doesn't have enough personnel to cater to the patients' needs, they should make a point of recruiting more staff; otherwise, they will be held liable for neglect of the elderly person.
Regulatory Non-Compliance
There are specific rules and regulations that the nursing home is expected to follow if they attend to the needs of the elderly. Failure to comply with the set regulations could result in them being held liable for abuse of the elderly patients. Some of the rules the nursing homes are expected to adhere to include frequent supervision and provision of assistive devices to prevent accidents at the center. They should also ensure that the resident environment is free and safe from hazards.
Facilities such as toilets should be clean and well maintained. Also, the food that the elderly people are given should be well balanced and healthy, depending on the patient's needs. If the facility fails to comply with the set rules, they may be held liable if the elderly person files a lawsuit.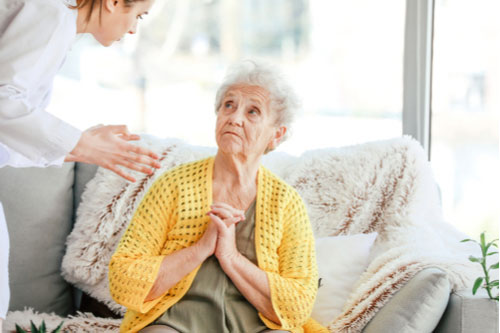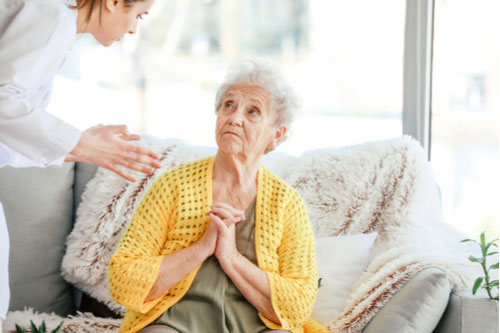 Why Should I Hire A Nursing Home Lawyer?
If you want to file a nursing home abuse claim, it is always good to hire a nursing home attorney to represent you and take over the case. Choosing to represent yourself may prove costly, especially if you are not well conversant with the relevant statutes and procedures in Georgia. An experienced Columbus nursing home abuse lawyer who has handled such cases before will be a great asset because they know how to analyze critical evidence and negotiate for a better deal.
A nursing abuse lawyer can also file subpoenas to obtain any evidence that the defendant is withholding. They also know which types of evidence will be more relevant to your case. When you hire a lawyer, you are sure that they have your best interests at heart, and this will be reflected in how thorough they are during the investigation process. Also, they can represent your case diligently to ensure that you recover both non-economic and economic damages.
You also have to note that insurance companies are not your friends, and they will try to reduce your payout by finding reasons to reduce your claims. Your insurer will be more willing to cooperate if you approach them with a lawyer who has an in-depth understanding of the relevant case laws and statutes.
How Much Does It Cost To Hire A Nursing Home Abuse Lawyer?
Taking legal action against a nursing home in Georgia can be intimidating, especially if you don't have the funds. However, you shouldn't worry because you may still be able to obtain the compensation you deserve by liaising with your attorney. At Joe Durham Jr., P.C, we use a contingency fee arrangement.
This means that your lawyer will only be paid if and when we win the case. The contingency fee will depend on several factors such as experience and history of achieving fair resolutions to complicated claims. Don't shy away from seeking justice. Just speak to us, and we will see what we can do.
Contact Our Columbus Nursing Home Abuse Lawyers
Older people are vulnerable and should be treated with care. Unfortunately, this isn't always the case. We have heard instances of the elderly getting abused in the nursing homes their families entrusted with caring for them. This is why you need to check in on loved ones in a nursing facility frequently and see how they are being treated.
If you have an older person that has undergone abuse in a nursing home in Columbus, Georgia, don't waste any time. Contact our experienced law firm, and we will see how best we can represent you.