Personal injury accidents such as auto accidents, workplace accidents, slip and fall accidents, etc. are common occurrences in the state of Georgia. Suffering an injury can be extremely painful and distressing, however, it gets even more stressful when you factor in how much it will cost you to deal with the injuries.
When you've been injured in an accident caused due to someone else's negligence, you have the legal right to seek compensation for the resulting damages. The responsible party should be held accountable for their actions. It isn't fair that you bear the overwhelming financial burden alone when the accident resulting in your injuries is another party's fault.
If you or a loved one has sustained serious injuries as a result of someone else's negligence, an experienced personal injury lawyer in Columbus, Georgia can help you get the justice you deserve. Joe Durham Jr. P.C. deals with a wide range of personal injury cases including auto accidents, medical malpractice, nursing home abuse, wrongful death, and so on.
Our team will effectively handle all the legal elements of your case as you focus on your recovery. We will fight aggressively to ensure that you are fully and maximumly compensated for your injuries.
Call our office at 229-351-5320 today to set up your free consultation session where we will go over your case and guide you on the best course of action.
Steps to Follow After Being Injured in an Accident
While sustaining injuries in an accident can be painful, confusing, and even traumatizing, the steps you take immediately after an accident will have a huge impact on your injury case. To avoid any inconveniences or frustrations down the road, there are some crucial steps that you should follow.
In the unfortunate event of an accident, it is important that you try and remain calm and follow the steps outlined below.
Seek Medical Attention
Your health should be your topmost priority. Seeking immediate medical attention is not only important for your health but also for your case. The sooner you get medical treatment the better. If you can't get an ambulance to the scene of the accident, rush to the emergency room or a healthcare clinic as soon as possible.
Through a full body examination, your doctor will be able to determine the real extent of your injuries and the types of treatment you will require. Proper medical documentation serves as solid evidence of the existence of your injuries, their severity, and required present and future treatments, all of which will factor into your compensation.
The recommended time frame is within 72 hours after the injury, but why should you wait this long? When you delay seeking medical treatment, the insurance company will use this to devalue the severity of your injuries.
Assess the Situation
If you've been involved in an auto accident, and you are in a position to do so, check to find out if there is anyone who needs critical medical attention. If so, call 911 to the police and paramedics to the scene.
You also need to be on the lookout for any signs of danger. If the vehicles are still operational, consider moving them to the side of the road. In case there are signs of a fire or explosion, everyone should be moved to a safer spot.
Report the Accident
In case you have been injured in a workplace accident, the law in Georgia stipulates that you report the accident to your employer within 30 days.
In the case of an auto accident, regardless of if it is a major or minor accident, you need to get the police involved. Not only is calling the police a prudent move, but it is a legal requirement in the state of Georgia. Motorists involved in an auto accident are required to call 911 and report the accident if the crash results in injuries, death, and property damages worth more than $500.
The police officers responding to the scene will file an official accident report and document the scene. The official police report will serve as an important part of the evidence in your case. If you can't get in touch with the police, then you need to visit the nearest police station and report the accident.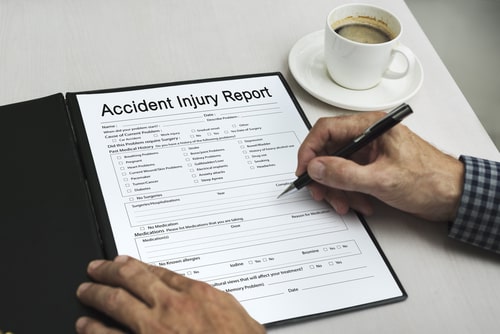 Document Everything
If you are in a position to do so, use your camera or smartphone to take as many photos and videos as possible of the scene of the accident. If it's a slip-and-fall accident, you can take pictures of the liquid you slipped on or the hazardous conditions.
In an auto accident, take photos and videos of the damages inflicted on both vehicles, the absence or presence of skid marks, etc. You can also note down the weather and road conditions, traffic lights, signs, and so on.
Next, you need to note down the names, addresses, and contact details of all parties involved. If there are any witnesses present at the scene, speak to them, and collect their names and contact details. Do not forget to collect the names and badge numbers of the responding officers.
You will also need to exchange names, contact information, and insurance information with the other driver(s).
Avoid Giving a Statement
The last thing you want is to jeopardize your case. You should avoid giving any recorded statement or talking about your case without the presence of your attorney. The other driver's insurer will most likely ask you to give a recorded statement or want to talk to you about the accident.
You should only do so under the guidance of your attorney. This will help to avoid saying anything that will compromise your claim.
Call a Personal Injury Lawyer in Columbus
Perhaps the next most crucial step after seeking medical attention is finding and retaining an experienced personal injury lawyer. Considering the complexity of personal injury law and the stakes involved, you need someone who has your best interests at heart on your side.
Your attorney will handle the bulk of the process including handling the paperwork, dealing with the insurance company, and representing you in court in case of trial.
Keep in mind that the insurance company will be working with a team of skilled lawyers, and seeking a personal injury lawyer will help to level the playing field. An experienced lawyer will offer you the best chances of success.
How Do You Know If You Have a Valid Personal Injury Claim?
Simply being injured in an accident does not always guarantee that you have sufficient grounds to file a claim. Personal injury claims are typically filed based on negligence. To determine whether you have a strong personal injury claim in Georgia, the following conditions must be true:
The Defendant Owed You a Duty of Care
First, it must be established that the defendant owed you a duty of care. This means that the defendant had a legal obligation that required them to adhere to a standard of reasonable care while carrying out any acts that could result in harm to others. For example, all motorists are required to follow traffic rules while driving.
There Was a Breach of Duty of Care
A breach of duty of care means that the defendant failed to exercise a level of care that a reasonable person would exercise if in the same situation. For example, the defendant was texting while driving instead of focusing on their driving.
Your Damages Were a Direct Result of the Breach of Duty of Care
Next, you have to prove that your injuries and losses (damages) were a direct result of the failure of the defendant to exercise the expected level of care to ensure your safety and that of others.
The Incident Occurred Within the Past Two Years
The statute of limitations for personal injury cases in the state of Georgia is two years. This means that you can only file a lawsuit against the culpable party within two years after the date of the injury. If two years have already passed, then you don't have the legal right to file a lawsuit.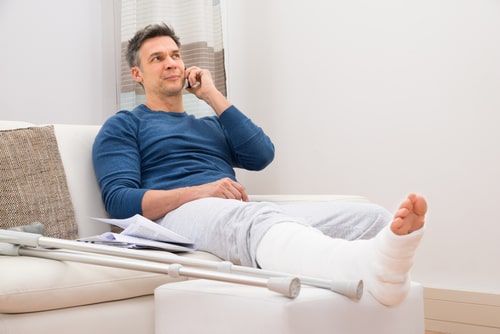 How Much Does a Personal Injury Lawyer Cost?
If you've been injured in an accident, you might be worried about how much it will cost you to hire an attorney. Fortunately, same as with most personal injury lawyers, we charge our fees on a contingency basis.
This means that you only pay us after we've successfully won your case. We will deduct a certain percentage from your settlement amount to cover our services. Thus, you don't have to worry about making any upfront payments.
Why Do I Need a Columbus Personal Injury Lawyer?
As mentioned earlier, one of the most important steps after being involved in an accident is hiring a personal injury lawyer and there are compelling reasons behind this.
Case Preparation/Filing a Lawsuit
As part of settlement and case preparation, your attorney will investigate your case and perform discovery. This can involve hiring expert witnesses and gathering as much relevant evidence as possible for your case.
Your lawyer will be interested in acquiring your medical documentation and collecting witness statements among other important evidence to support your claim. All this will be important before officially filing a lawsuit.
Settlement Negotiation
One of the main reasons why you should hire a personal injury lawyer is their impeccable negotiation skills. An experienced attorney is aware of all the tactics used by insurance companies to avoid paying full compensation to accident victims.
Your attorney will not settle for anything less than what you deserve.
Trial Preparation & Representation
If your attorney and the insurance company can't reach a favorable settlement agreement during the negotiation phase, then your attorney will take your case to trial as a last course of action.
There are various tasks that your attorney will perform in preparation for the trial process including securing the necessary witnesses, gathering all evidence from third parties, and any other factors involved when trying a case.
During the trial process, your attorney will effectively present your case before a judge and/or jury to ensure the best outcome.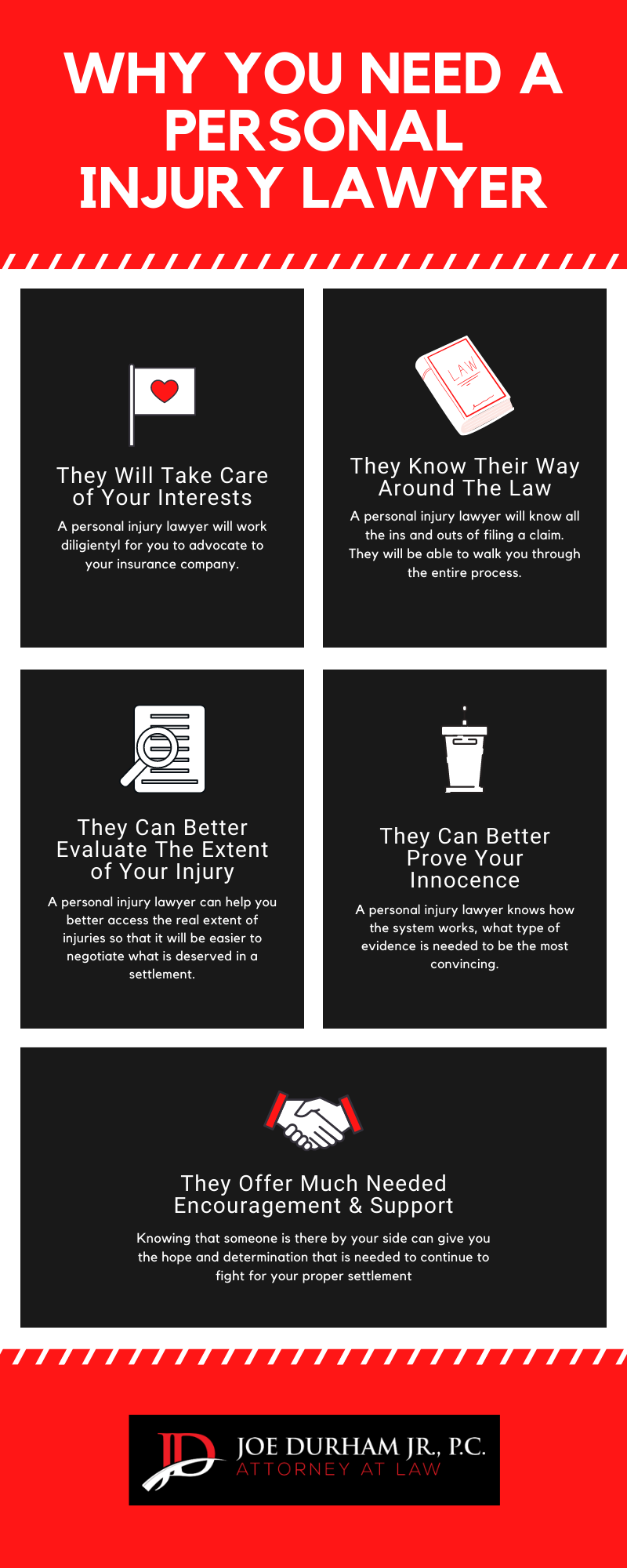 What Type of Damages Can I Recover?
Georgia courts may award three types of damages.
Economic
This refers to all the financial losses that you stand to incur or have incurred as a result of your injuries. This includes current and future medical expenses, lost wages, loss of earning potential, therapy and rehabilitation, house modifications, home care costs, transport costs, etc.
Non-Economic
This refers to damages meant to compensate victims for intangible losses and suffering. These include pain and suffering, loss of companionship, loss of enjoyment of life, loss of a limb of bodily function, etc.
Punitive
These types of damage are usually awarded in cases where the defendant acted deliberately or recklessly thus resulting in injuries to others. It is meant to serve as punishment to the wrongdoer and also to discourage the public from committing similar actions.
How Is Fault Determined in Georgia Injury Claims?
In the state of Georgia, fault in a personal injury case is primarily based on the principle of negligence. This means that the plaintiff has to prove the following four elements: duty of care, breach of that duty of care, causation, and damages as earlier discussed.
Under Georgia's comparative negligence law, an accident victim can recover damages in a personal injury lawsuit if they were less than 50% at-fault for an accident that resulted in their injuries.
What Is Comparative Negligence?
Georgia's comparative negligence law in Georgia Code Section 51-12-33 states that in personal injury cases where the plaintiff is partially at-fault for the accident resulting in their injuries, the courts will determine the percentage of fault of the plaintiff and reduce the awarded damages by the plaintiff's percentage of fault.
Will I Have to Go to Court for My Injury Claim?
No, the court process is often considered the last resort in personal injury cases. There are various ways to resolve a personal injury case: Negotiation, arbitration, mediation, and trial.
Going to trial usually is more time-consuming and expensive for all parties involved and is usually marred with uncertainties, which makes it less favorable. Your attorney will be able to determine when it is best to take your case to trial.
Types of Injury Claims We Handle
Our attorneys handle all types of situations that caused injuries, including:
Schedule a Free Consultation With a Columbus Personal Injury Attorney Today
Suffering an injury after an accident can be extremely devastating to you and your family. This is especially so if the accident was caused due to someone else's negligence. You need all the financial support you can get to help you in your recovery. Our team at Joe Durham Jr., P.C. is prepared to help you get just that.
Contact us at 229-351-5320 today to schedule your free consultation. Remember, when dealing with personal injury cases, time is of the essence, and working with an experienced personal injury lawyer in Columbus, Georgia offers you the best chances of success.