Large truck accidents in Georgia can result in catastrophic injuries due to the size and power of these vehicles. Unfortunately, every year close to 200 drivers lose their lives in truck accidents in the state of Georgia.
As the number of trucks on the road increases, so does the risk of injury and death. When a truck collides with a car, the occupants of the car are likely to sustain serious injuries as the impact can be too much for a car to handle.
If you or someone you know has been injured in a truck accident and requires the assistance of an Valdosta truck accident attorney, contact the Joe Durham Law Firm for a free consultation at 229-351-5320. We are here to answer your questions and help you with your accident claim.
What Are Some Common Valdosta Truck Accident Causes?
Our team of experienced truck accident lawyers is ready to assist you if you've been involved in a truck accident in Valdosta, Georgia. Unfortunately, Georgia sees numerous injuries and fatalities resulting from truck accidents each year. As attorneys familiar with the statistics and with decades of experience in truck accident cases, we can help you navigate this challenging situation.
Truck accidents can result from various factors, including driver fatigue, driving under the influence, speeding, distracted or aggressive driving, equipment failure, improper maintenance, and more. Despite their severity, truck accidents share similarities with car accidents.
To build your case, it's important to access the truck driver's detailed driving records, which log their hours and miles driven each day. If the driver was overworked or exhausted, their logs will reflect this. Our attorneys can help you obtain these records and use them to build a strong case. Don't hesitate to contact us for a free consultation and learn how we can help you with your truck accident claim.
What if the Truck Driver's Insurance Company Refuses to Pay a Claim?
Truck accidents can be just as complex as car accidents, and even though there is often a presumption of negligence on the part of the truck driver, it is still necessary to prove your case in court. That's why seeking immediate medical treatment after the accident is crucial – it helps document your injuries and provide evidence for your insurance claim.
However, there is always a chance that the insurance company representing the truck driver may deny your claim for a number of reasons, such as believing that you were at fault, have pre-existing conditions or old injuries, or that the policy wasn't valid.
In the event of a claim denial, your Valdosta truck accident attorney will fight hard to get your claim paid. They understand that it's in everyone's best interest to settle the claim quickly, as lawsuits can be costly and time-consuming for both parties involved.
What Evidence Will Your Truck Accident Injury Lawyer Need?
It is crucial to present evidence to support your case, even if the truck driver's negligence seems obvious. Insurance companies have a vested interest in denying claims, and every dollar paid out is a loss in profit.
That's why it's crucial to have an experienced truck accident lawyer fighting for you. Take pictures of the accident scene as evidence that can demonstrate how the accident happened. Your attorney can hire an accident re-creation expert to testify about the accident if necessary.
If the truck driver was speeding, changing lanes unsafely, or behaving negligently in any way, you must have evidence to prove it. Calling the police to the scene of the accident is also critical. A police report can serve as documentation of the accident, providing valuable information that may be difficult to obtain later.
Police reports usually contain eyewitness information that your attorney will want to use in your case, should it go to trial. Don't rely on the truck driver's promises to pay for damages; call the police to ensure that the accident is documented accurately.
Your Valdosta Truck Injury Attorney Must Prove Your Injuries
It is crucial not to refuse medical treatment after a truck accident, as it is the only way to document your injuries and prove that they were caused by the accident. If you delay seeking medical attention, the insurance company may use this as an opportunity to argue that something else caused your injuries. This can make it more challenging for your attorney to prove your case.
Truck accidents can result in a variety of injuries, including back injuries, head and brain injuries, internal injuries, broken bones and lacerations, facial disfigurement, burns, spinal cord injuries, and permanent disability. These injuries can be incredibly painful and often require surgery and physical therapy, leading to significant medical bills.
Your truck accident attorney's job is to hold the truck driver's insurance company responsible for paying these bills and compensating you for your injuries. By seeking medical treatment immediately and working with an experienced attorney, you can increase your chances of receiving the compensation you deserve.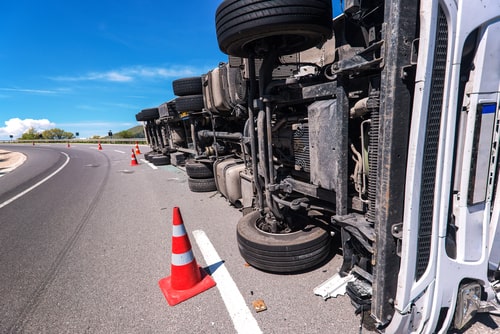 How Will Compensation Will Be Determined After A Truck Accident?
After a truck accident, the amount of compensation you receive will depend on several factors, including economic and non-economic damages. Economic damages cover monetary expenses such as current and future medical bills, lost wages, and loss of earning capacity.
Your truck accident lawyer will use evidence to demonstrate how the accident has affected your ability to earn income. Non-economic damages can also result from the accident, such as compensation for pain and suffering, mental anguish, and loss of consortium for spouses, minors, and parents of the victim.
If the lawyer proves that the offender acted willfully, punitive damages may also be awarded. These damages can include jail time and additional monetary compensation. It is important to seek the help of an experienced truck accident lawyer to ensure you receive the maximum amount of compensation possible for your damages.
How is Negligence Proven After A Truck Accident?
If you or someone you know has been involved in a semi-truck accident, it's essential to establish the negligence of the truck driver and other responsible parties. An experienced truck accident lawyer can help gather evidence to prove that the driver was negligent, leading to the accident.
Commercial trucks are much larger and heavier than standard vehicles on the road, meaning the damages and injuries sustained in a truck accident are often more severe. Truck drivers must follow regulations established by the Federal Motor Carrier Safety Administration (FMCSA) to ensure their safety and the safety of other motorists. However, some drivers may exceed driving hour limits for financial reasons, putting others at risk.
Truck drivers are covered by insurance policies that are worth up to 50 times more than standard car accident policies, but insurance providers may use various tactics to avoid full payouts. Working with a skilled truck accident attorney can help you receive the compensation you deserve and understand each step of the process.
Truck accidents also have a higher fatality rate than standard car accidents, with thousands of lives lost each year. If you or someone you know has been in a truck accident, it's crucial to seek legal assistance to ensure your rights are protected.
Contact our law firm today to schedule a free consultation and discuss your case with an experienced truck accident attorney.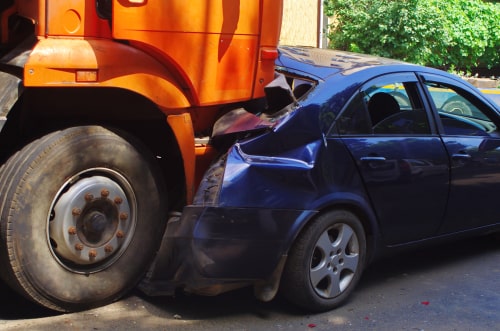 Damages Your Truck Accident Attorney will Demand Include:
After being involved in a truck accident, it's important to seek legal assistance to pursue compensation for damages such as lost wages, medical bills, diminished earning capacity, permanent disability, property damage, and pain and suffering.
To prepare for your initial consultation with a truck accident lawyer, gather as much information as possible, including the accident or police report, contact details of witnesses, medical documentation, pay stubs and tax records, pictures of the accident scene and injuries, and insurance information for both drivers.
Your truck accident attorney will negotiate with the insurance company to obtain a fair settlement, and if that's not possible, they will prepare a lawsuit on your behalf.
Keep in mind that Georgia has a two-year time limit to file a lawsuit, so it's crucial to give your lawyer ample time to prepare your case. With the help of an experienced truck accident attorney, you can increase your chances of receiving fair compensation for your injuries and other damages.
If you have been injured in a truck accident, contact a truck injury lawyer at 229-351-5320 to schedule a free initial consultation and find the peace of mind you need during this difficult time. An experienced Valdosta truck accident attorney can assist you in navigating the legal process and pursuing the compensation you deserve.