Rideshare companies like Uber and Lyft have provided convenient transportation options for people who don't drive. Before their existence, catching a bus or calling a taxi was often inconvenient or expensive.
One of the major benefits of these companies is their contribution to reducing drunk driving incidents. However, as with any transportation service, accidents can happen. If you're involved in an accident while riding in an Uber and the driver is at fault, you may be entitled to compensation for your injuries.
The Joe Durham law firm can provide an Uber accident lawyer to help you navigate this process and fight for the compensation you deserve. Contact us today at 229-351-5320.
What Are Common Causes of Uber Accidents?
An experienced Uber accident lawyer can help you in a number of ways, including:
Investigating the cause of the accident
Your attorney can investigate the circumstances surrounding the accident, including any potential driver negligence, distraction, or recklessness, and determine who is liable for your injuries.
Gathering evidence
Your lawyer can collect and preserve evidence, such as witness statements, police reports, and medical records, to build a strong case for compensation.
Negotiating with insurance companies
Your attorney can handle all negotiations with the insurance companies involved, including Uber's insurance policy, to ensure that you receive the compensation you deserve.
Calculating damages
Your lawyer can help you determine the full extent of your damages, including medical expenses, lost wages, pain and suffering, and more, and help you recover the compensation you deserve.
Going to court if necessary
If a fair settlement cannot be reached, your attorney can take your case to court and fight for your rights in front of a judge or jury.
If you have been injured in an Uber accident, it's important to seek the help of an experienced Uber accident lawyer who can guide you through the legal process and help you receive the compensation you deserve.
Our uber accident lawyers are always ready to deal with the insurance companies.
Your Uber Accident Attorney will File a Lawsuit if Necessary
Dealing with insurance companies after an accident involving an Uber or Lyft driver can be confusing, and it's important to seek the guidance of experienced rideshare accident attorneys.
It may be necessary to file a claim with both the driver's and the company's insurance companies, as it can be difficult to determine ahead of time the extent of coverage the driver has. Georgia law mandates specific insurance coverage levels for Uber and Lyft drivers, including $100K coverage for personal bodily injury, $50K per person per accident, and $50K property loss per accident.
Your attorney will fight to ensure that you receive compensation for damages including medical bills, lost wages, and pain and suffering, and may also seek damages for any expenses related to physical therapy or surgery.
Even if an insurance company denies your claim, your attorney will fight to get you the compensation you deserve.
Who Can Be Held Responsible for An Uber Accident?
An experienced Uber accident lawyer can help you identify the parties responsible for your injuries in an Uber accident. These parties may include the rideshare driver, the rideshare company, or related third parties.
If the driver is at fault, your lawyer can help you recover damages from their personal insurance carrier. If the rideshare company shares responsibility, a skilled attorney may be able to get them to pay for damages, especially if the driver's insurance coverage is insufficient.
In cases where a third party caused the accident, such as due to poor road conditions or a poorly-manufactured vehicle part, your lawyer can guide you on filing a claim against their insurance company.
It's important to contact an Uber accident lawyer as soon as possible after an accident to ensure that your claim is filed within the set timeframes and to gather evidence to support your case.
Steps to Take After an Uber Accident: What Is the Way Forward?
It's crucial to prioritize safety and seek medical attention for any injuries, no matter how minor they may seem. Collecting information and evidence from the scene, such as contact information for drivers and witnesses, and taking screenshots of the Uber app can help your Uber accident lawyer build a strong case for compensation.
It's also essential to seek the assistance of a reliable and experienced rideshare accident attorney as soon as possible to ensure your rights are protected and your case is handled properly.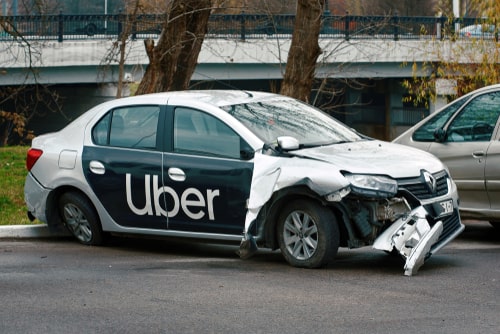 How Will a Lyft Or Uber Accident Attorney Help?
Insurance companies are focused on making a profit, and they often try to minimize the amount they pay out in claims, even if it means offering victims a settlement that is much lower than what they deserve.
This is why it's essential to have an experienced Uber or Lyft accident attorney on your side. Your lawyer will have the knowledge and expertise to negotiate with the insurance company and get you the compensation you deserve.
Moreover, your Uber accident lawyer will help you gather evidence to support your claim, handle communication with the insurance company, and represent you in court if necessary. They will fight tirelessly to ensure that you are not taken advantage of, and that you receive the full and fair compensation for your injuries and other damages.
In summary, if you're involved in an Uber or Lyft accident, it's essential to seek the services of a reliable rideshare accident attorney. They will protect your rights and interests, and ensure that you get the compensation you deserve.
Can An Valdosta Uber Accident Lawyer Help Me Get Compensation, And How?
Once liable parties in an Uber or Lyft accident have been identified, your Uber accident lawyer can begin working on a compensation request. However, to accurately calculate financial losses, they may need to review documentation such as salary receipts, hospital bills, and medical expenses.
Additionally, non-economic damages such as pain and suffering can also be taken into account. These damages may be difficult to quantify but can still be calculated based on the suffering experienced by the injured party and their loved ones.
If the accident was due to malicious intent or grave negligence, your lawyer may also advise you to file a lawsuit for punitive damages. This would require extensive investigation and hard evidence, which is where a trustworthy and reputable Uber and Lyft accident attorney can be beneficial.
Contact an Uber Driver Attorney Today
In the unfortunate event that you sustain injuries while being transported in an Uber, it's imperative that you contact an experienced Uber accident lawyer in Valdosta, GA.
This will afford you the opportunity to have your case professionally reviewed and evaluated for potential compensation. Instead of dealing with the insurance company directly, allow your lawyer to handle the matter on your behalf.
It is common knowledge that insurance companies take attorneys more seriously than individuals. It's important to note that insurance companies will most likely have their own attorneys, who will try to shift the blame onto you.
They may dispute that the Uber driver wasn't working at the time of the accident or that you aren't entitled to compensation because you hadn't paid your fare. Your Uber accident lawyer can challenge these assertions and protect your rights.
To schedule your initial consultation, you can call the "rideshare attorney hotline" at 229-351-5320. This consultation is free of charge and provides an opportunity to ask any questions or address any concerns you may have about your case.