If you had been involved in a car accident, one of the most vital things you can do is contact a car accident lawyer in Perry. The attorneys at Joe Durham Law Firm have the experience needed to develop an effective strategy to pursue your car accident claim.
We will be with you each step of the way from preparing a compelling case on your behalf and continuing until you receive the maximum compensation that you deserve. Give us a call today at 229-351-5320 for your free car accident consultation.
Why Should You Hire A Perry Car Accident Attorney?
Georgia has complicated auto accident laws an insurance policies. An experienced attorney who is knowledgeable of these laws and policies will provide you with the optimal chance to receive fair compensation after you have been involved in a car accident. When you retain Joe Durham Law Firm, we will:
Prepare Your Case And  File Your Claim
Our car accident attorneys will gather information and evidence that supports your claim that the other party was negligent and responsible for the injuries that you sustained. The evidence may include your medical records, the defendant's medical records, trucking company logs, and photos of the vehicle.
The evidence that needs to be collected will depend upon the details of your accident. We may need to speak with industry experts, accident reconstruction experts, and witnesses. These individuals will provide insight into the exact cause of the accident.
Once we have gathered the evidence, we will draft a legal document referred to as a complaint. Your complaint will include all relevant information pertaining to the accident, including how the defendant (the individual or company who you are suing)  acted negligently, and the compensation you are seeking for your damages and loss.
We will file your complaint in the Georgia court system. What's your claim has been filed, the official start of your lawsuit begins.
Negotiate Your Settlement Offer
The defendant's insurance company or the defendant themselves may offer a settlement outside of court to avoid the costs as well as the uncertainty associated with a jury trial. Insurance providers try to limit their compensation offer by minimizing the severity of your injuries and the amount of property damage that happened.
We have help claimants just like you with auto insurance providers he wished to decree settlement offers. We will advise you when a cell settlement is offered but does not reflect your damages accurately. If this occurs, we will try to negotiate better the settlement terms with the insurance provider or the defendant.
Prepare Your Case for Trial
If we cannot reach an acceptable settlement agreement with the defendant or their insurance provider, we will prepare your case for trial. At the trial, the jury, along with the judge, will determine the amount of compensation that you are entitled to.
The auto accident attorneys at Joe Durham Law Firm are committed to getting you the compensation that you deserve, and we'll take your case to trial should you fail to receive a fair settlement offer. The compensation that you receive will help you move on with the next phase of your life.
How Much Does a Perry Auto Accident Attorney Cost?
Unless you win your case and received the compensation you deserve, you will not have to pay us anything. At your free consultation, we will determine if you have a strong case and if we are the best law firm to handle your case.
If we agree, you will not receive a bill until we win your case. When the compensation package is given, we will receive our payment. Therefore, if we do not win your case, you will not owe us anything.
What Is The Time Limit For Filing An Auto Accident Lawsuit In Perry, Georgia?
Individuals who are injured in a  car, truck, or motorcycle accident in Georgia have:
Six months from the date of the automobile accident to file a lawsuit against a city or County Government
Two years from the date of the automobile accident to file a personal injury lawsuit against an individual
Four years from the date of the automobile accident defile a property damage lawsuit
A car injury attorney will make sure you do not lose your right to file an auto accident claim if it takes longer than anticipated to negotiate your compensation with an insurance provider.
Do I Have an Auto Accident Case?
Many people do not realize that certain injuries that occur during an auto accident are not grounds for a lawsuit. Only an experienced auto accident lawyer can determine if you have a case or not. Our Law Firm understands the law surrounding car accidents and provides injured drivers, cyclists, and pedestrians with a free initial case review to determine your rights.
Typically, you can only file a lawsuit when you sustain injuries that were a direct result of negligence from the other party. If an individual or a company fails to be responsible, they could be considered not negligent.
 An Example Of Negligence In Perry Georgia
A pedestrian is waiting to cross a street in Perry, Georgia. When the traffic light changes, the pedestrian is prompted to cross the street via the crosswalk signal. As the pedestrian begins crossing the street, a speeding vehicle runs the red light and strikes the pedestrian.
In this case, the driver is considered to be driving negligently. The driver was driving above the posted speed limit and did not stop for the red light. In this example, the pedestrian would have the right to file a lawsuit against the driver.
This lawsuit would provide compensation for the pedestrian's pain and suffering, anguish, medical bills, and lost wages.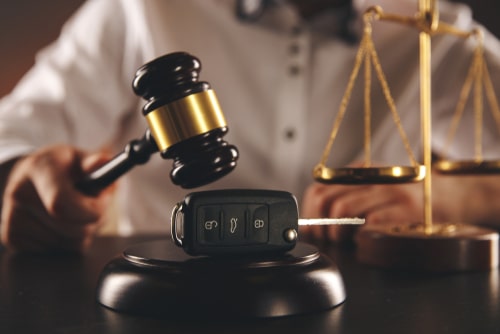 Are Car Accident Suits Only Filed Against Drivers?
If there is an accident, several parties could be held responsible and considered negligent. Determining which parties should be sued will depend on the specifics of your case. For example, a Perry truck company may be considered negligence if the company allowed its drivers to operate a truck when the driver has not gotten an adequate amount of sleep.
Municipalities may be considered negligent if adequate signage or Lots Arnot place at dangerous intersections or turns. Auto manufacturers could be held accountable for faulty distinctive automobile products such as faulty ignition switches, airbags, brakes, etc.
What Should I Do Following A Car Wreck?
Car accidents are frightening experiences. Following a car accident, you may be hurt and unsure about what should be done next. You might have questions about how you should handle calls from insurance adjusters and what you should say.
The steps taken follow immediately following a car wreck can have a tremendous impact on the success of your lawsuit. If you have been involved in an auto accident, you should:
Ensure you are composed and in the right frame of mind
Ensure each occupant in your motor vehicle is safe
Gather the names and the contact details of all Witnesses who are present
Take photographs of the accident scene from different angles ensuring the position of each vehicle involved is captured
Contact the police to ensure that an incident report will be filed
Seek out medical assistance. remember if no other medical options are available, you can go to the nearest emergency room
Contact the professionals at Joe Durham law firm and discuss your available options
What Damages Can You Sue For If You Are Involved In A Georgia Car Accident?
Car accidents can cause physical, emotional, and financial problems that can significantly impact your life. Although some individuals may walk away with only a few minor bruises and scratches, other people Can experience life-changing. Our team of dedicated car accident attorneys will fight aggressively for our clients. If you have been injured in a car accident or lost a loved one due to the negligence of another party, we are here to help.
The gate every aspect and the car accident to determine the liable parties. Depending on the unique circumstance of your car accident, you may be entitled to compensation for:
Your pain and suffering
Lost wages
Current and future medical expenses, including medications, doctor visits, surgeries, and therapies
Rehabilitative costs
Reduced earnings potential
Following an automobile accident, your ability to earn a living may be reduced due to your injuries. Furthermore, you may no longer be able to do the things that you enjoyed before the accident occurred. Pain and suffering are more than just the actual pain you experienced; it also includes how your life has been altered. This portion of pain and suffering is often overlooked when thinking compensation for damages.
If the car accident caused damage to property as well as bodily harm, compensation does not have to be offered for both at the same time. Our team of auto accident lawyers will develop the strategy to ensure you receive all the money that you deserve.
If the auto accident causes a fatality, the family members of the deceased individual can obtain compensation for the loss of future earnings, the loss of companionship, the funeral expenses, and any other costs related to the medical care through a wrongful death lawsuit. The Joe Durham Law Firm understands the complexities involved in such cases as well as the emotional devastation caused by a  lethal car accident.
We will walk with you through this challenging time and ensure that you received the compensation that you deserve.
Contact Joe Durham Law Firm Today To Receive Your Free Consultation
If you had been injured in a car accident, you need to know your rights under Georgia law. If you have been involved in a car accident in Perry Georgia that has injured you or a loved one, the team of experienced auto accident Attorneys at Joe Durham Law Firm is committed to providing our clients with the best possible outcome.
Each member of our team is compassionate and understanding and will work with you to get you the compensation that you deserve.
Contact our office at 229-351-5320 for your complimentary, no-obligation consultation. We will assess your Perry, Georgia car accident and explain your rights using easy to understand words. We are available 24/7.
Give us a call today or use our free case evaluation form or a live online chat to see how we can help you.