Few people in Georgia imagine ever needing a Terrell County personal injury attorney. The residents are caught up in their daily routine, and visitors are under the spell of the local attractions. What happens when beauty is disrupted and someone gets injured?
The party responsible for the injuries should answer for their consequences, economic or otherwise. However, obtaining fair compensation is not that easy. It takes a thorough knowledge of Georgia laws and court rules, solid evidence, and piles of paperwork.
Contacting a Terrell County personal injury attorney should be a priority for anyone incurring injuries due to another party's negligence. If you have suffered a personal injury, call the office of Joe Durham Jr., P.C. at 229-210-6226 today, your ability to file a claim depends on taking action as soon as possible
Representing Clients in Terrell County's Courts
In Terrell County, Georgia, the courts include the Terrell County Magistrate Court and Terrell County Superior Court.
The Magistrate Court handles dispossessory, garnishments, writ of possessions, and small claims for civil actions involving $15, 000 or less.
The Superior Court has exclusive jurisdiction over felony criminal cases, juvenile cases, domestic relations, equity and cases regarding title to land.
At Joe Durham Jr., P.C., we are dedicated to pursuing and obtaining justice in the following courts:
Terrell County Overview and Information
Terrell County is located in the southwestern part of the state of Georgia. It was established in 1856 and was named in honor of Dr. William Terrell, a prominent physician from Georgia.
The county is part of the larger Albany Metropolitan area, bordered by several other counties, including Lee County, Randolph County, Webster county, and Calhoun County. The county seat is Dawson.
The population has fluctuated over the years and as of the 2020 United States Census, the population was around 8,325 people.
Terrell County's economy has been historically based on agriculture, with crops like cotton, peanuts, and pecans. Agriculture remains a significant part of the local economy, but the county has diversified its economic base over the years.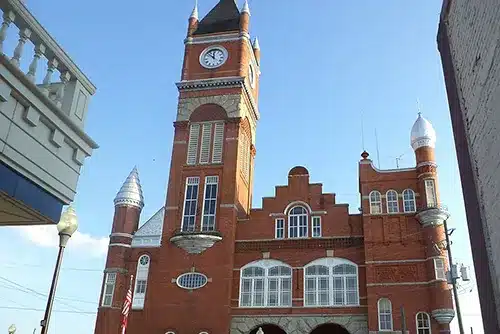 Terrell County Court Locations
Below is the contact information for the local courthouses in Terrell County, Georgia.
Terrell County Magistrate Court
499 Rountree Drive, SW
Dawson, GA 39842
Phone: 229-995-3757
Linda Freeman, Chief Magistrate Judge
Victoria Freeman, Magistrate Clerk
499 Rountree Dr, SW
Dawson, GA 39842
Phone: 229-995-2631
T. Craig Earnest, Chief Judge
Henry L. Balkom, IV, Judge
Joe C. Bishop, Senior Judge
Edward R, Collier, Judge
Janice S. Bryant, Superior Court Clerk
Lisa DeMott, Chief Deputy Clerk
Sandra L. Walker, Deputy Clerk
Terrell County Law Enforcement and Other Agencies
Below is the general and emergency contact information for local law enforcement and fire departments.
Terrell County Sheriff's Office
Sheriff John W. Bowens
3108 Albany Highway
Dawson, GA 39842
Phone: 229-995-4488
Emergency: 911
Dawson Public Safety Department
Chief Thornton
432 Crawford St NE
Dawson, GA 39842
Phone: 229-995-4414
Emergency: 911
City of Dawson Fire Department
308 N Main St,
Dawson, GA 39842
Phone: 229-995-4455
Emergency: 911
Cities in Terrell County
There are four cities within Terrell County. These include:
Bronwood
Dawson
Parrott
Sasser
Terrell County Personal Injury Q&As
Why Do I Need A Personal Injury Lawyer?
If you were injured due to someone else negligent or reckless actions, you should contact an experience lawyer who can help you with:
Case preparation/filing a lawsuit
Settlement negotiations
Trial preparation and representation
What Are The Steps To Filing A Personal Injury Claim?
If you have been injured in an accident, follow these steps to help you prepare for a personal injury case:
Seek medical treatment and keep records of your treatment
Take photos and videos is possible of the accident scene
Get contact information, name and phone numbers, of any witnesses and take note of any security or traffic cameras in the area
If you were in a car accident, report it to the police. If you were in a workplace accident, report it to your supervisor, etc.
Never admit any fault
Contact a personal injury lawyer
What Kind Of Damages Can I Recover In A Personal Injury Case?
In Georgia, there are no limits on the amount of economic or non-economic damages that can be awarded. There are three main categories of damages in Georgia, and any of them may be relevant to your personal injury case. These are:
Economic Damages: these damages include monetary loss such as lost wages, property damage, and medical bills
Non-Economic Damages: the damages can include inconvenience, pain and suffering, emotional distress, stress, anxiety, loss of companionship, and loss of consortium
Punitive Damages: these are awards under specific circumstances. Punitive damages apply to financially punish the at-fault person from behaving similarly in the future.
Will I Have To Go To Court For Personal Injury?
Personal injury claims frequently end amicably and without the need for court action. Through agreements outside of court, we routinely settle cases for our clients to everyone's satisfaction.
Why Do Personal Injury Claims Go To Court?
A personal injury claim will end up in court if a settlement cannot be reached during negotiations, or when the company or person that the claim is against does not respond.
Which Georgia Court Will Handle My Personal Injury Case?
Georgia is an at-fault state, therefore accident victims must first file a claim for compensation with their insurance companies before filing a lawsuit. The courts' resources won't be used excessively thanks to this law, which simplifies the legal process.
When the other side refuses to settle, you can take them to trial seeking compensation for your injuries. These are the five types of trial-level courts:
Magistrate: issues warrants, hears minor criminal and civil cases with the amount less than $15,000, civil disputes that include landlord/tenant, bad checks, county ordinance and dispossessory actions
Probate: probate of wills and estates, as well as authorized to handle commitments to incapacitated adults or appoint legal guardians
Juvenile: criminal offenses involving minors under the age of 18, also works concurrently with superior courts to handle child custody and child support cases
State: county jurisdiction, traffic violations, warrants, and preliminary hearings
Superior: civil and criminal jurisdiction, felony and divorces
What Happens To My Personal Injury Lawsuit?
The value of the claim is one of the variables that determine where your case will be heard in court. A magistrate judge often hears cases with a value of less than $15,000 in which the party in question represents themselves.
The lawsuit would go forward in the higher court system, though, for claims worth more. Personal injury lawsuits often need to be filed in the county where the accident happened. Because state laws and state courts have authority over matters involving personal injuries, this is true.
What Happens If My Personal Injury Claim Goes To Trial?
If your personal injury case goes to trial, a jury will listen to the evidence presented and determine if the defendant is responsible. If the jury finds the defendant liable, they will award you compensation, either as a lump sum or structured settlement.
Contact Our Experienced Terrell County Personal Injury Lawyers
In cases involving personal injury, taking immediate action is of utmost importance. Any delay could lead to the loss of critical evidence and the fading of witness recollections. Every moment of postponement in securing skilled legal representation raises the likelihood that those accountable for your injuries might evade their responsibilities.
It's essential to ensure that your rights and entitlements are protected. If you've been injured in an accident due to someone's negligence, contact Joe Durham Jr., P.C. today at 229-210-6226!