Albany's #1 Car Accident Lawyer
We've recovered millions for similar car accident victims like you
24/7 Availability | Free Consultations | No Fee If We Don't Win
Truck accidents in Georgia lead to the most serious types of injuries imaginable. Because truck drivers operate such large and powerful vehicles, when they get careless, people get hurt. Every year, close to 200 drivers in Georgia are killed in truck accidents. As the number of trucks on the road increase, so will the number of people hurt and killed.
When the two vehicles collide, the passengers in the car are going to sustain some pretty serious injuries. A car simply can't withstand the impact created by a large truck. If you or a loved one have been injured and need an Albany truck accident attorney, contact the Joe Durham Law Firm at 229-210-6226
Our Albany auto accident lawyers will be glad to answer your questions during a free review of your accident claim.
What Are Some Common Albany Truck Accident Causes?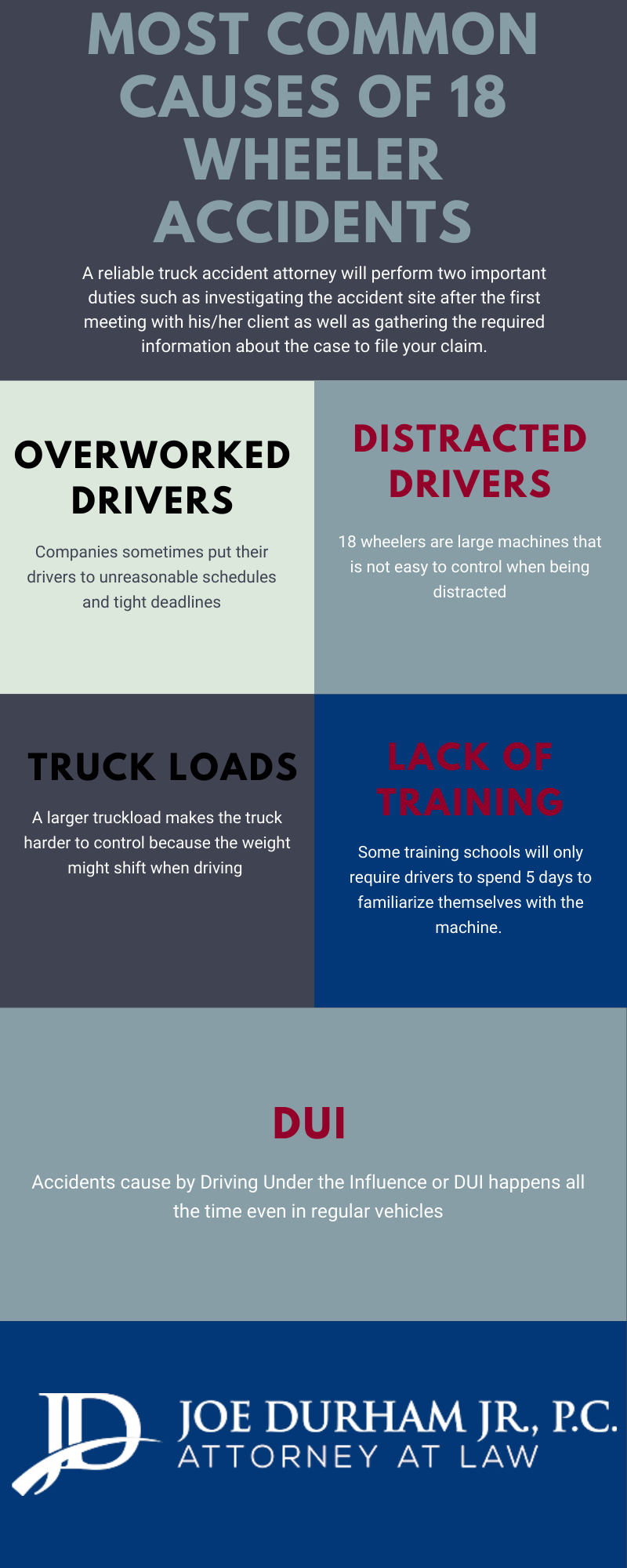 Our truck accident lawyers in the city of Albany know the statistics. They are aware of how many people are hurt and killed by trucks every year in Georgia. Due to the high number of fatalities resulting from truck accidents, a Georgia 18 wheeler accident attorney is usually busy. They have spent decades handling truck accident cases.
Most truck accidents are caused by:
Falling asleep at the wheel
Drunk driving or driving under the influence of drugs
Speeding
Distracted driving
Aggressive driving
Inexperienced drivers
Tire and wheel failure
Overloading
Unsafe road conditions
Misjudging the gap between cars and overhangs
Cargo shifts
Equipment failure
Improperly maintained commercial vehicles
As you can see, truck accidents are not much different than car accidents. Truck drivers work hard. Sometimes, they work too hard. After hours spent driving long distances, Georgia truck drivers are prone to accidents. The majority are caused by operator negligence, though product and maintenance issues can play a role.
One thing unique to a truck accident is that the truck driver maintains impeccable driving records. They have to log the hours and miles they drive every day. If they are extremely tired or overworked, their logs will usually reflect the long hours. Your truck accident attorney can gain access to these logs. This is something you may not know how to do on your own.
What if the Truck Driver's Insurance Company Refuses to Pay a Claim?
Truck accidents are no easier to handle than car accidents. There is a presumption of negligence on the part of the truck driver. However, your truck accident lawyer will still need to prove your case. This is why it's so important that you seek medical treatment immediately following your accident. You need to document your injuries for your insurance claim.
In an ideal world, your claim would be paid in full within days of the accident. However, there is a chance that the truck driver's insurance company may deny your claim. If this happens, it is usually for one of the following reasons:
The insurer claims you didn't suffer injuries.
The insurance company believes you were at fault.
You have pre-existing conditions or old injuries.
The commercial driver was not insured.
You have a history of filing claims against commercial drivers.
You were drunk or under the influence of drugs at the time of the accident.
The policy wasn't valid.
Your Albany truck accident attorney will fight hard to get your claim paid. He knows that it's in everyone's best interests to settle your claim. If the claim isn't paid, he will need to file a lawsuit.
Insurance companies want to avoid a lawsuit as much as you do. They are time-consuming, and they are expensive. They usually cost the insurance company more than it would have if they paid your claim in the first place.
What Evidence Will Your Truck Accident Lawyer Need?
Regardless of how obvious the truck driver's negligence is, you still need to present evidence proving your case. The insurance company has a vested interest in denying your claim. Every dollar they pay out on a claim is a loss in profit.
So, even if it seems the evidence shows the truck driver is at fault, it will still be a battle. You will want an experienced truck accident lawyer there by your side to fight this battle. One thing you need to do is take pictures of the accident scene. Your truck accident attorney can use these pictures to demonstrate how the accident took place. If the truck driver was negligent, the pictures should prove it.
Your attorney can hire an accident re-creation expert to testify as to how the accident happened. If the truck was speeding, your trucking accident lawyer needs to prove that it was speeding. If it shifted lanes improperly, you need to prove it shifted lanes improperly.
The other thing you need to do is call the police. Even if the truck driver promises his insurance company will pay your claim, call the police. A police report serves as documentation of the accident. It usually includes information that you will not be able to get later on.
For example, the police report typically includes eyewitness information. If your case goes to trial, your attorney is going to want to talk to any eyewitnesses.
Your Albany Truck Accident Attorney Must Prove Your Injuries
The biggest mistake you can make is to refuse medical treatment after your accident. Seeing a doctor is the only way you can prove that you were hurt. It also helps prove that you got the injuries when you say you did. If you wait days after the accident to go to the hospital, you make your truck accident lawyer's job harder.
By doing this, you give the insurance company a chance to say something other than the accident caused your injuries. They can claim that something happened between the time of the accident and your treatment and that caused your injuries.
Some of the most common injuries caused by truck accidents include:
Back injuries
Head and brain injuries
Internal injuries
Broken bones and lacerations
Facial disfigurement
Burns
Spinal cord injuries
Permanent disability
Any of these injuries alone can be painful. Combined, they can be devastating or even deadly. You may need surgery and physical therapy. If this is the case, you are going to rack up a lot of medical bills. The truck driver's insurance company needs to be held accountable for these bills. It is your trucking attorney's mission to get you compensation for your injuries.
How Will Compensation Will Be Determined After a Truck Accident?
The amount of compensation you get after a truck accident may depend on many factors. There are economic and non-economic damages in such a case.
Economic Damages
Your compensation as a result of a commercial truck accident will cover monetary costs such as:
Current Medical Expenses – This includes all the fees for hospital care, emergency room visits, surgery, appointments with medical professionals, and assistive devices.
Future Medical Expenses
Lost Wages between the time of the truck accident and the settlement of your case.
Loss of Earning Capacity if you are unable to do the same job or must work fewer hours
Non-Economic Damages
Non-Economic Damages That Can Result From The Accident:
Pain and Suffering – Your lawyer will consider the extent of your injuries and the expected period of suffering when calculating your compensation.
Mental Anguish – A victim will suffer emotionally after a truck accident apart from physical pain.
Loss of Consortium – The defendant may have to pay compensation to the parents, children, and spouse in a wrongful death if the victim dies due to the truck accident.
If the lawyer proves that the offender tried to cause the accident willfully, there are punitive damages involved apart from economic and non-economic damages.
How Is Negligence Proven After a Truck Accident?
If someone that you know or you have sustained any type of injury after an accident involving a semi-truck, it becomes necessary to determine negligence on the truck driver's behalf, along with any other party that you feel should be held responsible.
Your truck accident attorney will assist you in providing evidence that the driver failed to adhere to his or her responsibilities and duties, and the truck driver was negligent and the cause of the accident.
A few examples involving negligence that are applicable to commercial drivers of trucks include running a red light, speeding, texting while driving, and falling asleep while driving.
Due to the high-risk nature involved in commercial trucking, the FMCSA requires that the commercial drivers of these trucks need to adhere to the following regulations:
Maintain a log-book with their driving hours
Document every break that the driver takes and all services
Keep up with the scheduled requirements for maintenance
Adhere to the regulations on the correct loading procedure of hazardous materials and cargo
Abstain from controlled substances, drugs, or alcohol while on the job
Follow rules for maximum driving hours and rest breaks
How Is a Truck Accident Different From a Car Accident?
The commercial semi-trucks, which also go by the name of big rigs or freight trucks, often weigh more than 80,000 lbs. This translates into the weight of 20 standard passenger cars combined.
Even though there are laws and regulations which dictate how long the drivers of commercial trucks should be driving in a day (not more than 10 hours), there are various financial reasons why truck drivers go over these limitations which puts the safety of other motorists at risk.
Bigger Insurance Policies
Truck drivers have an insurance policy that is designed to cover all types of accidents, yet these policy types are usually worth as much as 50 times the standard car accident policies and most are worth millions.
For this reason, the insurance providers who are named in these lawsuits are resourceful and extremely meticulous when it comes to avoiding liability.
Seasoned insurance policy providers use a number of methods and techniques in order to avoid full payouts. They might even offer settlements that may appear to be significantly high, yet this is usually a lot less in comparison to the compensation that you actually deserve.
An experienced and trustworthy truck accident attorney can assist you in avoiding these tactics and ploys that insurance carriers use. They will also ensure that you fully understand each step of the process involved in your case.
An Increase In Property Damage
The commercial 18-wheeler freight trucks translate into a hefty amount of weight in motion, which significantly outweighs the standard vehicles on the road. This in combination with the massive size of these trucks, usually means that damages to a surrounding area are always going to be much greater when compared to collisions between 2 or more standard-sized cars.
Injuries That Are More Serious
The injuries that are usually sustained in car accidents are typically a lot more devastating when caused by a commercial truck, which usually requires far greater medical care and recovery. This can include anything from fractures, broken bones, whiplash, and lacerations. The injuries that are sustained from freight trucks will always be significantly greater and even life-threatening.
Medical Bills That Are Much Larger
With an increased likelihood of serious injuries, recovering from these types of accidents usually involves a lot more time off work and longer hospital stays. Truck accident victims often are unable to go back to work which translates into financial implications such as loss of earnings.
When you have a compassionate and trustworthy personal injury attorney like Joe Durham Jr. P.C. you are provided with an idea of the amount of suffering and pain, and the time your case is actually worth, to ensure your compensation is fair.
Increased Chance Of Death
Accidents that involve big rigs or semi-trucks also result in far higher fatality rates when compared to regular accidents with cars. The FMCSA released statistics that accidents involving trucks claim anything from 3,000 to 5,000 lives every year.
When taking these staggering and frightening statistics into consideration, and the resources that are available to the trucking companies along with their insurance providers, a reliable truck accident lawyer is your best chance of getting what you deserve. An assessment at no cost of the case is the first important step that you need to take to choose whether you want to hire an attorney or not.
What Damages Will Your Truck Accident Attorney Demand?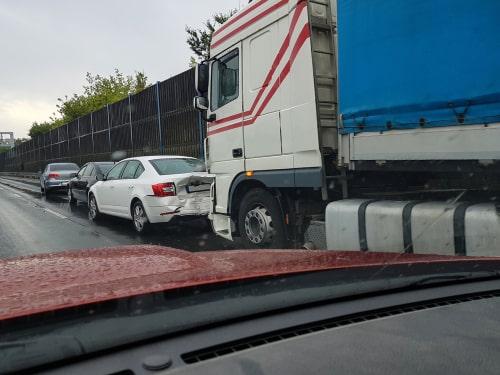 After your truck accident injury while you focus on recovering your attorney will pursue compensation for the following damages that apply to your case:
Lost wages
Medical bills (past, present, and future)
Diminished earning capacity
Permanent disability
Property damage
Pain and suffering
In order to do this, your lawyer needs to understand what happened. When you meet with a truck wreck attorney for your initial consultation, bring as much information with you as possible.
This is the first chance your truck accident lawyer will have to review your case. You want to give him as much time as possible to prepare your case against the insurance company. Make sure you remember to bring the following with you the first time you meet with your attorney:
The accident or police report
Contact information for all witnesses
Medical documentation
Pay stubs and tax records to prove wages and earning capacity
Pictures of the accident scene
Pictures of your injuries
Insurance information for both drivers
Your Albany truck accident attorney is going to do everything he can to get you the compensation you deserve. He will negotiate with the insurance company and try to get you a fair settlement.
If he is unable to do so, he will prepare a lawsuit on your behalf. You only have two years to file a suit in Georgia. You, therefore, want to give your lawyer as much of a head start as possible.
Contact an Albany Truck Crash Attorney Today to Discuss Your Case
If you suffer injuries in a truck accident through no fault of your own, contact a truck injury lawyer at the Joe Durham law firm. Schedule your initial consultation it is absolutely FREE and it gives you a chance to find the peace of mind you need.
Lastly, the next few months are going to be very difficult. Contact us at 229-210-6226 to speak with a truck wreck attorney if you want someone by your side who can make it easier for you. An Albany truck accident attorney can do this for you.