If you suspect that your elderly loved one has experienced mistreatment or neglect while under the care of a nursing home, there are legal resources available to you. Contact the law office of Joe Durham at 229-351-5320 to speak with a nursing home neglect attorney in Moultrie, GA today. The team at the law office of Joe Durham is experienced and compassionate, and will work tirelessly to secure compensation for any instances of abuse or neglect.
Under Georgia law, victims of abuse are entitled to seek compensation for medical expenses, pain and suffering, and loss of life's enjoyment. It's crucial to be aware of the time limits for filing these cases, making prompt and professional legal assistance necessary to ensure that you receive the compensation you deserve. A personal injury lawyer can help with the proper and timely filing of your claim.
How is a Nursing Home Abuse Case Handled?
Joe Durham prioritizes complete transparency between attorney and client when handling nursing home abuse claims. If settlement offers are unacceptable, Joe Durham has the experience and tenacity to take the case to trial and fight for the client's rights. Here are some ways that Joe Durham can strengthen your nursing home abuse case:
Work with medical experts to determine the cause of your loved one's injuries
Review your loved one's medical records
Ensure that the nursing home does not restrict access to relevant information
Gather photographic evidence and examine security footage related to the abuse
Review business records to determine the nursing home's hiring practices
Interview witnesses, employees, and residents of the nursing home
Determine the cost of non-economic damages related to the abuse
If a Georgia nursing home is accused of abuse, they will likely seek legal aid to mitigate potential consequences. It's essential to find a legal professional experienced in these cases to help you recover compensation for your losses.
What Are Examples of Nursing Home Abuse and Neglect?
Nursing home care abuse can take several forms, including physical abuse, neglect by an in-home caregiver, sexual abuse, financial exploitation, emotional abuse, and healthcare fraud.
If your elderly loved one has suffered abuse while in a nursing home, contact our office for assistance from a qualified nursing home abuse attorney in Moultrie, GA. The National Center on Elder Abuse has identified three main types of nursing home abuse:
Domestic
This type of abuse is known as elder abuse by a trusted individual, and it is caused by someone whom the elderly person knows and trusts. This could be a sibling, spouse, friend, child, or caregiver, and the abuse can occur in either the elderly person's home or the caregiver's home.
Institutional
Abuse in institutions for older people, such as foster homes, group homes, nursing homes, or other care facilities, refers to mistreatment inflicted upon them. The perpetrators of such abuse are typically those entrusted with the care and welfare of the elderly individuals.
Self-neglect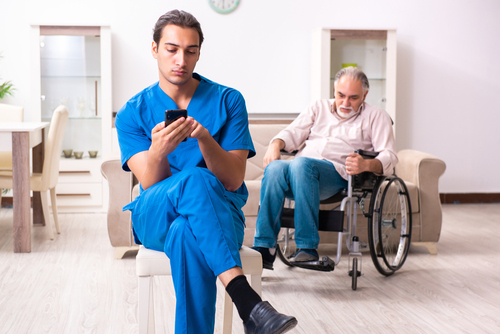 This pertains to conduct exhibited by elderly individuals that endangers their health, safety, or welfare. The prevalent manifestation of this concern involves the failure of older adults to provide themselves with sufficient nourishment, hydration, medication, hygiene, or other measures for personal safety. It should be noted that this differs from a mentally sound individual who deliberately chooses to inflict harm on themselves.
Can I File a Lawsuit for Financial Abuse of an Elderly Person?
Due to the significantly low wages received by home care workers, coupled with the storage of elderly individuals' personal information in nursing homes, financial exploitation of the elderly has become a distressingly common occurrence.
Research has revealed that 1 out of every 10 cases of elderly abuse involves material or financial exploitation. Our experienced nursing home neglect attorney in Moultrie, GA has identified the following signs that may indicate material or financial abuse:
Abrupt changes in bank account activity, such as unexplained large withdrawals
Addition of unknown names to the victim's bank account
Unexplained alterations in a will or transfer of assets
Loss of funds or valuable possessions
If you suspect that your loved one may be experiencing financial or material abuse, please reach out to our lawyers without delay. You can have faith in their ability to examine any suspicious activity and, if necessary, pursue compensation for any damages incurred.
What are the Warning Signs of Elderly Abuse?
The indicators of nursing home abuse may not always be easily visible and may lack any clear physical indications. To remain vigilant of any subtle signs as they develop, it is advisable to frequently visit your loved one and be mindful of the most prevalent abuse indicators. Some common warning signs to look out for are:
Anxiety or fear towards particular staff members or situations
Development of bedsores
Missing personal belongings or possessions
Emotional withdrawal or isolation
Poor personal hygiene
Experiencing excessive hunger or thirst
Cuts, bruises, or other physical injuries
Decline in physical health or energy levels
Listlessness or lack of motivation
Presence of infections
If you have noticed any of these signs or symptoms of abuse towards your loved one, it is critical to contact the law offices of Joe Durham at the earliest opportunity. We will offer our full support in reviewing the particulars of your case and guiding you on the best methods to safeguard their rights.
Why is Nursing Home Abuse so Prevalent?
A significant number of the root causes of nursing home abuse can be attributed to mismanaged and inadequately staffed facilities that lack the necessary resources to employ proper personnel. This, in turn, leads to varying degrees of professional negligence. Moreover, there is often a high rate of turnover due to the growing demand for qualified and professional nursing home staff.
What Should You Do if You Suspect Your Loved One is the Victim of Nursing Home Neglect?
The Georgia Department of Community Health regulates nursing homes. However, if you have a loved one who is experiencing abuse, it is crucial to consult a skilled nursing home abuse lawyer to assist with filing a claim.
Reach out to our office for legal support to combat this injustice alongside you. Joe Durham has the expertise to manage such cases, and our goal is to ensure the well-being and comfort of your loved ones while we investigate the matter.
If you suspect the possibility of abuse, it is essential to document as much of the situation as possible. Take photographs of any injuries or apparent indicators of abuse. We will assist in reviewing the evidence and offer our professional evaluation. If one nursing home staff member is suspected of abuse, it is likely that others are also aware of this individual's behavior.
Under Georgia state law, nursing homes and other elderly care facilities are mandated to perform their duties without resorting to exploitation, neglect, or abuse. If you suspect that your elderly loved one is enduring abuse in an elderly care facility, legal assistance is available.
Contact the Law Firm of Joe Durham at 229-351-5320 to retain the services of a seasoned attorney who can analyze the case and offer expert guidance and assistance in securing compensation for the abuse. Contact the Joe Durham Law Firm for a Free Consultation!