Individuals that sustained injuries and damages in a road accident caused due to the negligence of another driver can file personal injury lawsuits. We at Joe Durham Law Firm will be glad to offer the necessary assistance need to ensure you get full compensation for the losses you incurred due to the accident.
We have experienced Personal Injury Attorneys in Thomasville, Georgia, that have handled numerous cases filed against hospitals, trucking companies, large corporations, motorists, and property owners. We have an impeccable winning record and have recovered millions of dollars on behalf of our clients.
Our team of lawyers is well equipped to handle different personal injury cases in Georgia. Call us today at229-351-5320 for a free evaluation of your case.
What's The Cost Of Hiring A Thomasville Personal Injury Lawyer?
The fee for services rendered by our attorneys in our law offices near Thomasville will be a percentage deducted from the amount award to you. That means the lawyer will get paid only if you win the compensation case. Therefore, you will not have to worry about the costs of hiring such legal representation.
How To Know If You Have A Personal Injury Case
The details of the accident will determine whether you can sue for damages. As the victim, it is within your legal right to file a lawsuit seeking compensations for injuries and losses attributed to an accident caused by another's recklessness.
For example, if you are in a car crash, an auto accident lawyer can see if the other driver was negligent. Negligence on the part of the defendant will be considered if the accused failed to ensure the safety of other road users by adhering to traffic rules and driving safely.
How Do Legal Statutes In Thomasville, Georgia Define Negligence?
Let's assume that you walk into a restaurant and you trip and fall suddenly when entering the dining room. You then discover that patrons must use a step to enter that section of the restaurant;
However, there are no clear signages for the step. Moreover, the area is poorly lit. In such a scenario, the restaurant owner could be held accountable for your injuries due to blatant negligence in ensuring customers are made aware of the potential hazard. As such, you can file a lawsuit against the restaurant.
Why Do You Need To Hire A Thomasville Personal Injury Attorney?
The law allows you to seek compensation for losses incurred in an accident caused by the negligent actions of another. You can file the claim case, but you may not be aware or familiar with the process.
As such, you face the likelihood of getting a lesser settlement than you should from the insurers. Moreover, the insurance company will do what they can to refute your claim or find reasons to reduce the compensation.
Such things are the reasons for considering the services of experienced personal injury lawyers. With such professionals, you have reliable individuals that represent your interests.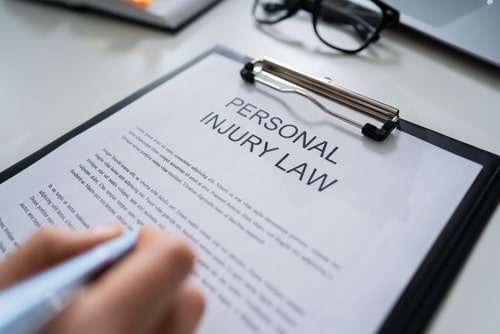 Who Can You Name In The Injury Lawsuit?
Ideally, you will be suing the party responsible for your injuries or damages. At Joe Durham Law Firm, we can handle issues related to:
Reckless motorists that negligently maintain or operate the cars.
Pet owners that fail to restrain their ferocious animals, such as dogs, for attacking other people.
Doctors, hospitals, and nursing homes that do not provide proper medical care and attention to their patients
Manufacturers that sell defective products like pharmaceutical that sell defective drugs or do not inform the public of the side effects of taking said medications
Trucking companies that endanger their drivers by not allowing them to rest enough, overloading their vehicles, or running operation of the
transportation business with disregard for the safety of the employees
Landlords or property owners who fail to maintain their buildings, making it unsafe for the occupants.
What Compensation Should You Expect From The Personal Injury Lawsuit?
In a personal injury lawsuit, you may be able to recover compensation for any losses resulting from your injury, such as:
In the lawsuit, you are suing the defendant seeking compensation for any damages incurred due to the accident. Such losses may include:
Medical bills
Inability to work and lost wages
Physical incapacitation
Therapy and in-home healthcare aides
Pain and suffering
Inability to meeting housings needs
Keep in mind that the settlement you are awarded will vary depending on various factors, such as the type and severity of the damages or injuries, your age, and other factors.
Our legal team at Joe Durham Law Firm have handled different compensation cases. We have helped many clients get full compensation for their losses. That is why we are confident that we can help you take legal action against those responsible for your woes.
How Long Should You Take To File The Injury Lawsuit?
Such cases face strict time limitations as per the law. You are given around two years from the time of the accident to file the claim; this is as per the statute of limitations.
If that time elapses before you submit the lawsuit, then you will have voided your chance to get compensated even if you evidently would have won the case.
Does The Matter Have To Go To Court?
It is dependent on how things go during the preferred settlement processes that we highly recommend you consider. Our team of Personal injury lawyers will prep you on your best options, and they represent your interests when pushing the insurance company to honor the compensation.
Going to local court will be the last resort after all else fails, and the insurers are unwilling to listen or cooperate.
You Can Sue For The Pain And Suffering You Endure
The laws in Georgia define pain and suffering as mental, physical, or emotional anguish. Damages regarding such distress are calculated by severity. It could be that you need physical therapy to recover from the injuries sustained in a car accident.
Perhaps the incident left you in a wheelchair for the rest of your life. Or you lost a loved one in the crash. Such things can torment you emotionally, physically, and mentally and you are entitled to compensation for the anguish.
Get in touch with Joe Durham Law Firm today and see what your options are when suing for the pain and suffering you endured or are facing.
How Long Does It Take To Reach A Fair Settlement?
The valuation of the personal injury claim is not based on any particular formula. Every case is unique; as such, the money awarded will vary depending on different circumstances related to the incident. But what you should avoid is settling for less than what your claim is worth.
We have highly experienced personal injury lawyers at Joe Durham Law Firm that can evaluate your case to determine if things will significantly swing in your favor. They will ensure you are compensated for the lost wages, medical expenses, therapy, and well and pain and suffering and more.
Call Us For A Free Case Review
Contact our Thomasville personal injury attorney and get to know more about the steps you should take to ensure you are fully compensated. We have experienced lawyers that will do everything possible to get you what you are owed.
Call us today at 229-351-5320 for a free consultation. You can as well go online and fill our form, and we will get back to you.