Deciding to move your parent into a nursing home is one of the hardest things you'll ever do. No matter how diligent you are in researching local nursing homes, there are some things you cannot uncover. Our nursing home abuse lawyers in Albany have helped many clients whose loved ones were neglected or even intentionally mistreated.
Investigate Carefully Before Selecting a Nursing Home
For most people, selecting a nursing home for their loved one is difficult. You do need to do your homework before you make a final decision. Here are some of the things you'll need to do when investigating the local nursing homes.
Take a tour of the facility. When there, talk to both staff and residents. You want to get a feel for how the staff treats their residents. Look to see how the residents look physically. Are they clean and well-cared for? What kind of food does the nursing home offer residents?
You need to make an appointment with the county Ombudsman's Office. Look to see if they have had any complaints issued about the nursing home. Ask them what their opinion is on the handful of homes you're considering.
Do a search to see if the nursing home has been sued for abuse or neglect in the past.
Once you've done your research and chosen a nursing home facility, your work is not done. You need to visit your mom or dad often and look for signs of abuse or neglect.
There Are Several Types of Nursing Home Abuse
Below we'll discuss some of the more common types of elder abuse our Albany nursing home abuse attorneys have seen over the years. If you suspect something untoward is going on, call our personal injury lawyers in Albany, Georgia right away.
Physical Abuse
Obviously, our team of Albany injury attorneys has seen more than our fair share of physical abuse in the nursing home setting. While nurses and other staff are meant to care for their patients, some people are in the business for the wrong reasons.
If you notice that your parent is showing signs of physical abuse, such as bruises or cuts, don't waste time asking questions. Take pictures of these marks and contact a personal injury lawyer in Albany immediately. They will guide you as to what your next steps should be.
Sexual Abuse
Nobody wants to think that their mom or dad could be the victim of sexual abuse, but it does happen. Contrary to what you may think, this does not only involve direct abuse of your loved one.
Nursing home residents should not be subjected to either seeing or listening to staff members engaging in sexual acts. Nor should they be put in a vulnerable position where another resident is sexually abusing them in any way.
Financial Abuse
This is sometimes the hardest type of abuse to detect. If you suspect one of the aides or other staff members is stealing from your mom or dad, report it to the nursing home administrator right away.
If it continues, then it's time to call our personal injury lawyers in Albany.
Emotional Abuse
The last thing you expect to happen when you move your mom or dad into a nursing home is that they'll be treated poorly. However, nursing staff and other nursing home employees do get frustrated at times.
They should not take their frustrations out on your loved one. If your parent reports being spoken to poorly or in an angry fashion, let us know immediately.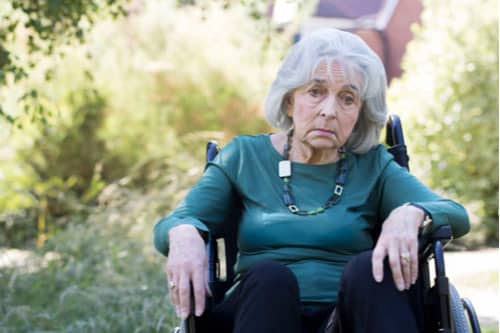 Neglect
There are certain signs and symptoms of nursing home neglect. You need to keep an eye out for these things when you visit with your loved one.
If you notice any of the following, you need to call a seasoned nursing home neglect lawyer in Albany:
Bed sores
Lack of hygiene
Not delivering your mom or dad their meals on time
Laundry is not being done
Your loved one is not groomed often enough
Make notes of the things you notice so that you can provide this information to your attorney.
Regardless of the Type of Abuse, Your Albany Injury Lawyer Can Help
Once you report the suspected abuse to your Albany injury attorney, they can help you conduct a more thorough investigation. If they believe that your mom or dad is being abused, they will reach out to the nursing home's administrator.
If this doesn't fix the problem, they can file a complaint with the state and the Ombudsman's Office. You'll also need to consider filing a lawsuit.
If you're interested in learning more about if you can sue your medical malpractice if you were prescribed the wrong medication, view this page.
The Nursing Home's Owner Would Ultimately Be Liable for Any Damages Suffered
When it comes time to sue, your personal injury lawyer in Albany will have to consider suing more than one party. Obviously, you'll need to name the owners of the nursing home in your complaint. Be extension, you'll need to pursue a claim against their insurance carrier as well.
In addition to the owners of the facility, you may need to sue the agency that staffs the home. It all depends on which staff members were guilty of the abuse and neglect. Your Albany nursing home neglect attorney will have a much better idea of who to pursue once they complete their investigation.
There's a Good Chance Your Nursing Home Abuse Lawyer in Albany Will Settle Your Case
Knowing what's at stake, there's a good chance the nursing home will want a quick settlement. They don't want your complaint to become public. They also don't want to spend thousands of dollars defending a lawsuit.
In our experience, these cases often settle out of court. It is hard to find a more sympathetic victim than an elderly resident in a nursing home. The defendant knows this. That's why they'll be amendable to an early settlement.
Don't Wait Too Long to Contact an Experienced Attorney
If you suspect your mom or dad is being abused at their nursing home, you need to act quickly. You don't want to wait too long. Every day you wait to reach out to an Albany personal injury attorney is a day they have to suffer.
We suggest that you contact our office right away. We offer new clients a free, initial consultation. This gives you a chance to voice your concerns and learn about your options. Call today and schedule a date and time to come into the office. You won't have to pay anything until we settle your case.