The Law Firm of Joe Durham is committed to those suffering injuries from accidents caused by another's negligence. We offer help in addressing the complex legal aspects of this process. The final goal of a personal lawsuit is to provide the injured victims with the compensation they need to recover financial loss and return to their life as it was before the accident.
Our team of talented Personal Injury Lawyers has the training and experience to protect your rights in a wide variety of cases. We have represented the interests of those suffering from injuries caused by motorists, trucking companies, major corporations and property owners.
While every case is different we have a high record of success and have recovered millions of dollars over our extensive history of practice.
If you are looking for legal representation for your injuries in Tifton, Georgia, call us at 229-210-6226 to schedule your free case evaluation.
How Much Do Our Personal Injury Services Cost?
We work on a "no-win-no-fee" plan. This means that we will take on your case and provide you with professional legal services for no cost whatsoever unless we win. In which our fees will be a percentage of the total winnings.
When Can I File a Personal Injury Lawsuit?
A personal injury lawsuit can be filed against a person or entity whose negligence directly resulted in an accident and subsequent injuries. To have a case against the defendant you must first be able to prove that they acted negligently and therefore are responsible. Negligence is widely defined as not acting with the same prudence expected of any reasonably prudent person.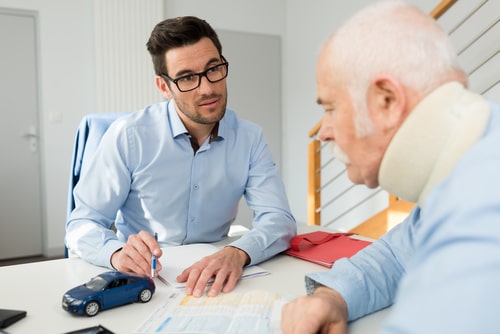 What Would an Example of Negligence Look Like?
Negligence doesn't mean causing anyone intentional harm, it can be failing to perform expected duties that ensure general safety. For example, imagine you are walking into a restaurant to enjoy a meal and as you step into the establishment something catches your foot and causes you trip and fall.
After the accident, you notice that the object that caught your foot was a single step that was obscured in the shadows and not identified by any warning sign or lighting. Your injuries caused in this accident were because there was not sufficient lighting for safe navigation.
Because the restaurant owner is responsible for warning guests of all potential hazards this was an act of negligence and the restaurant owner is liable for your injury.
Why Hire a Personal Injury Lawyer?
If you were injured in an accident you have rights to compensation, but it isn't as simple as that. The process of filing and pursuing a lawsuit is a complex process and those who are not familiar with recovering compensation can find their final payouts remarkably reduced.
The advantage of a qualified Tifton Personal Injury Lawyer is their skill and experience which can help you navigate the legal complexities and find the full compensation you deserve.
Who Can I Make a Claim Against in a Personal Injury Case?
Any person or entity can have a claim made against them if they failed to perform their expected duty to public safety. Some of the more common cases we have handled include:
Hospitals and nursing homes staff who failing to properly care for a patient
Dangerous drivers
Landlords and property owners who fail to keep their premises safe
Dog owners whose animal companions cause injuries to other people
Pharmaceutical manufacturers that failed to warn the public or doctors of the potential side effects of their medications.
Trucking companies that promote dangerous driving practices like driving long hours or overloading their transports.
What is it Possible to Claim for in a Lawsuit?
Personal injury claims can cover a variety of damages:
Medical expenses
Assisted living aids
Pain and suffering
Loss of income
Home adaptations
The full value of your case will depend on a wide variety of factors, such as the severity of your injuries, the entity being sued and even your age can be a factor. The best way to get a clear idea of what your injuries may be worth would be to have the case studied by a fully qualified personal injury lawyer in the city of Tifton.
Is there a Time Limit on Making a Claim?
It is important to be aware of the Statute of Limitations in Moultrie for filing your personal injury claim. In most cases the time frame designated for filing a personal injury lawsuit is two years, but this can be reduced to a matter of weeks in some cases.
Do All Claims Go to Court?
In our experience, almost 95% of all personal injury cases are settled out of the local court. But we still give every case the full preparation and attention needed in anticipation of it arriving in court. Nevertheless, it is quite common for settlements to be reached and this is usually the most advantageous plan for all involved.
Is it Possible to Sue for Pain and Suffering?
Pain and suffering can also be compensated for in a Personal injury lawsuit near Tifton. The damages here will be calculated on how severe the pain and suffering is.
A victim who finds themselves confined to a wheelchair for the rest of their lives or those who will require intensive and possibly unpleasant sessions of physical therapy will be able to claim compensation for this.
How Long Will it Take to Settle the Case?
As every case represents a collection of highly unique factors and circumstances, it will be essential to examine each one to determine how long it will take to settle. In some cases, these matters are completed in a matter of a few months, and in other cases, they can drag on for a few years.
But, our skilled lawyers will be working to bring your lawsuit to a favorable conclusion as fast as possible.
Call us today for a Free Case Review
The Personal Injury Lawyers at the Joe Durham Law Firm have the skill and experience to ensure that your case gets the attention and compensation it deserves. Call us today at 229-210-6226 to schedule your free consultation where we will tell you more about what you can expect.