Motorcycle accidents in Georgia have been on the rise in recent years, despite traffic laws designed to promote road safety. Unfortunately, some drivers fail to pay enough attention to motorcyclists or simply don't see them on the road. As a result, it's important for motorbike riders to know their rights and understand the necessary steps to take if they are involved in an accident on Georgia highways.
If you have been involved in a motorcycle accident, it's possible that you sustained serious injuries and may require the assistance of a legal expert to help you explore your options for seeking compensation for damages. In such a situation, you can contact the personal injury lawyers at Joe Durham Jr., P.C. at 229-351-5320.
Our skilled Bainbridge, GA motorcycle accident attorneys possess the necessary expertise to go head-to-head with other parties and fight for your rights to receive the compensation you are entitled to.
How Can a Bainbridge Motorcycle Accident Lawyer Help With My Compensation Claim?
At our firm, a Bainbridge motorcycle accident lawyer will provide comprehensive legal assistance throughout the entire process of seeking compensation for your injuries and damages resulting from the accident.
We understand that motorcycle accidents can have devastating consequences, and we are committed to helping you receive the compensation you deserve.
Review Your Case
Our motorcycle accident lawyers in Bainbridge, GA will provide you with comprehensive information regarding your legal rights and options after an accident. They will evaluate your case and explain the various factors that determine the amount of compensation you may be entitled to.
With their experience and knowledge, they can also answer any questions you may have and provide clarification about the legal process. At Joe Durham Jr., P.C., we offer free case evaluations to help you determine the best course of action for your situation.
Gather Evidence
At Joe Durham Jr., P.C., our motorcycle accident attorneys will gather all the evidence needed to support your claim. They work with other experts, including independent investigators, doctors, police, and insurance companies, to establish the facts. They approach the matter carefully to ensure that your chances of getting compensation are not jeopardized.
Negotiate a Settlement
However, if an out-of-court settlement cannot be reached, your Bainbridge motorcycle accident lawyer will proceed with filing a lawsuit in court. They will represent you and argue your case before a judge and jury.
Your attorney will work tirelessly to gather evidence, present your case in the best light possible, and fight for the compensation you deserve. They will keep you updated on any developments in your case and advise you on the best course of action to take.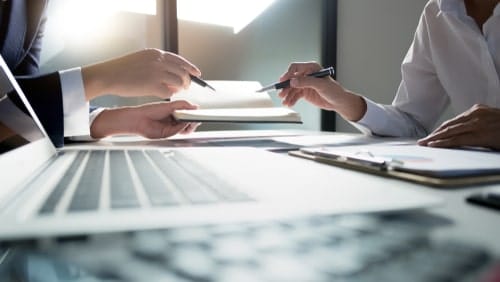 Represent You in Court
If an out-of-court settlement cannot be reached, your motorcycle attorney will file a lawsuit on your behalf and represent you in court. They will present the evidence gathered during their investigation to the judge and jury, argue your case, and advocate for your rights to receive compensation for your damages and injuries from the motorcycle accident.
The amount awarded will depend on the strength of the evidence presented and the severity of the injuries sustained.
What Are the Most Common Causes of Motorcycle Accidents?
Motorcycle accidents can happen due to a variety of factors, some of which are avoidable and others that are not. Examples of these factors include:
Distracted driving
Speeding
Failure to obey traffic rules and signs
Drunk or impaired driving
Lane splitting or weaving
Failure to check blind spots
Poorly maintained roads or hazardous road conditions
Defective motorcycle parts
Weather conditions such as rain, snow, or fog
Motorcycle Accident Statistics in Georgia
Motorcycle accidents are a serious concern, as riders are at a higher risk of injury or even death due to the lack of protection offered by their vehicles. In the United States, more than 80,000 riders are injured in accidents each year, and over 5,000 fatalities are recorded. Despite making up only 3% of registered vehicles, motorcyclists account for 14% of all traffic fatalities.
According to statistics, most motorcycle accidents occur in urban areas and on high-capacity roads during weekends and in clear weather conditions. Left-turn accidents are the most common, accounting for over 40% of accidents, followed by sideswipe and lane-splitting accidents.
If you have been involved in a motorcycle accident, it is important to seek the help of an experienced motorcycle attorney to protect your rights and pursue compensation.
What Are the Motorcycle-Specific Laws in Georgia?
Georgia has specific laws that apply to all motorists, but riders need to pay extra attention to certain clauses. For example, Georgia law prohibits lane splitting, and engaging in this practice can result in legal trouble if an accident occurs. Lane filtering, which is similar to lane splitting, is also prohibited. Furthermore, the law states that no more than two motorcycles can travel side by side in one lane.
In addition to these regulations, Georgia law requires motorcycle riders to operate their bikes safely and take all necessary safety precautions, including wearing appropriate gear and ensuring that their bikes have all required lights. All riders must wear helmets that comply with safety standards established by the Georgia Board of Public Safety.
What Are the Most Common Injuries Seen in Motorcycle Accidents?
Riders are at a higher risk of sustaining fatal injuries in an accident due to their exposed position and vulnerability. Some of the typical injuries that riders may sustain include:
Traumatic brain injuries
Spinal cord injuries
Fractures and broken bones
Road rash and severe abrasions
Internal injuries and organ damage
Amputations
Disfigurement
How Is Fault Determined in a Georgia Motorcycle Accident?
Determining fault in a motorcycle accident in Georgia is complex, as several factors come into play, including liability and compensation.
Georgia is a comparative negligence state, which means that liability is divided based on each party's responsibility in the accident. Even if a motorcycle rider was partly responsible for the accident, they can still receive compensation as long as they are not responsible for more than 50% of the accident.
The compensation amount will be reduced based on the percentage of fault. For example, if the rider was 10% responsible, the amount will be reduced by that percentage.
Evidence is crucial in determining the fault, and your lawyer should gather as much evidence as possible, including reports from professionals like doctors and independent investigators, to recreate the accident scene for the jury and ensure you receive the rightful compensation.
What Type of Compensation Can I Receive for My Motorcycle Accident?
There are three types of compensation that can be awarded in a motorcycle accident case, and the total amount you can receive will depend on these types.
Economic Damages
One type of compensation for a motorcycle accident is economic damages, which are intended to cover losses that have a clear monetary value. These damages are objective and can be proven through receipts and reports from professionals.
Examples of economic damages include medical expenses, damage to the motorcycle, lost wages, costs of care, and rehabilitation expenses.
Non-Economic Damages
Non-economic damages are not quantifiable in monetary terms as they cover subjective losses that have no definite value. These damages are often the source of disputes as they cover losses such as reduced quality of life, stress, depression, and loss of consortium.
Punitive Damages
Punitive damages are awarded as a form of punishment to the at-fault party. These damages are only awarded in cases where the offender's actions were deemed extremely negligent or willful, and they serve as a lesson or deterrent to prevent such behavior in the future.
Why Would My Motorcycle Accident Claim Be Denied?
There are various reasons why your motorcycle accident claim may be denied, including:
The policy of the at-fault party was canceled or had lapsed
The driver was not covered by the insurance policy
The comparative liability analysis determined that you were responsible for more than 50% of the fault
You failed to provide sufficient evidence that you were injured as a result of the accident
There is a suspicion that your injuries were caused by another event and not the accident.
Are There Time Limits to Filing a Claim in Georgia?
In Georgia, it's crucial to file a personal injury claim within two years from the date of the accident. However, claims against cities or counties have to be filed within six months. Family members who lost a loved one in a motorcycle accident have two years to file a wrongful death claim.
It's essential to meet these deadlines as failure to do so may result in losing the right to seek compensation. Therefore, if you've been involved in a motorcycle accident, it's vital to contact an experienced motorcycle attorney as soon as possible to discuss your legal options.
Get Help From a Skilled Bainbridge Motorcycle Accident Lawyer
If you have sustained injuries in a motorcycle accident, it's essential to seek the help of a knowledgeable and experienced Bainbridge motorcycle accident lawyer. They can guide you through the process of seeking compensation while you focus on your recovery. Having a skilled Bainbridge auto accident attorney by your side can significantly impact the outcome of your case.
To schedule a free case evaluation with Joe Durham Jr., P.C., call 229-351-5320. We work on a contingency basis, meaning you pay nothing unless we win your case.