Ridesharing services like Uber and Lyft have revolutionized the way people travel, offering affordable and convenient transportation.
However, the increasing popularity of these services has also led to a rise in accidents involving rideshare drivers. If you or a loved one has been injured in an accident involving a rideshare driver, it can be a complicated and costly ordeal.
Contact a Bainbridge Uber accident lawyer today at 229-351-5320 to help you get the compensation and justice you deserve. Our car accident attorneys are dedicated to assisting victims and offer a free consultation to discuss your case.
Uber and Lyft Accident Statistics
Since its launch in 2009, Uber has grown to over five million drivers across 63 countries, while Lyft has more than two million drivers in the US and Canada. In 2019, Uber reported the number of fatal accidents it had encountered but has not released data on other accidents. Meanwhile, Lyft has yet to publish any official report on accidents related to its platform.
A recent study by Rice University and the University of Chicago revealed that since the advent of ridesharing services in 2011, there has been a 2% to 3% increase in nationwide traffic fatalities, resulting in an additional 1,100 deaths per year.
This increase contrasts with a steady decline in car accident fatalities for about 20 years before the launch of ridesharing services.
What Are the Most Common Types of Uber and Lyft Accidents?
These are the most common causes of accidents involving ridesharing vehicles:
Negligence of another rideshare driver causing injury to a passenger.
Negligence of the rideshare driver causing injury to passengers.
Liability of the rideshare driver causing injury to a third party.
Negligence of the rideshare driver causing property damage.
Personal negligence of the rideshare driver causing injury to themselves.
Negligence of another driver causing injury to the rideshare driver.
Defective or malfunctioning vehicle parts causing injury to passengers and/or drivers.
Who Can Be Found Liable in an Uber Accident?
A driver may be responsible for a rideshare accident, but other parties could also be held liable.
The Lyft or Uber Driver
If evidence shows that the ridesharing driver was at fault for the accident while transporting passengers, they can be held responsible. In such cases, it's best to file a claim with the driver's personal insurance company, with the help of an experienced Uber accident lawyer. Your lawyer can guide you through the process and increase your chances of getting your claim approved.
The Ridesharing Company
There are cases where the evidence points to the ridesharing company being responsible for the accident and not the driver. This means that the respective company will be held liable for all of the damages incurred in the accident.
Keep in mind that with Lyft and Uber, the drivers work as independent contractors, meaning the companies could deny having any responsibility for the accident.
This is why it's important to work with a professional Lyft/Uber accident attorney who is well familiar with the recent rulings in such cases, as they could be helpful in pursuing a favorable outcome.
Any Related Third Parties
If liability for a Lyft or Uber accident falls on a third party, such as a construction company or a local government agency, a claim may need to be filed with their insurance company. A skilled Uber accident attorney can assist in filing the lawsuit, with the third party named as the defendant.
Taking prompt action is crucial, particularly in cases involving third parties. With the assistance of an experienced lawyer, victims of Lyft and Uber accidents can increase their chances of receiving a favorable outcome.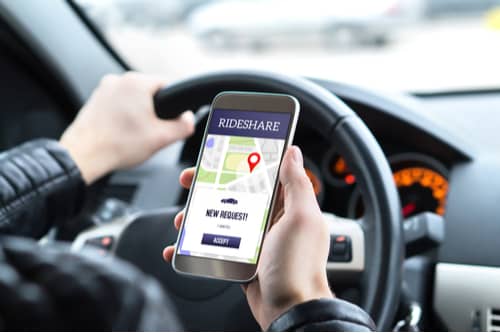 How Do Uber Accident Lawsuits Differ From Other Auto Accident Cases?
Uber and Lyft accident claims are unique in that they are determined by the period in which the driver was operating the rideshare platform at the time of the accident. If a driver who is not currently operating for Uber or Lyft causes an accident, their personal auto insurance policy will cover the damages.
If the driver was online on the app but not in the middle of an ongoing ride, Uber and Lyft's liability insurance will provide coverage, with limits of up to $50,000 per person for bodily injury, $100,000 per accident for bodily injury, and $30,000 and $25,000 for property damage on Lyft and Uber respectively.
However, if the driver was on their way to pick up or drop off a passenger, the liability limit increases to $1 million, with an additional $1 million for underinsured or uninsured motorists. This coverage applies not only to passengers but also to the driver.
Does Uber Have a $1 Million Insurance Policy For Accidents?
While it may seem like Uber's liability insurance covers all Uber drivers, it is important to carefully read the policy terms and conditions.
The insurance is designed to cover a driver only if they are carrying an Uber passenger during a paid trip, and the driver's own insurance coverage is insufficient to cover the damages incurred.
Accidents that occur when the driver is not on their way to pick up a passenger, waiting for a passenger, or driving the vehicle for personal use are typically not covered under this policy.
What Type of Compensation Can I Seek in an Uber Accident?
If you have been hurt in a rideshare accident in Bainbridge, Georgia, our attorneys are here to help you get the compensation you deserve.
Economic Damages
These damages are considered tangible losses that can be measured in monetary terms. They include costs such as medical bills, property damage, lost wages, and other expenses that you may incur due to the accident.
Noneconomic Damages
Non-economic damages are losses that you have suffered as a result of the accident, but they do not have a specific monetary value. These can include emotional distress, mental anguish, loss of companionship, and other intangible harms that affect your quality of life.
Punitive Damages
These damages are meant to punish the defendant and serve as a deterrent against similar malicious or negligent behavior in the future. They are not typically awarded in most accident cases and are reserved for cases where the defendant's actions were particularly egregious or reckless.
Should I Just Accept a Settlement Offer?
It is crucial to discuss with your lawyer whether settling or going to trial is the best option for your Uber or Lyft accident case. The decision usually depends on the defendant's willingness to agree on a fair settlement amount. Your lawyer will handle negotiations with the defendant's representatives to reach a favorable settlement amount. If the defendant agrees to pay the amount, the case won't have to go to trial.
However, if the defendant refuses to settle, your Bainbridge Uber accident lawyer will discuss your options and help you determine the best course of action for your case. They will consider the unique circumstances of your case to decide whether going to trial or settling is the best option for you.
Is There a Time Limit to File an Uber Accident Claim?
In Georgia, it's important to file a lawsuit for a rideshare accident within a specific time period, known as the statute of limitations. Failure to do so can result in forfeiting the right to sue the defendant permanently. In Georgia, the statute of limitations for a personal injury lawsuit is two years.
Contact a Bainbridge Uber Accident Lawyer Today!
If you have been involved in an Uber/Lyft accident, it is crucial to have an experienced lawyer by your side to handle your case. Otherwise, you may be left at the mercy of a large corporation that does not prioritize your well-being.
These companies often employ tactics like offering low settlements or delaying payments, leaving victims feeling frustrated and desperate.
However, with the help of a professional lawyer, the case is viewed differently by the companies and their insurers, increasing the chances of receiving full and fair compensation for damages.
At Joe Durham Law, our experienced Uber accident lawyers are ready to work on your behalf to secure the compensation you need and deserve.
Contact our Bainbridge personal injury lawyers today at 229-351-5320 to schedule a free consultation and discuss your legal options.