If your loved one has been a victim of mistreatment in a nursing home, there are legal resources available to you. You can contact the law office of Joe Durham at 229-351-5320 to speak with a nursing home neglect attorney in Bainbridge, GA who can help.
Our team of professionals has the necessary skills and resources to get compensation for cases of abuse. According to Georgia law, abuse victims can seek compensation for medical expenses, pain and suffering, and loss of life's enjoyment.
It's important to note that there are time limits for filing these cases, so seeking professional help promptly is crucial. Your personal injury lawyer will handle the proper and punctual filing of the claim to ensure you get the compensation you deserve.
How is a Nursing Home Abuse Case Handled?
At Joe Durham Jr., P.C., we prioritize open communication with our clients when handling cases of nursing home abuse. We believe that our clients deserve to be informed every step of the way and that they have the right to make informed decisions regarding their case.
If at any point a settlement offer is unsatisfactory, we have the experience and determination to take the case to trial and fight for our clients' rights. Our priority is to ensure that our clients receive the compensation they deserve for the mistreatment and neglect suffered in nursing homes.
We offer several ways to strengthen your nursing home abuse case in Georgia. Our team will work with medical experts to determine the causes of your elderly loved one's injuries and review their medical records.
We will also ensure that the nursing home does not restrict access to information relevant to the claim and gather photographic evidence, as well as examine security videotapes related to the abuse.
In addition, we will review business records to determine the legality of the nursing home's hiring practices, interview witnesses if possible, and talk to other employees and residents of the nursing home. Our team will also determine the cost of any non-economic damages connected to the nursing home abuse.
What Are Examples of Nursing Home Abuse and Neglect?
If you suspect that your elderly loved one has suffered abuse while in a nursing home, it could take many forms, such as physical, emotional, sexual, financial exploitation, neglect by caregivers, and healthcare fraud.
We understand how devastating this can be for your family and that you want justice for your loved one. Our Bainbridge, GA-based nursing home abuse lawyers can help you pursue justice and compensation for your loved one's injuries.
The National Center on Elder Abuse has outlined the following three types of nursing home abuse:
Domestic
This type of abuse, known as elder abuse, is perpetrated by someone who is known to and trusted by the elderly person. This could include a spouse, sibling, friend, child, or caregiver. Elder abuse can occur either in the elderly person's own home or in the home of the caregiver.
Institutional
This is any form of abuse that takes place in a facility or institution that is meant to provide care for older individuals, such as nursing homes, foster homes, or group homes. The perpetrators of elder abuse in these situations are typically the individuals who are responsible for the care and safety of the elderly residents.
Self-neglect
This type of issue is known as self-neglect, which refers to the actions or inactions of an elderly person that threaten their own health, safety, or well-being.
Examples of self-neglect may include failure to provide oneself with adequate food, water, medication, hygiene, or other personal safety precautions. It is important to note that self-neglect does not apply to mentally competent individuals who make a conscious choice to harm themselves.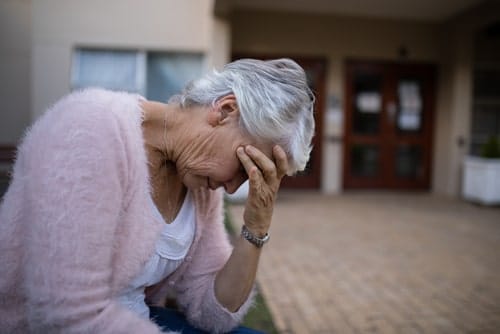 Can I File a Lawsuit for Financial Abuse of an Elderly Person?
The financial exploitation of the elderly is unfortunately all too common, in part due to the low wages that home care employees typically receive, as well as the fact that personal information of elderly persons is often kept on file at nursing homes.
Studies have indicated that one in every ten cases of elder abuse involves financial exploitation or material abuse. Here are some indicators our experienced nursing home abuse attorney in Bainbridge, GA believes may point to financial or material abuse:
Unexplained, sudden changes in the elderly person's bank account, such as large withdrawals
Addition of names to the elder person's bank account without explanation
Sudden alterations to a will or transfer of assets
Loss of funds or valuable possessions without explanation
What are the Warning Signs of Elderly Abuse?
Here are some signs of nursing home abuse to be vigilant about, as they may not always be immediately noticeable or physical. The most effective way to stay aware of any small indications as they arise is to frequently visit your elderly loved one and be aware of the common signs of abuse. These include:
Unexplained injuries such as bruises, cuts or fractures
Changes in mood or behavior, such as withdrawal or depression
Weight loss, malnutrition or dehydration
Poor hygiene and lack of cleanliness in the living environment
Unsanitary conditions, such as soiled bedding or clothing
Changes in medication or doses without explanation
Signs of restraint, such as bruising or marks on wrists or ankles
Fear or discomfort around certain staff members
Unexplained financial transactions or missing personal items
Neglect of basic needs, such as assistance with bathing or grooming
Overmedication or medication misuse
Poor living conditions or lack of necessary medical equipment
If you have observed any of these indications or indications of injury on your loved one, it is crucial to contact the legal team at Joe Durham promptly. Our team will provide you with complete assistance in analyzing the specifics of your case and guide you on the appropriate actions to take to safeguard their rights.
Why is Nursing Home Abuse so Prevalent?
Nursing home abuse can often be linked to mismanagement and inadequate staffing in care facilities, which can result in varying degrees of professional negligence. Additionally, the increasing demand for qualified nursing home staff has led to a higher turnover rate in these facilities.
What Should You Do if You Suspect Your Loved One is the Victim of a Nursing Home Neglect?
Nursing homes in Georgia are regulated by the Department of Community Health, but if you suspect that your loved one is being abused or neglected, it's important to seek the help of a qualified nursing home abuse attorney.
Our team at Joe Durham Jr., P.C. can assist you in filing a claim and fighting for justice on behalf of your loved one. With our experience and expertise, we will investigate the case and ensure that your loved one is comfortable while we work towards a resolution.
Contact the Joe Durham Law Firm for a Free Consultation!
Under Georgia State Law, nursing homes and other elderly care facilities are obligated to provide care without neglect, abuse or exploitation. If you suspect that your loved one is being abused in such a facility, don't hesitate to seek legal help.
Contact the Law Firm of Joe Durham at 229-351-5320 for an experienced lawyer who can evaluate the case, provide professional advice, and assist in obtaining compensation for the abuse.