It's essential to understand your legal rights when in an accident. The physical and mental tolls of a car accident are extremely difficult to deal with. The insurance companies can be even worse. You need someone in your corner fighting for your best interests and not higher profits.
Car accident victims can rely on the Columbus personal injury lawyers at Joe Durham P.C. As trusted legal professionals, we take the time to understand what our client needs as soon as the process begins.
Your health should be your priority, not the problems of your claim. You should only be concerned about your financial and medical well-being. Our Columbus car accident lawyers have successfully fought against negligent drivers and insurance companies and held them accountable.
You should hire our compassionate and aggressive car accident attorneys in Columbus to help you with your claim. We will fight to make sure you get 100% of the compensation you are owed and not just a settlement for a quick dollar.
Whether this includes dealing with insurance providers, speaking to the police, and/or collecting evidence, we can do everything for you. To get started, call a Columbus car accident lawyer with Joe Durham P.C. at 229-351-5320right away!
Georgia Car Accident Statistics
Getting into a car accident can be a frightening experience that sometimes leads to life-changing events. Accidents are the fourth leading cause of death in the U.S.
Car accidents are not a rarity in Columbus, Georgia, which means we have handled thousands of cases over the years. We have multiple car accident lawyers that are fully equipped to manage these cases on your behalf and will happily take them on.
Some key auto accident stats in Georgia include:
Number of Car Accidents in Georgia (Per Year): 342,534
Number of Injuries Due to Car Accidents (Per Year): 133,555
Number of Accidents Per Day: 1,198
Number of Deaths Due to Car Accidents (Per Year): 1,703
These numbers shed a light on the gravity of the situation in Georgia and why it's essential to seek quality legal assistance as soon as possible. Delaying things can leave you in a bad spot and it's always recommended to get a lawyer by your side immediately.
This is why reaching out to one of our car accident lawyers is a must.
Car Crashes Are Not Always Accidents
While we often refer to them as "accidents", most car crashes can be prevented. They are usually caused by careless or reckless decisions. According to the National Highway Traffic Safety Administration, more than 90% of car wrecks can be attributed to human error.
Even if you follow the rules and take every precaution to protect your passengers, you could still be struck by a negligent driver. Sometimes, it is simple to determine liability.
In some cases, it is easy to determine liability. Other cases are more difficult and complicated to prove, particularly if other drivers dispute your account or if your insurance company reduces the value of your claim.
We want things to go right from the beginning. Our Columbus car accident lawyers will meet with you from the beginning and get to know your case. Early review and advice are the best options. It is not beneficial for injured victims if the insurance company has lawyers involved at the beginning.
How Much Does a Columbus Car Accident Lawyer Cost?
Each Columbus car accident lawyer has a unique approach to setting legal rates, but our law firm focuses on providing a contingency fee for these cases.
The premise is to set up a percentage that is going to be taken out of the settlement after the case is won. This is a win-win situation for both parties as you get what you're after and the payment is in line with what's fair.
This is a straightforward approach to payments and will allow you to focus on the case at hand rather than coming up with legal fees. Many people often feel like they can't afford to hire a car accident lawyer, but thanks to contingency fees, that should never be the case. To learn more about our contingency fee process, please feel free to give us a call.
What Should I Do After a Columbus Car Accident?
In order to strengthen your claim we recommend you take these steps after a car accident.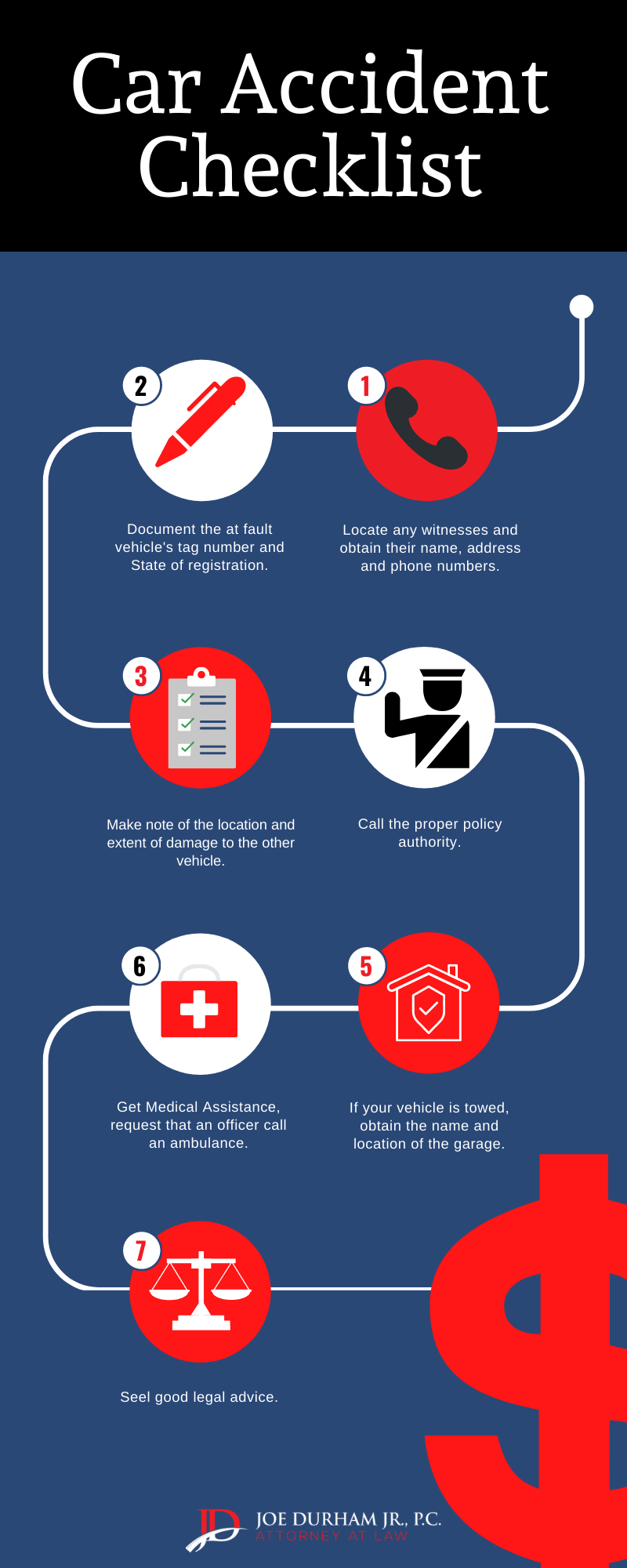 Contact Police
While it can be difficult to handle the shock of getting into a car accident, this is the time to move forward by calling the police in Columbus, Georgia.
It is essential to have police enforcement on-site as soon as possible. These professionals will know how to handle the aftermath of a car accident and can help assist in taking statements from both parties. They'll file a formal police report, which is crucial to your auto accident attorney being able to prove and win your case down the line.
When doing this, make sure to never admit fault and ensure only relevant details are shared with the police.
Check On Other Involved Parties
It's also important to make sure you are in good health as long as the other individual(s) involved in the car accident.
If someone has been injured, please ensure you call an ambulance on their behalf. It is important to act fast as this can become a matter of life and death. For situations where the individual is incapacitated, make sure to provide assistance and get them out of the vehicle.
Exchange Info
When everyone has been checked out and deemed healthy, it is okay to move on to the next step which involves exchanging key information.
This information will include insurance details, name, license plate number, and anything else that can be used to identify the vehicle and driver. You want to be detail-oriented during this step and make sure to ask for official documents.
Do not take the other person's word for it as that is when incorrect information is exchanged. Make sure to check all of this information on your own including the license plate number and anything else that is handed to you.
Record the Scene
When you are in a car accident, it is essential to collect as much visual evidence as possible. Each situation is going to be different along with what type of device is in your hand. However, the best course of action is to take as many photos and/or make a video of the car accident.
By doing this, you are going to eliminate most of the doubt that's involved in how the accident took place including who was at fault. Having visuals makes it easier for the law firm to go through what happened and how to present it to the judge for a positive verdict. If you are in doubt, try to record as much as possible and go from there.
Never Admit Fault
This is the biggest mistake a person can make whether they are at fault or not. We always recommended seeking legal advice when it comes to these matters and admitting fault is the last thing you should be doing. This is true when talking to the other party, police officers, and/or insurance providers.
Just give them pertinent details and never admit guilt for what took place. Leave this to the law firm and justice system. Sometimes, your perspective might be different from what actually happened. This is why being truthful in your eyes might still lead to the wrong verdict.
Seek Medical Attention
Medical records can be a major plus point when it is time to file a legal claim in Georgia. This can shed light on what took place and how it impacted your short/long-term quality of life. You will always want to have these records and the only way possible is to seek medical assistance.
It is also recommended to do this for your health. Sometimes, a person will be okay right after a car accident and then deal with the aftershock a few hours later. Just take the time to visit a local doctor and have them go through a full check-up to see if everything is okay.
Call a Car Accident Lawyer!
Speaking to a car accident lawyer is one of the most important steps to follow. Our law firm at Joe Durham has been around for a long time and we know how to manage these types of legal cases. Just having a specialized legal expert by your side is going to make a difference and will ensure you are happy with what is taking place.
We will go through each detail, speak to the insurance provider on your behalf, and ensure you receive appropriate compensation. This is essential when it comes to putting in a legitimate claim.
When Should I Get a Car Crash Lawyer for My Auto Accident?
Let's assume the car accident has happened and it is time to determine what your next step should be. We recommend going through the steps listed above and then ensuring you call a Columbus car accident lawyer as soon as possible. This should be one of the first calls you make because having professional legal experience by your side is a must.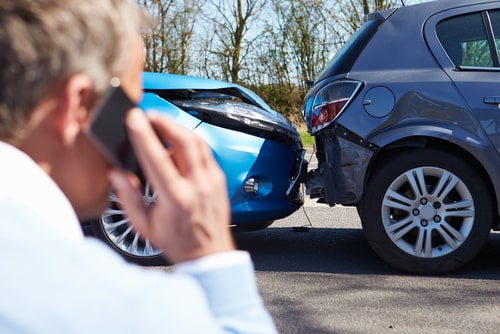 Otherwise, you are going to get stuck in a tough situation that is not going to be easy to navigate. Car accident lawyers have the ability to understand what's required while following legal guidelines in Georgia. This includes taking the time to speak to insurance providers while working on the client's behalf. Don't do all of this on your own as it can lead to the admittance of guilt and that can weaken your case.
Why Do I Need a Car Injury Lawyer?
Our car accident attorneys can help your claim with their experience and knowledge of the law.
Case Preparation/Filing a Lawsuit
The first thing car accident attorneys are going to be responsible for is preparing the case and making sure everything has been mapped out in terms of legal strategy. This includes taking the time to move forward with collecting evidence and ensuring the lawsuit has been correctly filed in Georgia.
With a local law firm such as ours, you will know the lawsuit will be filed correctly. This provides peace of mind and is going to help with case preparation, too.
Settlement Negotiation
Most cases aren't going to go through all of the legal steps before concluding. Our experience has shown the average case is going to settle well in advance based on the claim you are asking for. This settlement isn't going to come right away, which means it will have to be negotiated with the defendant. With our knowledge and experience, it is easy to rely on a legal professional to do the negotiating on your behalf.
Just having a legal professional such as this ready to assist can fill you with confidence. You will know how everything is going to unfold and what the process is going to entail. This is what you are going to get with Joe Durham as soon as the case begins.
Trial Preparation & Representation
Auto Accident Attorneys are essential for several reasons when it comes to a car accident claim but one of the most important reasons has to do with trial preparation.
It is difficult to navigate through court proceedings on your own and that can lead to a poor verdict. With years of experience handling these types of cases, we understand the nitty-gritty details of going through the court of law.
Just having this type of expertise by your side can be a difference-maker. Our law firm will take the time to go through each detail and ensure it is in line with what your claim requires. This includes preparing the evidence, working through relevant case details, and speaking to all relevant parties including the insurance provider(s).
What Type of Damages Can I Recover?
In Georgia, you are able to recover the following types of damages for an injury claim.
Economic
This is the most common type of compensation claimants will seek as it involves monetary damage that has been caused due to the accident. A good example of this would be damage to the vehicle, medical fees, rehabilitation fees, lost wages, and more.
It is recommended to keep all of the bills ready to go during the legal process. This can help demonstrate the exact compensation required for the car accident.
Noneconomic
Noneconomic damages refer to an impact on the person's quality of life, pain, rehabilitation, and any other change that was caused by the car accident. The claimant will be asked to provide proof of what the car accident has done to their life.
Punitive
In the state of Georgia, claimants can move forward by seeking a wide array of damages, and in some cases, this can include punitive consequences too.
These can include punishment for the fault that was determined through legal proceedings. This determination is up to the judge presiding over the case as they will pinpoint whether or not it is reasonable to move forward with punitive damages.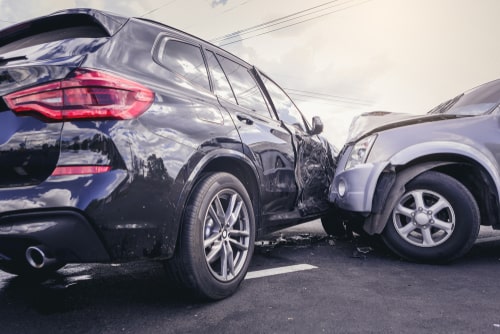 How Is Fault Determined in Columbus Car Accident Claims?
The fault in a car accident is determined after assessing who broke the traffic rules leading to the accident and/or who was distracted. This can include speaking on a cell phone or going through a red light.
To make this determination during the claims process, several official documents can be used as proof. This can include police reports, statements, visual evidence, and anything else that demonstrates fault based on the requirements mentioned above.
It's essential to take your time to record everything after the accident and have it handy. This will make it easier to move forward with the claims process and not have to worry about missing important details. Our law firm can assist in pinpointing key pieces of evidence when it comes to building your case in a car accident claim.
How Long Do I Have to File a Claim?
In Columbus, the statute of limitations is set at two years for personal injury claims.
If you have been in a car accident, it's recommended to file the claim as soon as possible and speak to your insurance provider with the relevant details. The longer you wait, the harder it becomes to prove specific facts associated with the accident.
For those who are worried about whether or not the claim can be made, we will be more than happy to shed light on your options. This is key for those who want to ensure they are choosing the right path and following all legal requirements as required in the state of Georgia.
How Can a Car Injury Lawyer Help Me File My Insurance Claim?
When it is time to file an insurance claim, we always recommended coming to a trusted legal expert at Joe Durham. We are a law firm that has helped thousands of clients in similar situations.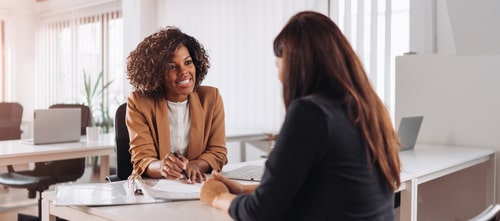 Each step has to be handled with care and that is where we stand out as a legitimate law firm. We will make sure to go through all of the necessary details to ensure the claim goes through as intended. Our law firm realizes how important it is to get the claim to go through, which is why relying on us is the way to go.
We will leave no stone unturned in helping you see the results you're after.
What Can I Do If Insurance Denied My Claim?
It can be challenging to deal with an insurance claim that is denied. A lot of clients go through this ordeal and it can be upsetting considering the other issues involved in dealing with a car accident.
If you are in this position, it's time to choose a qualified law firm that can file a claim on your behalf. We will take the time to assess your case details, determine what needs to happen, and come up with a full-fledged solution to ensure it goes ahead as planned.
Our legal specialists will take the opportunity to determine the veracity of the refusal and whether or not it is legal. These details are critical when it comes to making sure the investment is in line with what you require.
Once we have taken all of these details into consideration, our team will begin to build a strong case against the insurance provider and file an appeal if necessary.
File Your Claim With Our Columbus Car Accident Lawyers
When it comes to finding the best car accident lawyer in Columbus, Joe Durham Jr., P.C., is the number one option in town. We offer world-class legal services for all types of car accident claims and will take the time to understand what your needs are.
It's this commitment and attention to detail that allows us to set a high standard for our clients. If you are interested in going with a reliable, well-regarded law firm in the heart of Columbus, please give us a quick call at 229-351-5320.