Pedestrian accidents involve collisions between vehicles and people on foot. Pedestrians, especially children, are more susceptible to severe and sometimes fatal injuries due to their lack of protection.
This vulnerability means pedestrians face danger from vehicles on the road, pavement, and crossings. In Georgia, hundreds of pedestrians die each year due to accidents with 2018 being the deadliest year with 261 fatalities, according to the National Highway Traffic Safety Administration (NHTSA).
At Joe Durham Jr., P.C., we understand the devastating impact a pedestrian accident can have on the victim and their loved ones. Our Cordele pedestrian accident lawyers offer a free consultation to discuss your case and provide guidance on the next steps to take. Contact us today at 229-351-5320.
What Should I Do After a Pedestrian Accident?
Pedestrian accidents can be extremely serious and even fatal. Often, victims are left unconscious or disoriented after being hit by a vehicle such as a truck, van, or bike. However, if you are conscious and able to think clearly after an accident, it is important to follow certain steps in order to protect your legal rights.
These steps are crucial and can make a significant difference in the outcome of your case. Some of these steps include:
Seek Medical Attention Immediately!
Pedestrian accidents can result in severe injuries or even death. If you are hit by a vehicle, try to gather yourself and move to a safe location away from traffic. Remain at the scene and call emergency medical services for immediate assistance.
Pedestrians who are hit by vehicles may experience physical and emotional shock that could impair their judgment and ability to feel pain or injuries. It's important to seek medical attention and get a full evaluation, even if you don't feel injured.
Contact the Police
If you are involved in a pedestrian accident, it is important to contact law enforcement immediately, regardless of the severity of your injuries or whether the driver is still present at the scene. Even if you do not initially feel injured, symptoms can arise later, so it is important to call 911 and wait for the police to arrive. When the police arrive, describe what happened without assigning blame.
They will create a police report documenting the accident, and if there is suspicion that the driver was under the influence of drugs or alcohol, they may arrest them. Be sure to get the name and badge number of the responding officer and inquire about obtaining a copy of the police report and when it will be available.
Take Notes
It is advisable to write down the events of the crash while they are still fresh in your memory, even after calling 911 and reporting the accident to the police. However, due to the physical and emotional state that you may be in after the accident, recalling the details can be challenging.
Additionally, you may not have a pen and paper with you at the time. In such cases, a police report can be helpful. The report not only documents the chain of events of the crash but also the officer's professional opinion regarding who was at fault.
Exchange Information
If you are involved in a pedestrian accident and the driver of the vehicle stops, it is important to gather their information including insurance data, license plate number, address, phone number, and any distinguishing characteristics or mannerisms.
However, if the driver does not stop and flees the scene, you may still be able to file a claim if you have enough evidence such as the vehicle's license plate number. Additionally, try to obtain the names, addresses, and contact information of any eyewitnesses who saw the accident occur. Eyewitness testimony can provide valuable additional evidence.
Record the Scene
Taking photos of the accident scene can be crucial in providing evidence to support your compensation claim. It's important to take photos of your injuries, the position of traffic signals, the damage to the vehicle that hit you, any debris or skid marks on the road, and any other relevant details.
However, it's important to remember that taking too many photos can be overwhelming, so it's best to focus on capturing the most important details. It's also important to take the photos immediately after the accident to ensure that all the details are preserved.
Document Your Injuries
In addition to taking pictures of your injuries at the scene of the accident, it is important to take a personal inventory and additional photos after contacting emergency medical services.
Take note of any areas of your body that are experiencing pain or discomfort. Check your clothing for tears, as this may indicate an injury that is not yet causing pain. Check your face and head for any signs of bleeding or injury.
Report all injuries and pain to the emergency medical staff when they arrive. After receiving medical care for your injuries, be sure to keep all documentation and records of treatment, medication, and therapy. Every detail and document related to your injuries will be important if you wish to pursue a legal claim against the at-fault driver.
In cases of pedestrian accidents and other personal injuries in Georgia, having as much evidence as possible to prove negligence is crucial. Keep all records and documentation related to your injuries to strengthen your case.
Do Not Discuss Fault at the Scene
It's essential to be cautious about what you say after a pedestrian accident, regardless of the details or facts surrounding the events. In these types of accidents, anything you say at the scene or to the driver, witnesses, or the motorist's insurance company can and will be used against you if legal proceedings arise following the incident.
It's crucial to avoid venting your emotions and refrain from assigning or accepting blame for the crash. Instead, only discuss your version of events with your lawyer, medical personnel, and insurance company. This approach will help protect your legal rights and ensure that you don't jeopardize your compensation claim.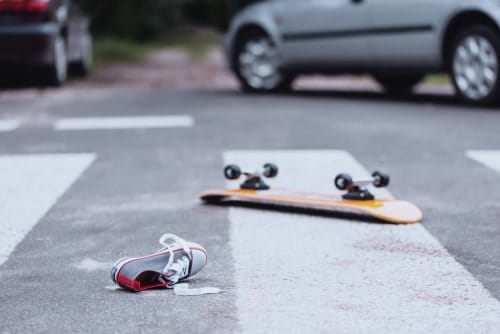 Contact a Cordele Pedestrian Accident Lawyer!
Pedestrian accidents can result in severe injuries that have long-lasting physical, emotional, and financial impacts on the victim's life. Insurance providers and the at-fault driver may try to shift blame onto the pedestrian or offer inadequate settlements that do not account for the full extent of the victim's suffering.
Seeking legal representation from experienced pedestrian accident lawyers can help protect your rights and ensure that you receive the compensation you deserve. At Joe Durham Jr., P.C., we offer a free consultation to discuss your case and provide guidance on the best course of action. Don't hesitate to contact us and protect your legal rights.
How Is Liability or Fault Established for Pedestrian Accidents in Georgia?
Pedestrian accidents are usually caused by the driver or motorist being distracted and not paying attention to their surroundings. Although there are some cases where the pedestrian is at fault, such as stepping out into the road while texting, it is typically the motorist who is responsible. In legal terms, it is rare for the motorist not to be at fault in a pedestrian accident.
The four criteria that a harmed pedestrian must satisfy to prove negligence in pedestrian accidents are:
Duty of Care: The driver had a duty to exercise reasonable care and caution while driving and avoiding harm to others, including pedestrians.
Breach of Duty: The driver breached their duty of care by not exercising reasonable care and caution while driving, and thereby causing the pedestrian accident.
Causation: The breach of duty directly caused the pedestrian accident and injuries sustained by the pedestrian.
Damages: The pedestrian sustained actual damages, including physical injuries, emotional trauma, and financial losses, as a result of the accident caused by the driver's breach of duty.
How Can a Pedestrian Accident Lawyer Assist With My Claim?
If you work with a reliable Cordele pedestrian accident lawyer, they can help you with:
Case Preparation
It is important to gather evidence and document the financial impact of your injuries in a pedestrian accident case. Once you have enlisted the services of our law firm, we will work on gathering this crucial evidence, including photos of the scene, dashcam footage, witness statements, and any other relevant documentation.
Our goal is to help you file a successful pedestrian accident injury claim and obtain the compensation you deserve.
Settlement Negotiation
In the event that negotiations with the insurance company fail, we will file a lawsuit against the at-fault driver to pursue compensation for your damages through the court system. We will represent you in all legal proceedings and fight for your rights every step of the way. Our goal is to get you the maximum compensation possible for your injuries and damages.
Trial Preparation & Representation
We will represent you and support you throughout the court process, enlisting expert witnesses to strengthen your case.
Are There Time Limits for Filing a Pedestrian Injury Claim in Georgia?
If you were involved in a pedestrian accident in Georgia, you have two years from the date of the accident to file a compensation claim. Don't wait, contact our Cordele pedestrian accident lawyers today for a free case evaluation at 229-351-5320.