Ridesharing services like Uber and Lyft have revolutionized transportation, making it easier, cheaper, and faster to get around than traditional taxis. These services have become incredibly popular, with Lyft and Uber being the fastest-growing ride-hailing services in the US. This popularity is largely due to the convenience and affordability they offer their customers compared to other transportation options.
Despite the convenience and affordability of ride-sharing services like Uber and Lyft, there have been numerous accidents involving these services. Being involved in such an accident can be costly and complicated. If you or a loved one has been injured by a rideshare driver, contact a Cordele Uber accident lawyer today.
Our team is ready to help victims get the justice and compensation they deserve. Schedule a free consultation with our car accident attorneys by calling us today at 229-351-5320.
Uber and Lyft Accident Statistics
It's important to note that while ride-hailing services like Uber and Lyft have brought many benefits, there have been numerous accidents and safety concerns. In 2019, Uber published a report detailing the number of fatal accidents it had experienced, but did not include information on other types of accidents.
Lyft has yet to release a similar report. If you or someone you know has been involved in a rideshare accident, it's important to seek legal help from an experienced Uber or Lyft accident lawyer to protect your rights and pursue fair compensation.
According to a recent study conducted by researchers from Rice University and the University of Chicago, since the emergence of ridesharing services, there has been a 2% to 3% rise in the number of nationwide traffic fatalities.
This increase is from the year 2011, which is when Uber was launched, and results in an additional 1,100 deaths per year. The study found that car accident fatalities had been decreasing steadily for about two decades before 2011. However, this downward trend was reversed after the introduction of ridesharing services.
What are the Most Common Types of Uber and Lyft Accidents?
The majority of accidents involving ridesharing vehicles are caused by one of the following:
Injured passenger due to the negligence of another Uber driver.
Injured passenger(s) due to the negligence of the Uber and Lyft driver.
Injury caused to a third-party due to the liability of an Uber and Lyft driver.
Damage caused to property due to the negligence of an Uber and Lyft driver.
Injured Uber and Lyft drivers due to their own personal negligence.
Injured Uber and Lyft driver due to the negligence of another driver.
Injury to the passenger and/or driver caused by a defective or malfunctioning vehicle part.
Who Can Be Found Liable in an Uber Accident?
The Lyft or Uber Driver
If evidence shows that a ridesharing driver was negligent while transporting their passengers, they can be held accountable for the accident. In such cases, it's advisable to file a claim with the driver's personal insurance company, preferably with the guidance of a seasoned Uber accident attorney.
Your attorney can assist you in navigating the claims process and ensuring that you have the best chance of getting your claim approved by the driver's insurance company.
The Ridesharing Company
In some cases, the ridesharing company may be found responsible for the accident instead of the driver. This means that the company will be liable for all damages resulting from the accident.
However, because Lyft and Uber drivers are independent contractors, the company may try to avoid responsibility for the accident. It's crucial to work with an experienced Lyft/Uber accident lawyer who is familiar with recent legal rulings in these types of cases to help you pursue a favorable outcome.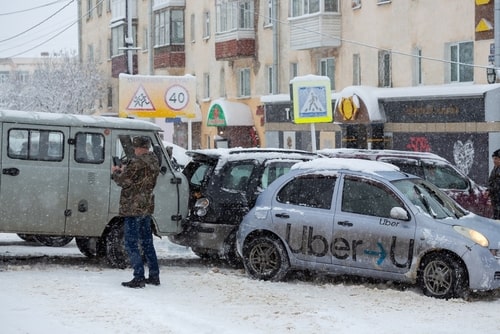 Any Related Third Parties
In some cases, liability for an Uber or Lyft accident may be attributed to a third party. This may require filing a claim with the third party's insurance company, which can be done with the guidance of an experienced attorney.
The lawsuit will name the third party as the defendant. For instance, a local government agency or construction company that failed to post hazard warnings or signs at the site of the accident could be held liable for the accident.
Regardless of the scenario in a Lyft or Uber accident case, it's crucial to work with an attorney experienced in such cases to increase your chances of a favorable outcome. Prompt action is essential in dealing with these cases, especially if there are third parties involved.
How do Uber Accident Lawsuits Differ From Other Auto Accident Cases?
Claims involving Uber or Lyft accidents are handled differently from regular car accident claims, as they depend on the period during which the driver was driving for the ridesharing platform. If the accident occurs while the driver is not driving for Lyft or Uber, the claim will be processed through their personal car insurance.
If an Uber or Lyft driver was online on the app but without an ongoing ride, they would be covered under the company's liability insurance. The coverage includes up to $50,000 per person for bodily injury, $100,000 per accident for any bodily injury, as well as $30,000 and $25,000 for property damage on Lyft and Uber respectively.
If the driver was on the way to pick up or drop off a passenger, the liability limit becomes $1 million, with an additional $1 million for the underinsured or uninsured motorist. The coverage extends to both passengers and the driver.
Does Uber Have a $1 Million Insurance Policy For Accidents?
While it may seem so, it is important to carefully review the details of the insurance policy. The coverage is specifically designed to apply to a driver who is transporting an Uber passenger during a paid trip and whose damages exceed their personal insurance coverage limit.
It does not cover accidents that occur when the driver is not on their way to pick up a passenger, waiting for one, or simply driving the vehicle for personal use.
What Type of Compensation Can I Seek in an Uber Accident?
Economic Damages
Economic damages refer to damages that can be quantified in terms of monetary compensation. They include losses like property damage, medical bills, lost wages, and any other expenses that may arise as a result of the accident.
Non-economic Damages
These are intangible damages that are challenging to measure in monetary terms. They may include emotional distress, mental anguish, and loss of companionship.
Punitive Damages
Punitive damages are designed to act as an additional punishment to the defendant if their behavior leading to the accident was particularly reckless or egregious. As such, they are not typically awarded in most accidents and are intended to serve as a deterrent to both the defendant and the public from engaging in similar acts.
Should I Just Accept a Settlement Offer?
Deciding whether to settle or go to trial is a crucial aspect that you need to discuss with your lawyer. Generally, the decision depends on the amount of settlement offered by the defendant. Your attorney will handle the negotiation process and communicate with the defendant's representatives to reach a favorable settlement amount. If an agreement is reached, there will be no need to go to trial.
Your attorney will discuss with you the options available in case the defendant is unwilling to settle for the requested amount. They will work with you to determine the best course of action, whether it's to take the case to trial or to continue negotiations for a settlement based on the unique details of your case.
Is there a Time Limit To File an Uber Accident Claim?
The statute of limitations in Georgia sets a specific time limit within which a personal injury lawsuit must be filed. If you fail to file a lawsuit within this timeframe, you may lose the right to sue the defendant forever. For car accident claims in Georgia, the statute of limitations is two years from the date of the accident.
Contact a Cordele Uber Accident Lawyer Today
Having an experienced Uber/Lyft accident lawyer on your side is crucial when dealing with large corporations that prioritize their interests over yours. These companies often use tactics such as offering inadequate settlements or delaying payments to victims.
Without legal representation, victims may settle for less out of frustration. However, with the help of a professional lawyer, the companies and their insurers view the case differently, increasing the chances of obtaining full and fair compensation for damages.
Contact Joe Durham Law to work with experienced Uber accident lawyers who will fight for your rights and help you get the compensation you need and deserve. Schedule a free consultation with our personal injury lawyers today at 229-351-5320.