One would think that doctors in Georgia would be required to carry medical malpractice insurance. Unfortunately, that isn't the case. Along with many other states, Georgia leaves it up to doctors to decide if they want to carry malpractice insurance. This means that your Columbus medical malpractice lawyer may need to sue the doctor personally.
The good news is that, even if your doctor isn't insured, that doesn't mean your case is dead in the water.
Georgia Law Does Not Require Doctors to Carry Medical Malpractice Insurance
There are both state and federal laws regarding the practice of medicine. It would make sense for doctors to be legally required to maintain medical malpractice insurance. However, Georgia law is very clear on this issue.
The only practitioners that are required to maintain liability insurance in Georgia are acupuncturists. This seems odd, given the risks associated with medical procedures. This is especially true for surgeons.
Most States Do Not Require Medical Professionals to Maintain Liability Insurance
Many of our clients are surprised to learn that their doctor isn't required to carry insurance. It's hard to imagine a doctor wanting to put their personal assets at risk like this.
If a doctor makes a grave error while treating a patient, it could lead to devastating consequences. One would think doctors would want to protect themselves from personal liability.
Most Doctors Choose to Carry Insurance
On average, there are close to 2,500 doctors in Georgia who don't carry medical malpractice insurance. However, even though it isn't required, most doctors do carry malpractice insurance. According to recent estimates, more than 90% of doctors in Georgia have insurance. One reason for this is that these doctors don't want to expose themselves to liability.
Another reason why so many physicians are insured is that the hospitals they work for require them to maintain insurance. The hospital doesn't want to expose its facility to the kind of liability that stems from surgical errors and misdiagnoses.
Many Medical Facilities Require Their Doctors to Carry Medical Malpractice Insurance
For the most part, doctors tend to work for a hospital or other medical facility. While there are a few doctors who operate independently, this is the exception to the rule. This means that most doctors and other medical professionals have to carry medical malpractice insurance if they want to keep their job.
The amount of coverage a doctor needs to maintain will depend on the type of medicine they practice. For example, a surgeon would want to carry more insurance than a podiatrist. The risk associated with surgery is a lot higher than it is for most other medical practices.
If you're interested in learning more about if you can sue your medical malpractice if you were prescribed the wrong medication, view this page.
Most Medical Facilities Require Their Doctors to Maintain a Minimum of $1 Million in Coverage
As a general rule, most hospitals and medical facilities require their doctors to carry at least $1 million in medical malpractice insurance coverage. The minimum coverage required depends on the nature and frequency of legal claims filed against the facility.
For example, a hospital administrator will review the last five to ten years' worth of claims that have been filed against the facility. They will look to see what the average settlements have been. They will take this number and add a comfortable cushion to determine the insurance coverage required of their doctors.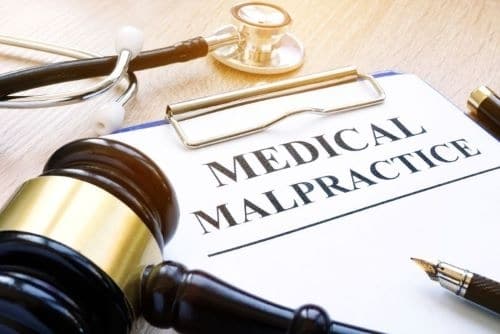 Can Your Columbus Medical Malpractice Attorney Check to See if a Doctor's Been Sued Before?
For years, Columbus medical malpractice attorneys had no way to see if a doctor had been sued for malpractice in the past. Of course, they could do a search in their legal database to see if any of the captions include their client's doctor.
In 2011, the state of Georgia promised to create a website where people could check a doctor's history of malpractice claims. For years, the website still did not exist. Thankfully, today there is a site where you can at least review a doctor's history of complaints.
The Georgia Composite Medical Board Maintains an Up-to-Date List of All Medical Malpractice Lawsuits and Settlement
One of the first places your Columbus injury lawyer can look to see a doctor's history of malpractice is the Georgia Composite Medical Board's website.
This page will offer a bevy of information regarding your doctor. Not only will it provide you with the number of malpractice claims that have been filed against the doctor. It will also give you the settlement amounts.
Can Your Columbus Injury Lawyer Submit Evidence of Prior Malpractice?
You may be wondering if your Columbus medical malpractice attorney can use this information to prove your case. Since the information is provided by a reputable and credible source, there won't be an issue of authentication.
Furthermore, since the information is accessible to the public, the defendant has access to the same information.
Of course, your Columbus injury lawyer may choose to send interrogatories to the defendant instead. The doctor who harmed you will have to answer these interrogatories and return them to your lawyer within a certain time.
Your Columbus Medical Malpractice Attorney Can Always Sue the Doctor Personally
If you find out that your doctor doesn't have malpractice insurance, you still have options. Your Columbus medical malpractice attorney can sue the doctor personally.
This sort of case will be treated like any other personal injury case. You'll have to demonstrate that the doctor was negligent in their treatment of you. Your Columbus injury lawyer will also have to prove that you were injured.
You Can Seek a Judgment Against the Doctor Personally
If you do sue the doctor personally, your recovery will be limited to their personal assets. This means that you could get a judgment for $500,000. However, if the doctor has no assets, you may not collect a dime.
Consult With One of Our Experienced Columbus Injury Lawyers Right Away
If you believe you've been the victim of medical malpractice, you may be entitled to significant damages. The best way to know for sure is to sit down with a seasoned Columbus medical malpractice attorney.
Once our Columbus injury lawyers have a chance to thoroughly review your case, they'll have a much better idea of what your options are. A lot will hinge on whether your doctor has medical malpractice insurance.
The important thing to remember is that, even if they don't have insurance, you can still pursue them personally. Given the average salary for a physician, there's a good chance they'll have sufficient assets to pay your damages.
We recommend you contact our office today and schedule your free, initial consultation. Take the time to sit down with an experienced Columbus medical malpractice attorney. They'll let you know how best to proceed. They can even give you an idea of what your case is worth.