Normally, with most motor vehicle accidents, you only have the option to sue the other driver. But a tractor trailer accident is different, and you stand to recover significantly more money if your lawyer can prove the trucking company is liable.
Here, we'll discuss the different parties you may be able to sue for damages after your tractor trailer accident. We'll also briefly describe the types of damages your Columbus truck accident attorney can demand on your behalf.
Did the Truck Driver Work for Themselves?
One of the most important things your lawyer needs to know is who the driver worked for. If the driver owned and operated their own trucking company, you'll be limited in who you can sue.
Obviously, you would file a claim with the trucker's insurance carrier first. If your claim is denied, then your Columbus truck accident lawyer will sue the driver personally for damages.
In some cases, you may be able to sue the driver, as well as the mechanic who serviced their vehicle. Or you may be able to sue the manufacturer of their truck if there was a defect.
When Can You Sue the Trucking Company?
While there are some self-employed truckers, most of them work for larger companies. This is especially true for tractor trailer drivers. If this is the case, your attorney can also sue the truck driver's employer.
According to Georgia Code Section 51-2-2, an employer can be held vicariously liable for the negligent acts of their employee.
How Does Your Columbus Truck Accident Attorney Prove Vicarious Liability?
To hold the defendant's employer liable, your Columbus truck accident attorney must prove that the trucking company had a duty to supervise their driver and failed to do so. They must also prove that this failure resulted in your tractor trailer accident.
Your attorney also has to show that the defendant was acting within the scope of their employment. They can do this in a variety of ways:
Prove that the driver was following company policy
Review the trucker's job description
Prove that the truck driver wasn't performing personal errands at the time of the crash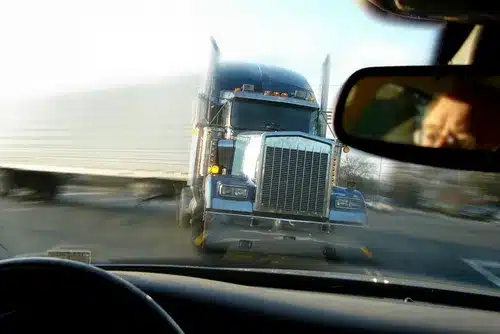 What Damages Can You Demand for a Tractor Trailer Accident?
In a truck crash case, your attorney will demand some or all of the following:
Medical expenses: The defendants will be required to reimburse you for any medical bills you've incurred. This includes the cost of hospitalization, surgery, rehabilitation, and any other medical treatment.
Lost wages: If you're in a tractor trailer accident, you're going to suffer serious injuries. This means you'll be out of work for a while. It's only fair that the defendants compensate you for your lost wages. They'll also have to compensate you for any lost future earnings.
Property Damage: If your car is damaged, your Columbus accident attorney will demand that the defendant pay to have it fixed. If your car is destroyed, you can demand the fair market value of your vehicle.
Pain and suffering: Most people who survive a tractor trailer accident can collect damages for pain and suffering.
How Will Your Attorney Prove the Truck Driver Was Negligent?
If you hope to hold the trucker's employer liable for damages, you need to prove that their employee was negligent. A lot of people assume that the person driving the tractor trailer will automatically be deemed responsible for the crash.
The truth is that, if you can't prove that the truck driver was negligent, you won't receive damages. To do this, your Columbia truck accident attorney will have to consider several factors, including:
The truck driver's training and experience
Whether the truck was properly maintained
Road conditions at the time of the crash
If the trucker speeding at the time of impact
Weather conditions at the time of the accident
Whether the truck driver was distracted
Were they under the influence of drugs or alcohol
You need to make sure you tell your attorney as much as you can about your tractor trailer accident. Facts win lawsuits. What your lawyer has to do is show that the facts point to more than one person being at fault.
Call Our Columbus Truck Accident Attorneys Today to Schedule Your Free Consultation
One of the first things you'll want to know after your tractor trailer accident is who you can hold responsible. Your Columbus accident attorney can answer this question. They'll go one step further and help you file suit against the responsible parties.
You probably already know that the more defendants you name in your lawsuit, the better your chances are of receiving damages. Your lawyer will sue as many as possible, as long as there's evidence linking them to the tractor trailer accident.
If you're eager to get the process started, contact our office at 229-351-5320 and schedule your free, initial consultation.