A medical malpractice claim can be a stressful and difficult process, but under Georgia laws, victims of medical negligence are entitled to seek compensation. If you or a family member has suffered harm due to unreasonably delayed or negligent medical treatment, a Dublin medical malpractice lawyer can help you navigate the legal process and obtain the compensation you deserve.
At Joe Durham Jr., P.C., we prioritize our clients' well-being and provide the highest standard of care and legal advice for your case. Contact us today at 229-351-5320for specialist legal advice on a no-win-no-fee basis.
What Is Medical Malpractice?
Medical malpractice occurs when a healthcare professional, whether employed or self-employed, provides poor or negligent care to a patient, resulting in an additional problem or the worsening of an existing condition.
In Dublin, GA, patients who experience medical malpractice have the legal right to pursue compensation, and in cases where the patient has passed away or is too ill to do so themselves, their family can file the claim on their behalf.
Our Dublin medical malpractice lawyers have experience with the full range of medical negligence cases, including:
Birth injury
Defective medical devices and implants
Dental treatment negligence
Anesthetic problems
Incorrect prescriptions
Misdiagnosis and delayed diagnosis
Delay in treatment of cancer
Negligent surgeries
Hospital infections
How Do You Know You Have A Medical Malpractice Claim?
To have a valid medical malpractice claim, certain conditions must be met, including proving that a healthcare professional did not exercise reasonable care in treating the patient. Proving medical negligence can be challenging for a layperson, which is where the expertise of an experienced clinical negligence attorney comes in handy.
The attorney can help navigate the complexities of medical malpractice cases and determine whether the following factors are present:
Doctor-Patient Relationship (Duty of Care)
To prove medical malpractice, the existence of a duty of care between the patient and the medical practitioner must be established. This means proving that there was a doctor-patient relationship between the two parties.
All healthcare professionals are obligated to provide a duty of care to their patients, but this does not necessarily mean they must provide top-tier services or the best standard of care.
Instead, they must provide a standard of care that is reasonable and expected from any competent healthcare provider or institution. For instance, if a surgeon operates on a patient, the standard of care they should provide is that of a responsible institution of similarly qualified surgeons.
Negligence
To pursue a medical malpractice claim in Georgia, you must prove that the healthcare provider's negligence caused harm or injury to you or your loved one. This means that you must show a direct link between the medical professional's breach of duty and the injury or harm you suffered. You cannot file a medical malpractice claim solely on the basis of a medical error or negligent act.
Causation
In a medical malpractice case, the patient must prove that the healthcare provider's negligence directly caused the harm or injury suffered. This is known as causation. In other words, the patient must show that, had the healthcare provider acted competently, the injury or harm would not have occurred
Damages
In order to have a valid medical malpractice claim, the patient must be able to prove that they suffered actual harm or injury as a result of the healthcare provider's negligence or misconduct.
This harm or injury can be physical, emotional, or financial, and it must be directly caused by the healthcare provider's actions or omissions. Without evidence of harm, it can be difficult to pursue a medical malpractice claim.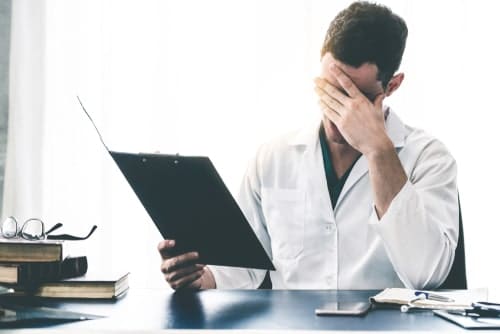 What Damages Can I Get From A Georgia Medical Malpractice Claim?
Economic Damages
Economic damages are those that can be quantified with a monetary value and are awarded to compensate victims or their families for the following damages:
Additional medical expenses
Domestic assistance
Future medical and rehabilitation expenses
Lost earnings
Travel expenses related to treatment and rehabilitation
Non-economic Damages
These damages aim to compensate for the patient's pain and suffering but cannot be easily quantified in monetary terms. Non-economic damages include:
Physical and mental anguish
Loss of enjoyment of life
Loss of consortium (usually awarded for cases where a patient has passed away)
Punitive Damages
In exceptional circumstances, a patient may be able to obtain punitive damages as a result of medical malpractice. This typically happens when the healthcare provider's actions were deliberate or malicious.
When awarded, punitive damages can be significant because the judge or jury has the authority to decide the amount awarded, as long as it does not exceed constitutional limits.
What Is Georgia's Statute Of Limitation For Medical Malpractice?
It is important to note that there are strict time limitations that apply to medical malpractice claims in Georgia. Under the law, a patient must file their claim within two years from the date of diagnosis or injury or from the date they became aware that their injury or condition was related to negligent care. However, exceptions and considerations are made for cases involving children.
Two years may seem like a long time, but it can go by quickly, so it is crucial to seek legal assistance as soon as possible if you have suffered harm due to medical negligence. If you fail to file your claim within the set time limits, also known as statutes of limitations, you may be barred from recovering compensation.
To speak with the reputable Dublin medical malpractice lawyers, please call us at 229-351-5320 today.
How Can A Medical Lawyer Help With Your Malpractice Claim?
Medical malpractice claims can be complicated due to the complex medical and personal injury laws involved. Additionally, proving negligence can be challenging and requires thorough investigation. Our medical malpractice attorneys will assist with all aspects of your case, including:
Investigation
Documentation
Negotiation
Representation
Our medical malpractice attorneys will gather all necessary medical and financial documents, as well as witness statements from medical experts. We will investigate your case thoroughly and work to ensure you receive fair compensation for your injuries or damages.
What Will It Cost To Hire A Reputable Medical Malpractice Lawyer In Georgia?
At Joe Durham Jr., P.C., we take on medical malpractice cases on a contingency or no-win-no-fee basis. This means that we prioritize our clients and understand the financial strain that can come with such cases. When you choose us, you won't have to worry about any financial risks, as you will only be required to pay us if we successfully win your case.
File Your Claim With A Dublin Medical Malpractice Lawyer
If you've been a victim of medical malpractice, you an experienced medical lawyer to help you pursue your case. At Joe Durham Jr., P.C., we have a team of medical malpractice lawyers who specialize in medical negligence claims, and we work with medical experts to build strong cases for our clients.
We understand that beyond financial compensation, you want a stress-free process, and we can help you achieve that. Contact us today at 229-351-5320 for a free, no-obligation consultation, and let us help you get the answers, apology, and compensation you deserve.