Pedestrian accidents involve collisions between vehicles and people on foot, and can result in severe or fatal injuries for pedestrians who lack the protection of a vehicle. Despite safety features designed to protect drivers and passengers, pedestrians remain vulnerable on the road, pavement, and even at crossings.
In Georgia, the number of pedestrian fatalities is distressingly high, with 261 deaths recorded in 2018 alone. At Joe Durham Jr., P.C., we recognize the devastating physical and emotional impact of pedestrian accidents on victims and their families.
If you or a loved one has been injured or killed in a pedestrian accident, please contact us at 229-351-5320 for a free consultation with an experienced Dublin pedestrian accident lawyer to discuss your legal options.
What Should I Do After a Pedestrian Accident?
Some of the crucial steps to follow after being involved in a pedestrian accident include:
Seek Medical Attention Immediately!
If you've been hit by a vehicle while walking, it's normal to feel disoriented. Try to gather yourself and step away from the road to a safe location such as the sidewalk. However, don't leave the scene.
Once you're in a safe spot, call emergency medical services right away. Pedestrians involved in accidents can experience shock, which might affect their judgment and ability to recognize pain and injuries. Even if you feel fine, it's important to get a full medical evaluation at the hospital.
Contact the Police
After moving to safety and contacting emergency medical services, it's important to also contact law enforcement in most cases involving injury or harm to an individual. Even if there are no visible signs of severe injuries, it's best to call 911 as injuries may become apparent later on.
When the police arrive, provide a description of what happened without assigning blame. The police will file a report, and if there's suspicion of the driver being under the influence, they may be arrested. Get the name and badge number of the responding officer and ask how to obtain a copy of the police report and when it will be available.
Take Notes
Additionally, it's important to obtain the contact information of any witnesses who were present at the scene of the accident. Their testimony can serve as valuable evidence in determining fault and liability. Be sure to get their names, phone numbers, and addresses, and if possible, ask them to provide a statement regarding what they saw.
Exchange Information
When you are involved in a pedestrian accident, it's important to gather as much information as possible. If the driver of the vehicle that hit you stopped, obtain their insurance data, license plate number, address, mobile number, and take note of their mannerisms and characteristics.
However, if the driver didn't stop, you can still file a pedestrian accident claim if you have enough evidence, such as the vehicle's license plate number. It's also important to collect the names, addresses, and contact information of any willing eyewitnesses, as their testimony can provide additional evidence to support your claim.
Record the Scene
It's important to take photos of the accident scene as they can provide critical evidence for your case and help support your compensation claim. If possible, use your phone to take pictures of your injuries, the location of traffic signals, the damage to the vehicle that hit you, and any debris or skid marks on the road.
Remember to take as many photos as possible as it can be difficult to take too many pictures at the scene of an accident. It's best to take them immediately after the accident to preserve important evidence.
Document Your Injuries
It's crucial to document all injuries and pain you feel after a pedestrian accident. Report these to emergency medical staff as soon as possible. After receiving medical care, keep all documentation and records of treatment, medication, and therapy.
Every detail and document related to your injuries is important if you want to pursue a legal claim against the at-fault driver. In Georgia, it's essential to have every shred of evidence available to prove negligence in cases of pedestrian accidents and other personal injuries.
Do Not Discuss Fault at the Scene
It is important to be mindful of what you say after a pedestrian accident as anything you say could be used against you in legal proceedings. Even if you are not familiar with the law, it is best to refrain from assigning or accepting blame at the scene, and only discuss the details of the incident with your lawyer, medical personnel, and insurance company.
Venting your emotions may not be helpful in the long run and could potentially harm your case. Therefore, it is essential to stay calm and only provide information to those who are authorized to receive it.
Contact a Dublin Pedestrian Accident Lawyer!
Individuals who have been involved in pedestrian accidents are at a higher risk of suffering severe injuries than vehicle occupants. These injuries can have a significant impact on their physical, mental, and financial wellbeing.
In most cases, the other driver and their insurance provider will try to deny any claims or undervalue them by placing blame on the victim. It's important to seek professional legal assistance to protect your legal rights and secure the compensation you deserve.
At Joe Durham Jr., P.C., our Dublin pedestrian accident lawyers offer a free no-obligation consultation to help you protect your rights and get the compensation you deserve.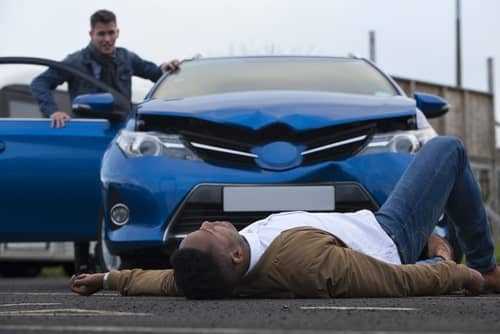 How Is Liability or Fault Established for Pedestrian Accidents in Georgia?
It's important to note that fault in a pedestrian accident case is determined on a case-by-case basis and depends on the specific circumstances of the accident. While it is often the case that the motorist is at fault, there are situations where the pedestrian may share some or all of the fault.
Factors such as the location of the accident, the actions of both the driver and pedestrian, and the applicable laws and regulations will be considered when determining fault. It is important to consult with an experienced pedestrian accident lawyer who can assess the details of your case and determine who is at fault.
Georgia is an at-fault state, which means that the party breaking the law is most likely at fault. To prove negligence for pedestrian accidents, the harmed pedestrian(s) must satisfy four criteria:
Duty Of Care
In pedestrian accident cases, the plaintiff must establish that the motorist owed them a duty of care. The law requires all drivers to operate their vehicles in a reasonable and prudent manner while on the road, which includes keeping a lookout for pedestrians and taking necessary precautions to avoid hitting them.
Breach of Duty
To establish fault in a pedestrian accident, it must be demonstrated that the driver violated their duty to act reasonably while on the road. This involves showing that the driver's actions or omissions were not in line with the expected standard of care owed to other road users, including pedestrians.
Causation
To establish the driver's liability in a pedestrian accident, it's necessary to prove that their breach of duty or failure to act reasonably while on the road was the direct cause of the pedestrian's injuries.
Damages
To prove the last element of a pedestrian accident case, you must demonstrate that you suffered actual harm or damages as a direct result of the incident caused by the driver's breach of duty. This can include physical injuries, medical bills, lost wages, pain and suffering, and emotional distress.
At Joe Durham Jr., P.C., we understand the physical, emotional, and financial toll that a pedestrian accident can take on you and your loved ones. That's why we are committed to fighting for your rights and obtaining the compensation you deserve. Contact us today fat 229-351-5320or a free consultation and let us help you get your life back on track.
How Can a Pedestrian Accident Lawyer Assist With My Claim?
Case Preparation
Our team of experienced lawyers will work tirelessly to negotiate with the insurance company of the at-fault driver. We will ensure that you receive a fair and just settlement that takes into account all the damages and losses you have suffered as a result of the accident. If necessary, we will take your case to trial to ensure that you receive the compensation you deserve.
Settlement Negotiation
If negotiations with the insurance company are not successful, our pedestrian accident lawyers will not hesitate to file a lawsuit on your behalf.
Trial Preparation & Representation
You don't need to worry if your case ends up going to court, as our attorneys will be there to represent and support you throughout the entire process. We will also bring in expert witnesses to provide additional support and strengthen your case.
Are There Time Limits for Filing a Pedestrian Injury Claim in Georgia?
In Georgia, you have a limited time of two years from the date of the pedestrian accident to file a compensation claim for your injuries. It's crucial to act quickly and contact our experienced Dublin pedestrian accident lawyers today to start the legal process.
We offer a free case evaluation and can answer any questions you may have about your situation. Don't wait until it's too late, call Joe Durham Jr., P.C. at 229-351-5320 today.