Ridesharing services like Uber and Lyft have become increasingly popular due to their convenience, affordability, and ease of use compared to traditional taxi services. They are among the fastest-growing ride-hailing services in the country, making getting around more accessible and efficient for customers.
However, if you or a loved one has been involved in a rideshare accident, it is important to seek legal representation from an experienced Dublin Uber accident lawyer. These accidents can be costly and complicated, and victims may be entitled to compensation for their injuries and damages.
At our law firm, we are dedicated to helping victims of rideshare accidents get the justice they deserve. Contact us today to schedule a free consultation with one of our car accident attorneys.
Uber and Lyft Accident Statistics
Since its launch in 2009, Uber has expanded to more than 63 countries and amassed over five million drivers, while Lyft has over 2 million drivers in the US and Canada. Uber has published a report on the number of fatal accidents it has dealt with, while Lyft has not yet released an official report on accidents related to its platform.
Studies show that since the introduction of ridesharing services in 2011, there has been a 2% to 3% increase in nationwide traffic fatalities, resulting in an additional 1,100 deaths per year. Prior to this, car accident fatalities had been decreasing steadily for about 20 years.
What are the Most Common Types of Uber and Lyft Accidents?
These are some of the common causes of accidents involving ride sharing vehicles:
Injured passenger due to the negligence of another ridesharing driver.
Injured passenger(s) due to the negligence of the Uber or Lyft driver.
Injury caused to a third-party due to the liability of an Uber or Lyft driver.
Damage caused to property due to the negligence of an Uber or Lyft driver.
Injured Uber or Lyft drivers due to their own personal negligence.
Injured Uber or Lyft driver due to the negligence of another driver.
Injury to the passenger and/or driver caused by a defective or malfunctioning vehicle part.
Who Can Be Found Liable in an Uber Accident?
The Lyft or Uber Driver
In cases where evidence shows that the ridesharing driver was at fault for causing the accident while transporting passengers, they can be held liable. In such instances, the best course of action is to file a claim with the driver's personal insurance company, preferably under the guidance of an experienced Uber accident attorney.
Your attorney will help you navigate the claims process and ensure you have the best chance of having your claim approved by the driver's insurance company.
The Ridesharing Company
If evidence suggests that the ridesharing company is liable for the accident, rather than the driver, the company may be responsible for covering all damages resulting from the accident. However, since Lyft and Uber drivers work as independent contractors, the companies may deny liability for the accident.
It is therefore important to work with an experienced Lyft/Uber accident attorney who is knowledgeable about recent legal rulings in such cases and can help you pursue a favorable outcome.
Any Related Third Parties
In cases where a third party is found to be liable for the Uber accident, a claim can be filed with their insurance company. This can include government agencies, construction companies, or any other entity that may have contributed to the accident due to negligence or failure to provide adequate warnings or safety measures.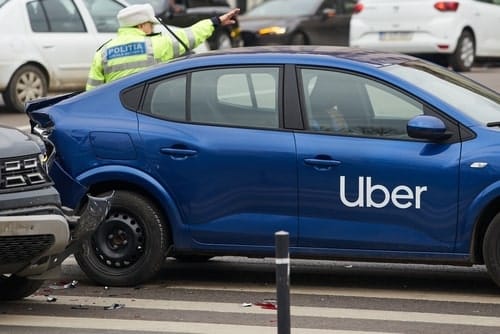 How do Uber Accident Lawsuits Differ From Other Auto Accident Cases?
When it comes to Uber or Lyft accident claims, there are some key differences compared to regular car accident claims. The handling of these claims depends on which period the driver of the rideshare platform was in when the accident occurred.
For example, if someone hits you while not driving for Lyft or Uber, everything will go through their personal car insurance. However, if the rideshare driver was online on the app but without an ongoing ride, they would be covered under Uber and Lyft liability insurance.
This typically offers coverage of around $50,000 per person for bodily injury, $100,000 per accident for any bodily injury, as well as $30,000 and $25,000 for property damage on Lyft and Uber, respectively.
If the ridesharing driver was on the way to pick up or drop off a passenger, the liability limit increases to $1 million, with an additional $1 million for the underinsured or uninsured motorist. This coverage is not just for any passengers in the vehicle but also covers the driver as well.
It is important to note that navigating the insurance coverage for Uber or Lyft accidents can be complex. Insurance companies are often looking to minimize payouts, and they may try to offer lower compensation than what you deserve.
Does Uber Have a $1 Million Insurance Policy For Accidents?
While it is true that Uber and Lyft offer insurance coverage for their drivers, it's crucial to carefully review the terms and conditions. This insurance is specifically designed to cover drivers when they are carrying a paying passenger, and if the damages they incur exceed their own insurance coverage.
It's important to note that any accidents that happen when the driver is not on their way to pick up a passenger, waiting for a passenger, or is using the vehicle for personal reasons are not covered by this policy. Therefore, it is important to fully understand the insurance coverage provided by these ride-sharing companies.
What Type of Compensation Can I Seek in an Uber Accident?
Economic Damages
Economic damages refer to losses that can be quantified in monetary terms, such as medical bills, lost income, and property damage. These damages are tangible and can be easily calculated based on actual costs incurred, as well as any estimated future expenses resulting from the accident.
Non-economic Damages
These are damages that can be challenging to assign a specific monetary value to. They refer to intangible losses that can affect a person's emotional and mental wellbeing. Non-economic damages can include pain and suffering, emotional distress, loss of consortium, and loss of enjoyment of life.
Punitive Damages
These damages are known as punitive damages, and they are intended to punish the defendant for their particularly reckless or intentional behavior that resulted in the accident. They are awarded in addition to compensatory damages and are meant to deter the defendant and the general public from engaging in similar actions in the future.
Punitive damages are not typically awarded in most accidents and are reserved for cases where the defendant's actions were particularly egregious.
Should I Just Accept a Settlement Offer?
However, if the defendant is not willing to offer a fair settlement amount, your lawyer may advise you to take the case to trial. This will involve presenting your case in front of a judge and possibly a jury, who will determine the outcome of the case.
Your lawyer will be responsible for gathering evidence, preparing legal arguments, and presenting your case in court. It's important to note that going to trial can be a lengthy and expensive process, but it may be necessary to ensure that you receive fair compensation for your damages.
Ultimately, the decision of whether to settle or go to trial will depend on your specific situation, the strength of your case, and your personal preferences. Your lawyer will be able to provide you with advice and guidance on which course of action is best for you.
Is there a Time Limit To File an Uber Accident Claim?
In Georgia, the statute of limitations for personal injury claims arising from car accidents is two years. This means that you have two years from the date of the accident to file a lawsuit against the at-fault party.
If you fail to file a lawsuit within the two-year window, you forfeit your right to sue the defendant forever. It's important to note that this statute of limitations also applies to Uber and Lyft accident claims. It's best to consult with an experienced Uber or Lyft accident attorney to ensure that you file your claim within the required timeframe.
Contact a Dublin Uber Accident Lawyer Today
Having an experienced Uber/Lyft accident lawyer by your side is crucial when pursuing a claim against these companies. Without legal representation, you may be at the mercy of a large corporation that may use tactics such as offering small payments or delaying payments altogether. Victims may end up settling for less than they deserve out of frustration.
However, with the help of a professional lawyer, you can level the playing field and improve your chances of receiving full and fair compensation for your damages. The experienced Uber accident lawyers at Joe Durham Law can work on your behalf to help you get the compensation you need and deserve. They can handle negotiations with the companies and their insurers, and fight for your rights in court if necessary.
Don't face this challenging situation alone. Schedule a free consultation with Joe Durham Law's personal injury lawyers today to discuss your case and learn how they can help you.