Truck accidents are some of the most dangerous of all motor vehicle accidents. When a car or SUV is hit by a giant machine like a tractor-trailer, the people inside the passenger vehicle are lucky to survive. The human body simply isn't built to withstand that kind of impact.
When our Albany truck accident lawyers meet with truck accident victims for the first time, it can be overwhelming. All we want to do is fight to get you as much money as possible. At the same time, we know that we must work within the law to make this happen.
It shouldn't be surprising, then, that one of the first questions our new clients ask us is: "How much is my truck accident claim worth?" Unfortunately, as much as we would love to answer this question, we can't. It wouldn't be fair to tell a client their case is worth a precise amount. Until your injury attorney in Albany, Georgia has had a chance to thoroughly review your case, they have no idea what it's worth.
Here, we'll discuss the process that your Georgia truck accident lawyer will go through while evaluating your case. We'll also highlight the various types of damages you can demand in your truck accident lawsuit.
If you still have questions or concerns, you're not alone. Contact our office and schedule your free, initial consultation. This gives you a chance to discuss your case with a legal professional who can explain the legal process to you. They can even give you an idea of what your claim may be worth.
It Wouldn't Be Fair to Give You a Precise Value of Your Claim
While an injury attorney in Albany, Georgia can give you a ballpark figure of what your case is worth, they can't make any promises. It wouldn't be fair for your lawyer to guarantee you a certain amount of money, especially early on in your case. This would not be fair to you, and it wouldn't be fair to your attorney.
Your Georgia truck accident lawyer wants to be honest with you. They also don't want to get your expectations so high that you're disappointed when your case settles. We see commercials on television for Georgia truck accident lawyers where the attorneys guarantee a win. They tell you that they've settled other cases for millions of dollars and that they'll fight to get you the same kind of money.
The truth is that your lawyer can only get you damages for injuries you actually suffered. If you only suffered minor injuries, you can't expect to walk away with half a million dollars. Your attorney's job is not to make you rich. That isn't what personal injury law is all about. Their job is to work hard so they can make you whole.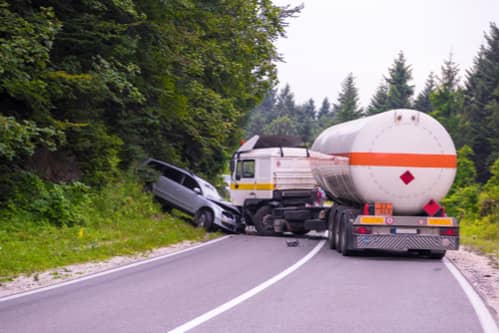 There Are a Variety of Factors That Can Impact the Value of Your Truck Accident Case
Your truck accident lawsuit is about more than just money. Before you can start thinking about damages, you need to think about whether you can prove your case. Your Georgia truck accident lawyer can only work with the evidence at hand.
If there isn't concrete proof that the other driver caused the crash, it may be hard to get you any money. The same is true if there is overwhelming evidence showing that you were partly at fault for the accident.
As we like to tell our clients, there are a variety of factors that can impact the value of your truck accident claim. Some of these include:
The Severity of Your Injuries
The more serious your injuries, the greater your damages. If you only suffered whiplash, you'll be lucky to get $5,000. If, on the other hand, you suffered a spinal cord injury, your case will be worth a lot more money.
Your Age and Income
It may not seem fair, but your age and income also have a lot to do with the value of your case. If your injuries make it impossible to do the same kind of work you did before the accident, you may be entitled to special damages.
Your injury attorney in Albany, Georgia will demand that you be compensated for the difference between what you would've earned had you not been injured and what you'll earn going forward. If you're young, then your lost future income will be much higher than if you're of retirement age.
The Damage to Your Vehicle
If your car was merely damaged, the defendant will have to pay for the repairs. If, however, your car was totaled in the crash, they'll have to pay you the fair market value for your vehicle.
These are just 3 of many factors that can impact the value of your claim. If you want to know what it may be worth, call and talk to one of our Georgia truck accident lawyers.
Reach Out to a Seasoned Injury Attorney in Albany, Georgia
If you or your loved one has been hurt in a truck accident in Georgia, give us a call. You need to focus on recovering from your injuries right now. The last thing you should be doing is fighting with the insurance company.
When you call, ask our front desk staff to schedule your free, initial consultation. Make sure you get our email address and fax number so you can send us any documentation you have regarding the crash. This way, you can send our team of expert Georgia truck accident lawyers any information pertaining to your case.
The sooner we have the information related to your case, the sooner we can start preparing. Ideally, when you come in for your initial meeting, we'll know the basic facts of your case. This will help us determine how strong your case is. It will also allow us to give you an idea of what your case may be worth. Since the consultation is free, you don't have anything to lose. And remember, you don't pay us a dime until we win your case.