One of the first things our clients ask us when they come into the office for the first time is how much their personal injury case is worth. It's only natural to want to know how much money your case may be worth. After all, you probably have medical bills piling up, wondering how on Earth you're going to pay them.
The good news is that our Columbus personal injury attorneys have decades of combined experience handling personal injury cases. They know what types of damages you're entitled to, and they know how to prove your case.
All you have to do is call and schedule your free, initial consultation. You can sit down with someone who's handled plenty of cases like yours before. While each case is unique and different, that doesn't mean that your lawyer doesn't have an idea of what types of damages you can demand. The facts of your case will determine the damages you may collect.
Since we do offer the first consultation at no charge, you have nothing to lose and everything to gain.
Your Columbus Personal Injury Attorney Must First Prove Fault
Before you can start talking about damages, your Columbus injury attorneys will need to prove fault. In most personal injury cases, fault is determined by a negligence standard. This means you'll have to prove negligence in order to collect damages from the other party.
All negligence means that the other party didn't behave the way a reasonable person would have given the circumstances. It requires that your Columbus injury attorneys prove four things.
Duty of Care
Your Columbus injury attorney must prove that the defendant owed you a duty of care. This isn't all that difficult regardless of the type of case you're filing. For example, in a slip and fall case, you'd have to show that the property owner owed their guests a duty to keep all conditions in their property clean and safe.
Breach of Duty
You must also show that the defendant breached this duty of care. In order to prove this, it comes down to the facts of your case. If you were involved in a car accident, your Columbus injury attorney would have to show that the defendant was texting and driving or speeding at the time of the collision. In a slip and fall case, you would have to show that the floor was wet or damaged and that this caused your fall.
Injury
Obviously, you must demonstrate that you suffered some type of injury. This can be a financial or physical injury. In the car accident example above, you would have to show that your vehicle was destroyed or that you injured your back during the crash.
Causation
Your lawyer is going to have to prove causation. This means that the defendant's behavior and breach of duty were directly responsible for your injuries. In a car accident, this is not difficult to prove. In other types of personal injury cases, it may be a little more difficult for your Columbus injury attorney to demonstrate this final element of negligence.
Once your attorney has demonstrated all four elements of negligence, then you can move on to discuss damages.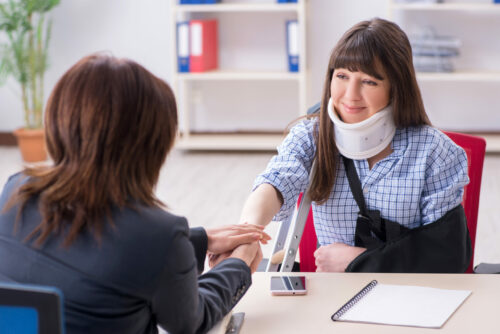 Your Columbus Personal Injury Attorneys Have to Prove Specific Damages
Not everybody is entitled to damages. Sometimes it's hard for our clients to understand that the only way you're entitled to damages is if you suffered an actual injury. It's not enough that you were involved in a car accident or slip and fall. If you can't submit proof that you suffered some type of physical injury, you probably will not collect damages.
Some of the damages you may be entitled to include the following.
Medical Bills and Future Medical Bills
If you have been accruing medical bills since the time of your accident, make sure you keep good track of them. Keep all your receipts and explanation benefit forms. Your Columbus injury attorney will need this to prove that you're entitled to reimbursement.
Property Damage
These damages are typically limited to car accident cases because most people don't suffer property damage in any other type of personal injury case.
Lost Wages
If you miss more than a couple of weeks from work, and it wasn't covered by personal time, you can demand compensation for any lost wages. Our Columbus injury attorneys will piece together information showing what you would have earned had you been able to work during this period,
Lost Future Income
If you find that you're unable to do the same kind of work you do prior to your personal injury, you can demand damages for lost future income. Your attorney will determine the difference between what you would have earned had you never been injured, and what you will now earn going forward. Whatever that difference is will be multiplied by the number of years left retirement age which is 65 for legal purposes.
Pain and Suffering
Pain and suffering damages often make up the lion's share of a personal injury plaintiff's case. As a general rule, these damages are equal to about three times what your medical bills were. They're meant to compensate you for any physical or mental anguish caused by your personal injury.
Contact One of Our Columbus Injury Attorneys Right Away
If you have recently been hurt in any sort of accident, you owe it to yourself to meet with one of our Columbus injury attorneys. Not only can they review your case, but they can also explain what to expect in the coming months.
Ideally, the defendant's insurance company will pay your claim and you won't need to file legal action. However, if you do, it's nice to know that you have a Columbus injury attorney by your side. If the insurance adjuster knows you don't have a lawyer, they'll assume they can take advantage of you.
You don't have to let this happen. All you have to do is retain an experienced Columbus injury attorney as soon as possible after your accident. This way, the insurance company will be put on notice that you've hired a lawyer. This way, they'll take your claim more seriously.
We recommend that you contact our office today and set up a date and time to come into the office. We can schedule your free, initial consultation over the phone. Or you can visit our website and speak with one of our agents online.