There are significant differences between commercial truck accidents and passenger car accidents. The major difference is that the truck driver involved in the wreck is usually employed by a trucking company. An employer is legally responsible for the acts of its employees, including the safety of the trucks it owns. If you've been involved in a truck accident, you should contact a Columbus truck accident attorney today to learn more about your rights.
You May Have a Claim Against Multiple Parties
One of the interesting things about truck accident cases is that you could have a legal claim against more than one party. Obviously, your Columbus injury attorney will name the truck driver in your lawsuit. However, they will also name any other potential defendants. This could include any or all the following:
A local government or contracting company that was responsible for designing or maintaining the highway.
The manufacturer of the truck and its components
Suppliers providing services to the carrier
The owner of the cargo
Whether or not someone is held responsible for your injuries and other losses following a truck accident will depend upon the findings of an independent accident investigation. Our legal team investigates and discusses all types of accidents involving tractor-trailers and other large vehicles. The only thing you need to do is schedule your free, initial consultation with one of our representatives.
How Common Are Truck Accidents in the United States?
It's not surprising that the number of truck accidents has increased given the number of vehicles on the road. Like it or not, passenger vehicles have to share the road with large tractor-trailers and other big rigs.
With so many more truck accidents taking place, our Columbus truck accident attorneys need to be more prepared than ever to help the accident victims. Many of these crashes leave their victims in dire medical conditions.
You may need to step up and call our office on behalf of your spouse or loved one. Our attorneys have no problem visiting your loved one at home or in the hospital. This way, we can get their version of events without inconveniencing anybody.
How to Collect Evidence after a Truck Accident to Determine Liability:
To determine what happened with your truck accident, your attorney will need to gather a ton of data and information. At a minimum, they will need a copy of the police report as well as pictures of the damaged vehicles. If they are lucky, they will be able to recover the "black box" from the truck to see what information it recorded.
In some cases, accident reconstruction experts may be consulted to help with the investigation. Truck drivers are legally required to keep track of their driving hours. These logs can provide useful insight into what actions the driver took the day of the crash. There are also logs showing what sort of maintenance has been conducted on the vehicle.
Another vehicle for gaining information about your crash is witnesses. Your Columbus injury attorney will talk to as many witnesses as they can find to find out what really happened. They'll also review statements made at the scene. This information will be located in the accident report filled out by the responding police officer.\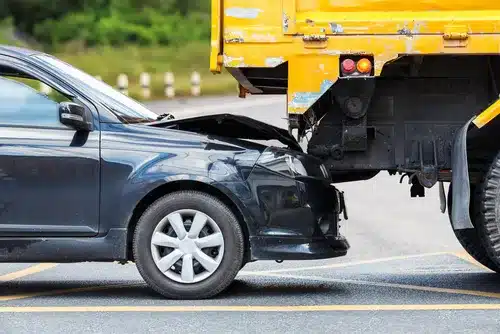 Who Can Be Held Liable for Your Georgia Truck Accident?
After any truck accident in Georgia, there must be a detailed investigation into what occurred and why. A thorough examination of the evidence by a Columbus truck accident attorney may show that one or more of the following parties may be liable for the crash:
Truck accidents are often due to careless actions on behalf of the truck driver such as speeding, fatigue, or distracted driving. His actions could be so egregious that criminal charges are filed. Commercial truck drivers are also responsible for inspecting their vehicles to ensure proper maintenance and cargo loading. If a defect in their vehicle results in an accident, the trucker may be held partially liable.
The trucks and drivers that a trucking company puts on the road are the company's responsibility. They are responsible for hiring and training their drivers. They are also responsible for maintaining proper documentation practices.
This can present a problem if the company employs drivers who have violations with the FMCSA. It is a red flag when a company's records fail to indicate adequate training. Sometimes, carrier logbooks or employee interviews indicate that the company encourages its employees to save money by cutting corners on FMCSA hours of service requirements
Cargo Shipper and Loader:
In addition to shipping goods for other companies, some carriers work as subcontractors. As far as the law is concerned, truckers are responsible for any goods they choose to haul. To comply with federal and state regulations, it is the responsibility of the cargo shipper, the shipper, consignors, and carriers to properly comply with the law.
Many carriers and suppliers accept outsourced work, depending on the size of their operation. Outsourcing may include administrative tasks such as hiring drivers, performing background checks and alcohol and drug testing, maintaining equipment, performing repairs and shipping, and other services.
Many companies partner with brokers to find freight shipments for their trucks. Third-parties like contractors and brokers may also be held liable for any accidents caused by their negligence.
Truck Manufacturers and Component Manufacturers:
Truck accidents may be the result of all sorts of truck defects. Things like tire punctures, brake failures, or steering and transmission system problems cause accidents more than people realize. Even if it is a maintenance issue, a manufacturer and distributor may be held liable for a product liability claim if the system or part was faulty from the beginning.
These parties may be listed individually or in a collective capacity through various combinations.
What If Multiple Parties Caused the Truck Accident?
A truck accident victim can maximize their compensation if they can prove multiple parties are at fault. In order to mitigate their own liability, carriers often offer to settle these cases rather than risk having them play out in the media. Your Columbus truck accident attorney is well aware of this fact
Contact Our Columbus Truck Accident Attorney:
An experienced Columbus injury attorney should be consulted before accepting any settlement for injuries or losses resulting from a truck accident. For a free evaluation of your case, simply call (229) 351-5320 or fill out our online form to make an appointment. Before signing anything from an insurance company or trucking company lawyer, please meet with us.