At the Joe Durham Law Firm, our professional personal injury lawyers help people that were injured get the compensation they are entitled to. Our attorneys have handled cases like this numerous times in the past and recovered compensation for people injured by trucking companies, motorists, hospitals and large corporations.
We have recovered millions for our clients. Contact Joe Durham today at 229-351-5320 if you have been injured in Georgia.
Is It Expensive to Hire Valdosta Personal Injury Attorney?
At our Valdosta, Georgia, Law Offices, we won't charge you a thing for our expert services, because we understand that personal injury can be a financially debilitating time as it is. This is why we only get paid after you have received your rightful settlement – from which we will subtract a percentage to cover our legal services.
How Can I know that I have a Personal Injury Case?
This will depend on the particulars of the incident. As a general rule, personal injury lawsuits can be filed by victims whose injuries were caused by someone else's negligence. A person can be found negligent if they failed to act or perform their duties as any other reasonably prudent person would in the same circumstances.
What is an Example of Negligence?
For example, as you are entering a restaurant, you suddenly trip and fall due to a step that is very well hidden in the shadows and not clearly identified by any warning signs or improved visibility. It could be said that the restaurant manager was negligent for leaving this potential hazard there with no warning to his/her customers.
Why Should I Hire A Personal Injury Lawyer?
You are entitled to compensation in the city of Valdosta for injuries that have been caused by negligence. Nevertheless, this is a considerably complex legal process and many people end up accepting less compensation than they deserve. This is where a legal counsel can help guide you through the confusion to the greatest compensation you could receive.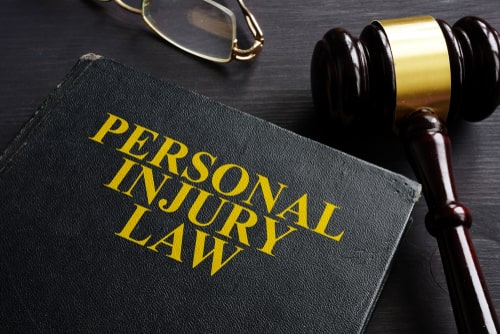 Who Can Be At-Fault in a Personal Injury Lawsuit?
Personal injury lawsuits can be filed against the person or entity whose negligence directly resulted in your injury. Some of the common at-fault parties include:
Hospitals and nursing home staff who don't properly care to their patients
Motorists who don't maintain or operate their vehicles responsibly.
Property owners and landlords who do not properly maintains their property and leave dangers all around.
Dog owners who do not exercise proper caution with their pets around others
Trucking companies that overload their vehicles, insist their drivers work with little sleep or are found negligent in other ways.
Pharmaceutical companies that sell defective drugs or don't properly warn the public of dangerous side effects
What Kind of Damages Can I Get for My Personal Injury Lawsuit?
A personal injury lawsuit will be able to provide you with compensation for a variety of expenses that resulted from your accident. This might include:
Medical bills
Property damage from an accident like a car crash
Household accommodations
Pain and suffering
Property damages
In-home healthcare aides
Lost wages
The exact quantity you can expect to recover will vary according to a variety of particulars, most important of which will be the extent of your injuries. Our car accident lawyers handle a wide variety of cases at the Joe Durham Law Firm and are confident we can guide you through the process of legal action and provide you with the compensation you deserve.
Is there a Deadline to File a Personal Injury Lawsuit?
It is called the statute of limitations and it is the time limit victims have to file a personal injury lawsuit. If too much time has passed since the accident, you will lose your right to compensation –– even if your claim was completely in your favor. In Georgia, this time frame is two years, but in some cases it may only be a matter of weeks.
Will I Have to Go To Court?
From our experience here at Joe Dunham Law Firm, only a small percentage of lawsuits actually make it to local court. Although we prepare all lawsuits as though they will be taken to court, we have found that well over 95% of all personal lawsuit cases will be settled out of court as this is usually easier for all involved.
Can I Sue for Pain and Suffering?
In the State of Georgia, compensation can also be collected for the pain and suffering experienced by the victim. Pain and suffering can be mental or physical anguish that follow in the aftermath of an accident.
Pain and suffering can be collected by those who have had to endure the rigors of physical therapy to fully recover. Those that are left in a wheel-chair after and accident can also be entitled to compensation.
But, you will need to speak with your lawyer to get a better idea of how this can apply in your particular situation.
How Long Does it Take to Settle a Georgia Personal Injury Case?
This can be difficult to answer without a full understanding of all the factors involved. Because each case involves a unique set of details and circumstances, the value and time frames that will reveal this answer will also be very individual.
Nevertheless, there is one constant fact that rings true in all situations: you should never accept less than what your lawsuit is worth. If you choose to retain the skilled services of Joe Dunham Law Firm, you can expect a highly-skilled team of lawyers that will fight for your rights to compensation.
Contact a Valdosta Personal Injury Lawyer for a Free Case Review
If you or someone you love has suffered injuries due to the negligence of another here in Georgia, calling Joe Dunham Law Firm should be your first move.
We have the most experienced personal injury lawyers ready to take on your case and get you the compensation you need to get your life back on track. Call us today at 229-351-5320.